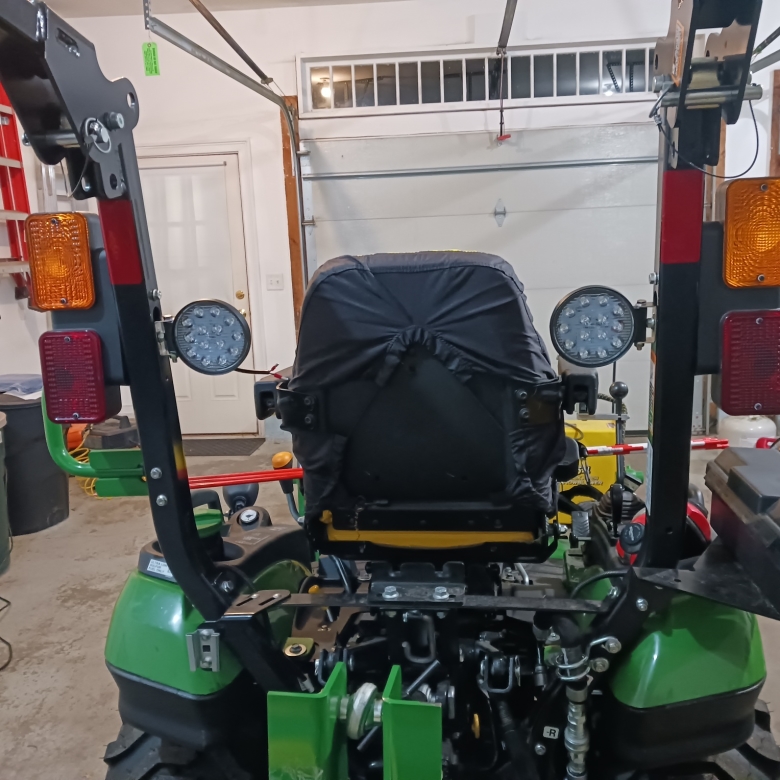 1/11/2023 – I received some email questioning Skippy's status. He is alive and well, front snow blower and three point hitch ballast mounted, and on snow storm alert duty. At the moment, I am waiting on some 4.5mm male bullet connectors so I can wire the two rearward facing LED work lights into the tractor's harness. Hoping the lights will keep me on the pavement and out of drainage ditches, allowing me to clear before sunrise UV turns powdery snow into snow cones.
I have the sense this will  be a harsh winter. Other than a few weeks of sub freezing temperatures, the weather has been wet but closer to fall weather. However, the wind has been roaring up the hill and shaking even the big trees violently. I keep expecting a dragon to step into the clearing around the house, shaking its head, bellowing and breathing fire. Too much House of Dragons, no doubt.
The Smith & Wesson Model 36-10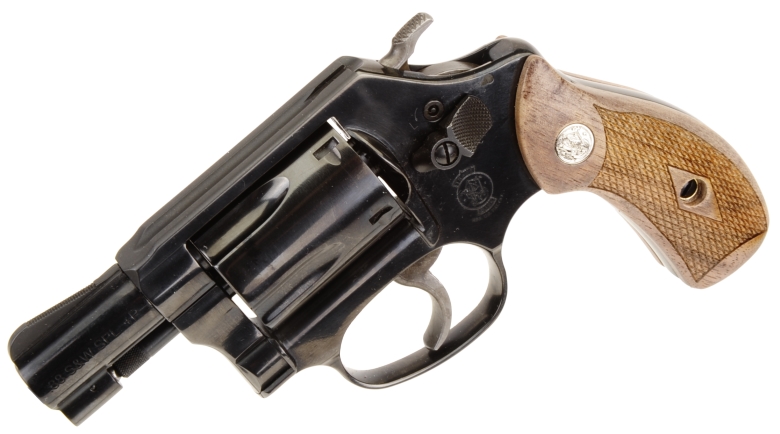 Writing about the Smith & Wesson Model 36 revolver was interesting. I've carried a very similar personal Model 37 since… hmm… 1967, beginning with four years in the U.S. Air Force as a B-52 Crew Chief, including a couple of six month ARC Light rotations to South East Asia.
During those years, the little Model 37 was carried concealed on flight lines in the U.S., Andersen AFB Guam, Kadena AFB Okinawa, and U-Tapao Royal Thai Navy Airfield Thailand, bases of operation for B-52s loaded with conventional, rather than nuclear weapons. It was also with me when I was privileged to fly along on bombing sorties over Vietnam. No, hardly bayonet in teeth GI Joe, but it was a life enriching experience.
The little S&W rode home with me after discharge from the Air Force, from Ellsworth AFB to home in New Jersey. It continued with home gun duty where ever our family lived and it is now often used for concealed carry in Maine. The thing is, the Model 37, loaded with standard pressure 38 Special ammo, always made me feel safe in challenging circumstances.
In with the old… In with the new?

Model 36 left, model 37 right. The modern Model 36 is an all steel revolver, barrel, cylinder and frame. It is approved for routine use with 38 Special +P ammunition. The Model 37 has a steel barrel and receiver, but a hard anodized frame. In this case a well worn aluminum frame. The old 37 is not +P approved.
+P ?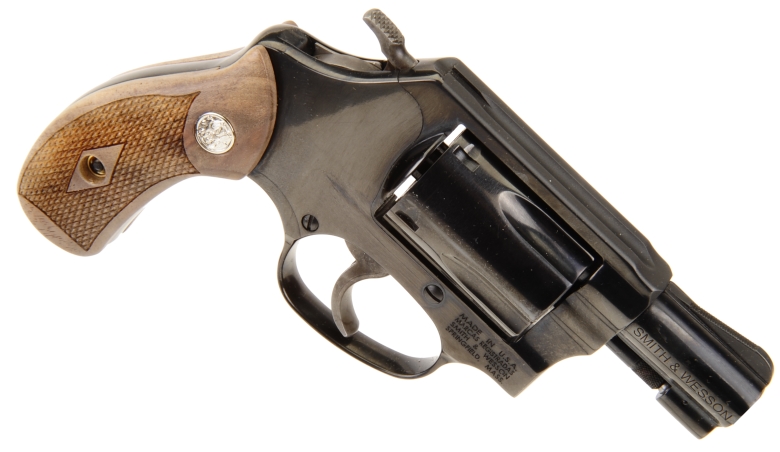 +P is a higher than standard pressure version of a cartridge. +P is a SAAMI assigned designation and there are actually few in existence. To the best of my knowledge only the only handgun cartridges with that designation are: 9mm Luger +P, 38 Special +P, 38 Super Automatic +P, 45 Automatic +P. Each, with the exception of the 38 Super Automatic, has both a standard and +P pressure specification.
None of these pressure differentials are great. For the subject Model 36, the standard pressure 38 Special cartridge Maximum Average Pressure is 17,000 psi, 20,000 psi for the +P version. The vented barrel standard velocities for a 158 grain bullet are, respectively, 750 fps versus 880 fps.
There are numerous independent manufacturers applying the +P label to cartridges without SAAMI +P homologation. Some are their versions of the same cartridges that don't adhere to SAAMI specification, but many are cartridges where no SAAMI +P version exists.
The standards they apply are not public and they are applied at the individual company's discretion.  Those companies determine which firearms are suitable for use with their ammunition. None, to the best of my knowledge, received reciprocity of approval from firearm manufacturers. Back to the case in point…
The 38 Special, comparatively speaking…

There are 108 commercial loads for the 38 Special, placing in third in popularity, trailing the 45 Automatic with 113 loads and the 9mm Luger with 214 loads. I would assume the popularity of the 38 Special is driven by dedicated 38 Special firearms, as well as 357 Magnum owners that do most of their recreational shooting with the low recoil, low muzzle blast 38 Special cartridge.
38 Special 158 Grain

Yards

0

10

20

30

40

50

Velocity – fps

750

745

740

736

731

726

Energy – ft.-lbs.

197

195

192

190

187

185
38 Special 158 Grain +P

Yards

0

10

20

30

40

50

Velocity – fps

880

874

867

861

855

849

Energy – ft.-lbs.

272

268

264

260

256

253
9mm Luger 147 Grain

Yards

0

10

20

30

40

50

Velocity – fps

965

957

948

940

933

925

Energy – ft.-lbs.

304

299

293

289

284

279
380 Automatic 100 Grains

Yards

0

10

20

30

40

50

Velocity – fps

910

898

887

876

865

854

Energy – ft.-lbs.

184

179

175

170

166

162
In general, the standard 38 Special out muscles the 380 Automatic in kinetic energy, bullet weight and penetration. The 38 Special +P nears 9mm Luger performance. Yes degree of difference depends on specific ammo and bullet weight.
38 Special +P 110 Grains

Yards

0

10

20

30

40

50

Velocity – fps

950

938

926

914

903

893

Energy – ft.-lbs.

220

215

209

204

199

195
My favorite load for short barrel 38 Special firearms is Remington 38 Special + P HTP 110 Grain. Good on MV, a little light on ME, this one penetrates and expands broadly.
Range time and chronograph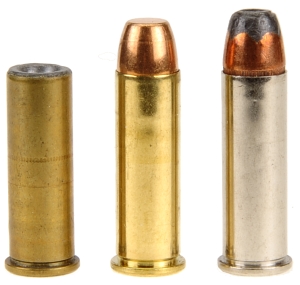 Three types of 38 Special ammunition were used at the range; L-R vintage Remington 148 grain wad cutter, Winchester 130 grain FMJ target ammo, Remington 110 grain JSP +P.
Wad cutters are great for target shooting and I load them in 38 Special and 357 Magnum with modest powder charges for recreational target shooting and when training new shooters. They are soft shooting, accurate and inexpensive. Chronograph reading 662 fps.
The Winchester target round is good for shooting where setting requires a jacket that encapsulates lead cores. In general, I handload wad cutters at $10/50 rather than buy factory target ammo at $30/50. Chronograph reading 731 fps MV.
Remington 110 grain +P is soft shooting, penetrates approximately 12″ and fully expands in ballistic gel. Chronograph reading 961 fps.
Setting expectations…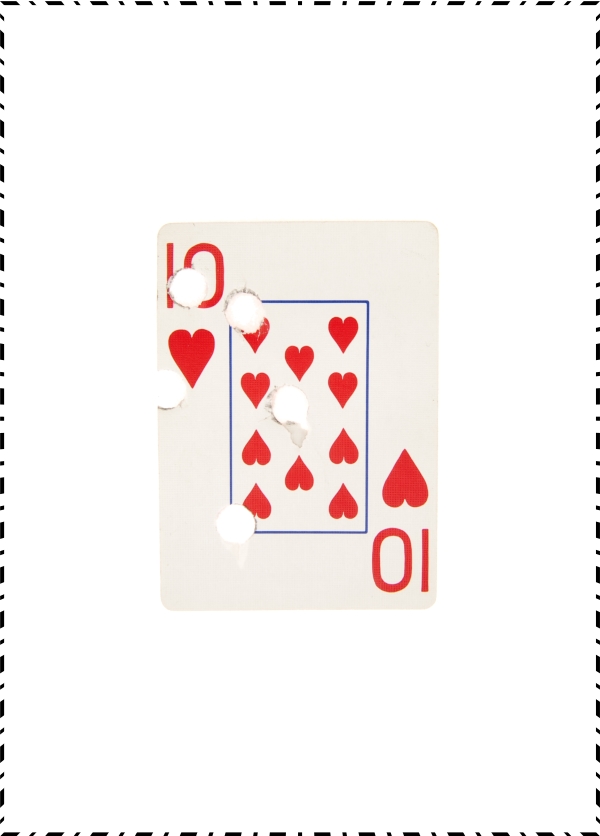 Above, a 10 yard target, 2 1/2″x 3 1/2″ playing card, shot with a two hand hold and support from a vertical structure. The dashed line framing the card represents the area, 5″x7″, I could place 5 shots at 10 yards without using a near structure. Much better than with my aluminum frame old timer, which I will attribute to the extra heft of the Model 36's steel frame. The Model 36 is an up close and personal weapon, which I don't believe is a huge surprise.
So what is up close and personal? Outside of Martha's Vineyard living, certainly room to room defense in a typical home. Certainly in the distances incurred in an attempted car jacking, or any other attempt at malice while seated in a car, or while at work that is open to public access, or in the face of a close personal attack on the street. All, of course, as setting and local, state and federal law permit.
Where would the Model 36 not fit into a civilian application? Few. We've seen recently where private citizens took relatively long shots in crowded malls and crowded churches to save the lives of others. This would not be the type of firearm that would apply as there would be too great a risk of missing a target and hitting bystanders.
Overall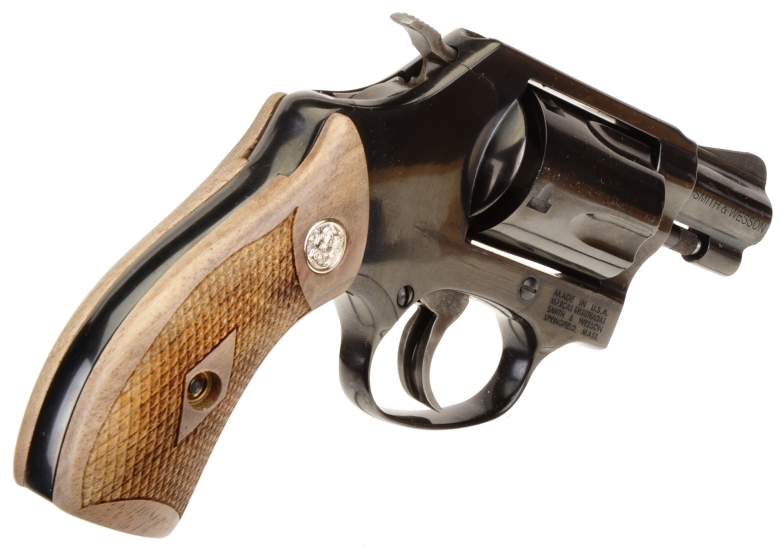 Smith & Wesson Model 36


Manufacturer

S&W Springfield, MA


SKU

150184

Type

Double Action

Caliber

38 Special +P


Capacity

5

Barrel Length

1.875″


Rifling

1:16″ RH


Weight

19.5 Oz

Overall Length

6.94″

Height

4.16″

Width

1.30″

Grip Frame

Steel

Cylinder Frame

Steel

Cylinder

Steel


Sight Rear

Integral U Notch

Sight Front

Ramp

Trigger Pull – D/A S/A

11 lb 4 oz / 3lb 13 oz


State Compliance

CA,CO,MA,MD

MSRP

$849
The Smith & Wesson Model 36 is well made, well finished and a tight, precise assembly. Hammer cocked, the cylinder exhibits minimal rock, no end play and 0.006″ cylinder / forcing cone gap.
Trigger pull measured double action 11 lb 4 oz, single action 3 lb 13 oz. The trigger pull is smooth, both double and single action. I tend to shoot double action revolvers, double action. If I wanted or needed to cock a hammer before shooting, I'd buy a single action revolver and resign myself to taking on an additional step to discharge a firearm.
The very compact Model 36 it much easier to grip and control than a subcompact auto loader, even with only a couple of fingers on its grip. A function of overall geometry.
The sights are adequate for the revolver's purpose and applications; pretty much point and shoot. Can they be used as aimed sights? Of course. I used them to shoot playing cards.
A very nice, self defense firearm. Small enough and light enough to not leave at home.