02/05/2023 – If you'd like to skip the long winded winter fitness soliloquy, feel free to jump to the sub title "Best Cartridge In The World? Maybe In The Universe?". Otherwise…
It had been a very difficult week. The plan was to set up a small (AKA cheap) home gym so I can exercise on these wonderful -25°F days. Regardless age, if you want to survive winter in a cold rural setting, hunt, deal with homestead emergencies… or shopping at Hannaford you have to stay in decent shape.
It is not that I am lazy, it is more an example of Newton's First Law; if I am sitting on the couch, it takes an incredible amount of thought before springing into action and taking out the trash. Additionally, my power curve is sort of like an electric car; you can drive it to work, but you may have to call an Uber to get home.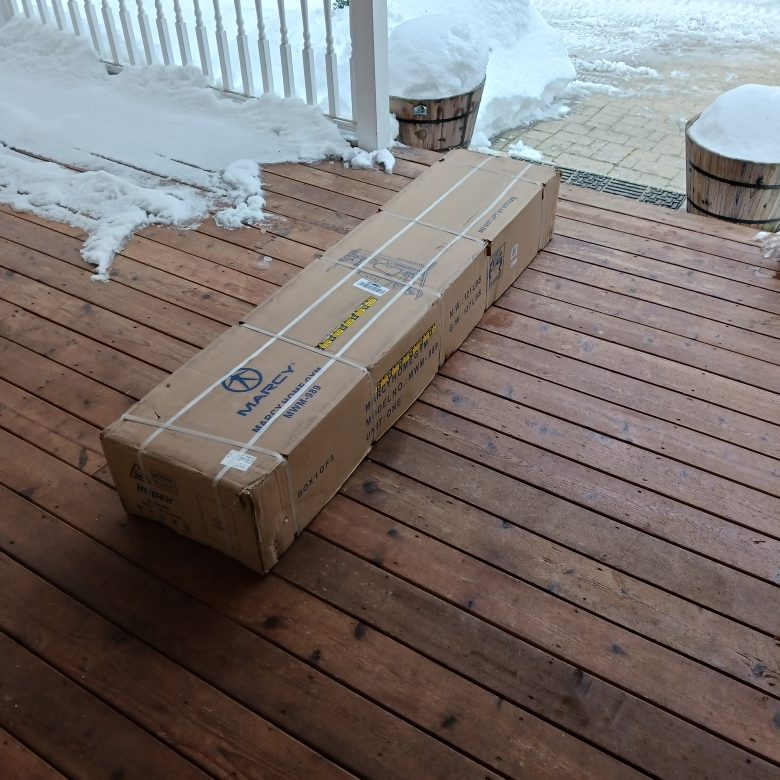 UPS dropped the boxes, three to be exact, on the front porch. The driver, a young guy, politely asked me if I wanted them placed inside, but I knew he really meant, "You're never going to get this in the house old man and I don't want your death on my conscience", or "I work for tips". One intent was as bad as the other, so all I could say was, "Get off my porch".
The short hand truck was close by. The tall, big wheeled hand truck was on the far side of the garage, pinned under a tractor backhoe. So the short hand truck got the nod. The box stand up was OK, backing into the open door and rolling up the entry door step was sort of OK, but the momentum that gathered while passing through the door, and subsequent abrupt stop, set off a chain of events that left me pinned to the floor, laying on my back, with hand truck and crate squarely on top. I tried for a selfie, but that did not pan out.
Door open, arctic like winds blowing over me, all I could do was read the carton's big yellow tape above my face, "Caution, Team Lift" and wonder exactly how stupid I would look when someone found me in a few days. Then I began to wonder how much it would hurt if a coyote found me first.
Ten minutes or so into the… situation, hunger set in, which gave me the strength to immediately wiggle out from under the payload, make lunch and accept that the gym had already started working its exercise magic.
Lunch break….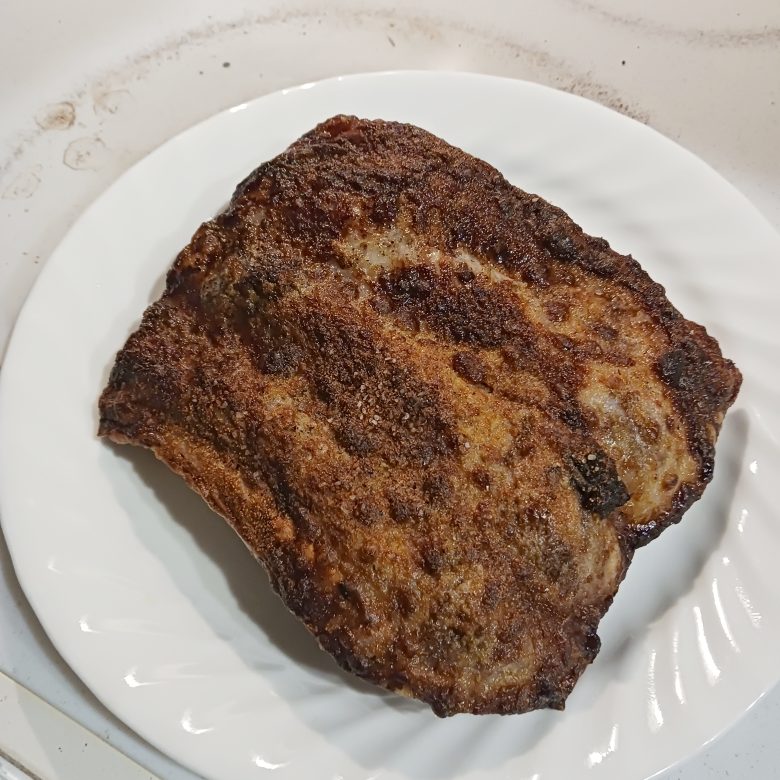 Celebrating the march to fitness; 1/4 slab of St. Louis ribs, thickly coated with a blend of: olive oil, sour cream, smoked paprika, spicy brown mustard, red pepper, and a dash of Kosher salt seemed apropos. Cooked in an air fryer at 400°F for 35 minutes resulted in a spicy/crunchy cap with meat cooked pull away clean from the bone, tender and juicy. Yes , of course this is is associated with exercise equipment!
The project resumes…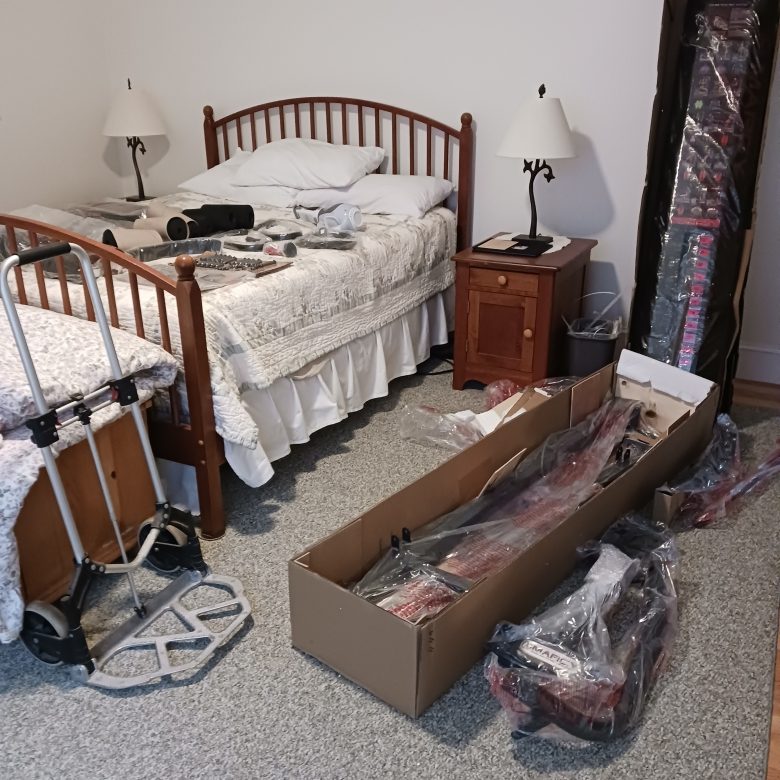 Unpacked in a spare bedroom, the gym has the equivalent 2.472 parts. Equivalent? Yes, there are only 75 types of parts, some in multiples up to 20 each, but they are strung together with 3 cables, threaded through 16 pulleys, which equates 2,472 parts worth of complexity and stress. Get one wrong and a leg extension could result in a pull down bar concussion.
The measurement of progress is subjective…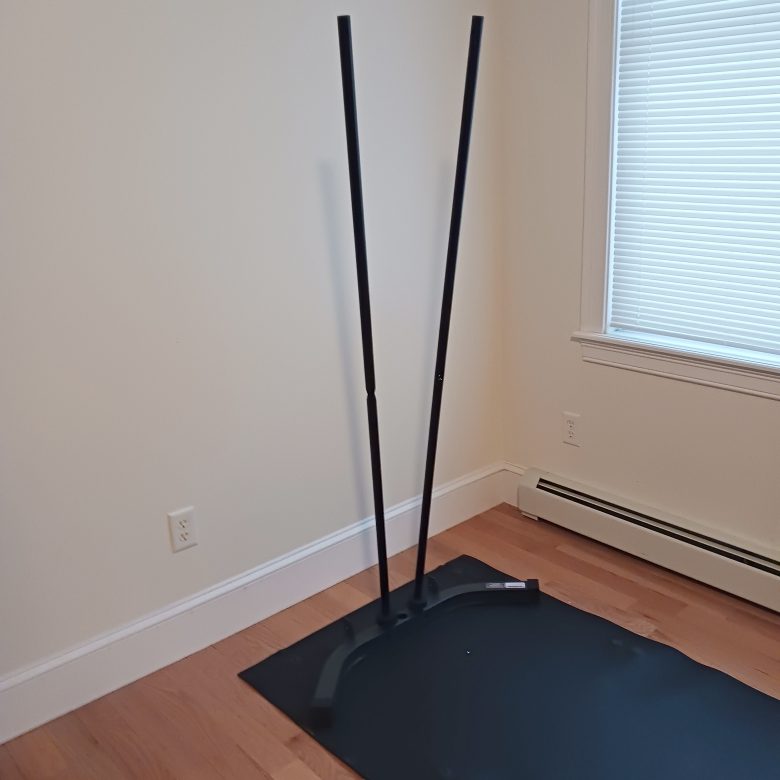 Three days and 3 portions of ribs later, assembly was stalled at this point for preparation considerations. The manufacturer suggested assembly time of 4 hours could have been sarcasm, but I needed to make command decisions. Mat or no mat? Is that the correct spot in the room? Once it was assembled, it would be a permanent feature of the room. Eventually…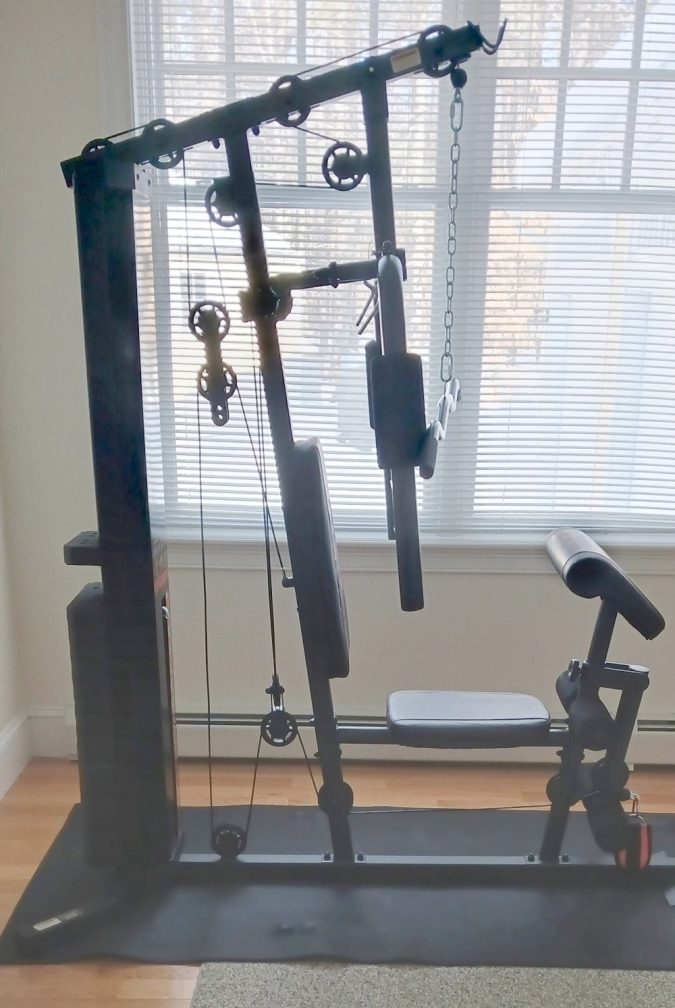 Use of winter indoor time
Extreme cold weather can really kick your ass. There is the struggle of frequently clearing snow at subzero temperatures. Then there is a tendency to stay indoors where it is not freezing, which cuts down on an opportunity to get enough exercise to make snow shoveling safe.
Twenty five mile round trip to the nearest gym, thirty to one I can afford that is not a thinly disguised singles club, acquiring a home gym seemed a be a reasonable action. It turns out, if the newest trend in exercise equipment isn't an objective, they are not so expensive and often found on sale.
The research and search, virtual and tangible, ended with a Marcy MWM-989. MSRP is $749.99, sells on Amazon at $699.90, both with free shipping. Anti gun Dick's sell this for $499.90, but charges $160.00 for shipping. For a $40 difference, the decision was not to put money in an anti gun retailer's pocket. There are many similar brands and configurations to select from.
Four hours of actual labor to assemble, in a fashion that resulted in it working as intended and with no left over parts. A 150 lb weight stack, it meets my needs for weight control and cardio. If this were thirty years ago, I would have opted for a 300 lb weight stack, added a cup holder and possibly an ash tray.
Why am I yammering on about exercise equipment? If you like to hunt and fish… and/or breathe, you need to stay in decent shape. We don't all live and work where it is convenient to get out and jog or go to a gym. Many of my old buddies are sidelined, unable to handle exertion. Surprisingly, laying down on a game trail, breathing like a giant carp out of water, is not a good look. But what about this gun stuff?
Best Cartridge In The World? Maybe In The Universe?
Who knows. I think of all of the different cartridges and rifle combination I've gone through over the years, the difference between one and so many others, within a reasonable power range, has been ballistic hair splitting.
Where once only very expensive production rifles, or many costly hours of custom work, delivered sub MOA accuracy and longevity of service, evolution of design, precision computerized machine control and metallurgical and process control advancements have delivered the same across a broad price spectrum. Support for my assertions? Possibly.
The Ruger American Standard – No assembly or rework required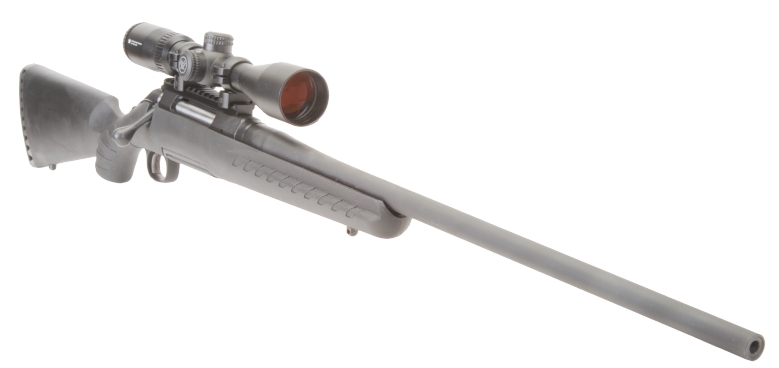 Not wanting to play fast and loose with model names and terminology, the subject rifle is actually Ruger cataloged as a Ruger American® Rifle with Vortex® Crossfire II® Riflescope Model Number: 16932, which carries an MSRP of $799. The rifle, without scope, is the Ruger American® Rifle Standard Model Number: 6902, which has an MSRP of $599.
Ruger American Rifle With Vortex Crossfire II

Company

Ruger

Point of Manufacture

Mayodan, NC, USA

Item #

16932

Type of Action

Bolt Action 3 Lug 70º Lift

Caliber*

270 Winchester

Magazine Capacity

4

Magazine Type*

Flush, Detachable, Rotary

Barrel Length

22″

Barrel Material

Alloy Steel

Barrel Finish

Matte Black Oxide

Rifling Twist Rate

1:10″ RH 5 Groove

Receiver Material

Alloy Steel

Stock Type

Black Synthetic

Length of Pull

13.75″

Drop at comb

5/8″

Drop at heel

3/4″

Trigger Guard Material

Integral To Stock

Front Sight

N/A

Rear Sight

N/A

Scope Accommodation

Vortex Crossfire II 3-9×40


Trigger Pull

3 To 5 Lbs

Weight of Firearm

7.1 Lbs

Overall Length

42.50″

Safety

Tang

MSRP

$799

* Also available in 204 Ruger, 243 Winchester, 6.5 Creedmoor,
270 Winchester, 30-06 Springfield. Flush Fit and AI Type Magazines

It's a jelly bean
A box of ammo, maybe a sling for those swivel studs, and you're good to go… the range and then hunting. Not as exciting as the old days where it was a trip to the range, shooting 1.5″ – 2.0″ groups, back to the shop to clean up inletting, float a barrel, 8 hours worth of glass bedding, maybe rework a trigger, assemble some handloads, then back the range and repeat.

What you have here is one of many thousands of this model. Virtually all capable to shoot 1/2″ – 3/4″ 5 shot 100 yard groups with good ammo. Kinetic energy, in 130 grain to 150 grain form, makes the 270 Winchester deer and elk worthy out beyond 500 yards. However, trajectory and subsequent reasonable hold over makes that useful range closer to 400 yards.
The typical hunter's marksmanship skills might bring that in to something a bit less. No, of course I don't mean you, I meant those other guys. Notice limitations are human limitations, not equipment limitations. For eastern hunters, particularly north eastern hunters, the 22″ barrel and heavier bullet weights take enough steam off of velocity to pop your deer of choice even at less than 50 yards.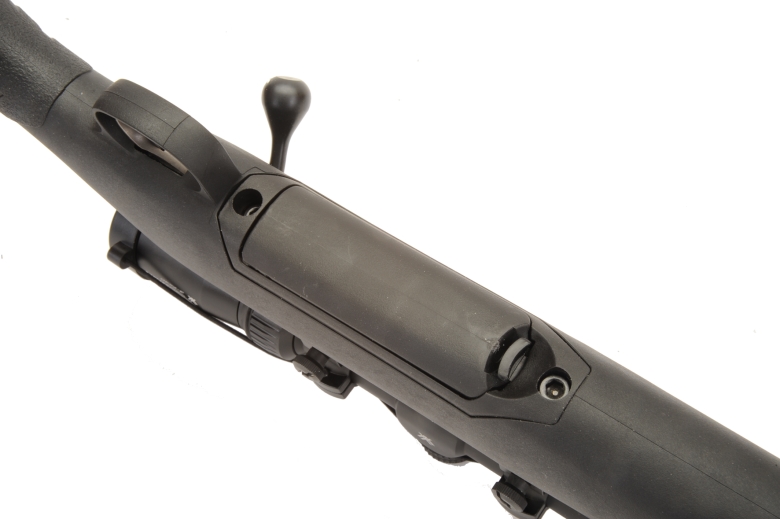 The 270 Winchester version, like the 243 Win and 30-06 Springfield, is available only in self centering, rotary magazine type, while other chambers are available in both flush and AI standards. 270 Win shooters have to live with the disappointment of no downward projecting detachable 10-20 round mags. I know, some days it's not worth getting out of bed. Yes, sarcasm.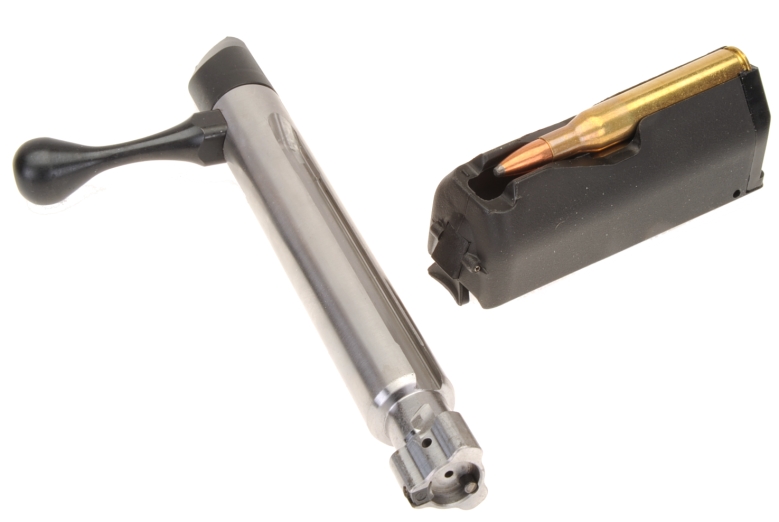 In addition to the flush magazine, the Ruger has other defining design elements, like a full diameter bolt, three locking lugs and a 70° lift. Cocking utilized twin cams to cock the striker for better mechanical advantage. The result is light cycling with full firing pin force for quick lock time and reliable ignition. Always big pluses. Not sarcasm.
Safety front and center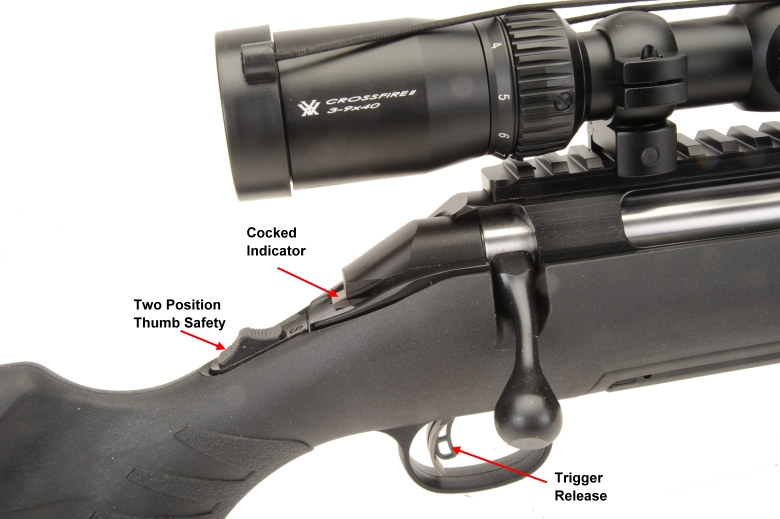 The Ruger American has obviously placed considerable thought into safety. There is the two position tang safety that permits bolt cycling with the safety engaged. There is the drop safety embedded in the adjustable trigger that must be compressed before the trigger can function. The back of the firing pin projects below the bolt shroud when cocked as a visual cue.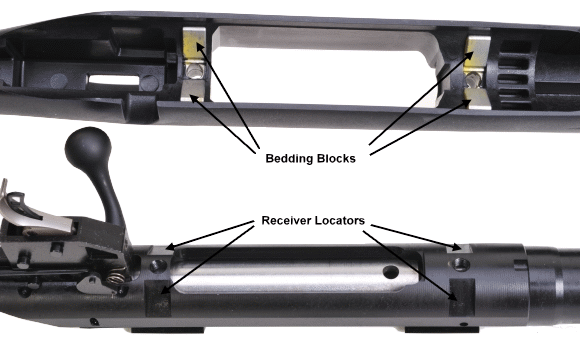 The Ruger's Power Bedding System is one of those "heart of the product" features. Clamping the notches in the bottom the receiver to the bedding blocks in the stock, while floating all of the other surfaces assures consistent and consistent contact, place and pressure.
The results is an incredibly accurate sporter. My experience with a variety of chambers has always been the same; sub MOA precision. Separating and reinstalling the stock from the barreled action seems not to alter zero from wear or orientation.
The Vortex Crossfire II  scope
Sold through retail channels, the non sale price for this Vortex scope is typically $200, but sometimes half that price. So as part of a package it may or may not be price effective as the Ruger American Standard has an MSRP $200 less without scope. As a purchasing convenience, particularly as a gift to a new hunter, the bundle may make a lot of sense, because the price included scope and rings.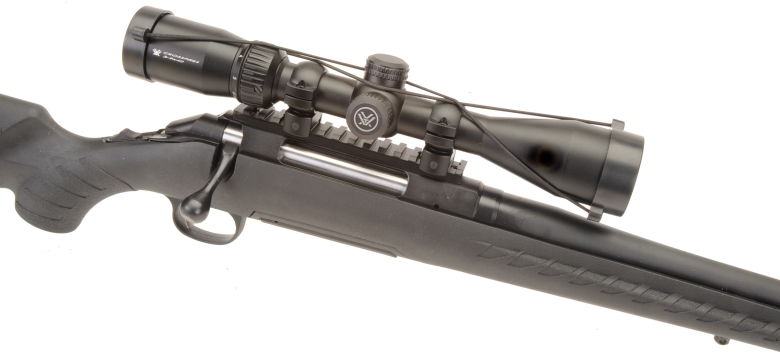 The vertical below the crosshairs' reticle subtentions, the little tic marks on the crosshairs, represent holdover values of : 1.5 MOA, 4.5 MOA and 7.5 MOA regardless the range, however, MOA value is only true when the scope is at a 9x setting. At that magnification, as long as the distance is known, not only can a precise hold over be determined, but so can the size of a target.
I think this is a better choice than a first focal plane reticle for most people and situations as the apparent reticle size remains constant, thin, which makes it easier for use at a distance. A first position focal plane reticle grows with magnification, so subtention scale is true across the magnification range, however, crosshairs get as thick as 2x4s.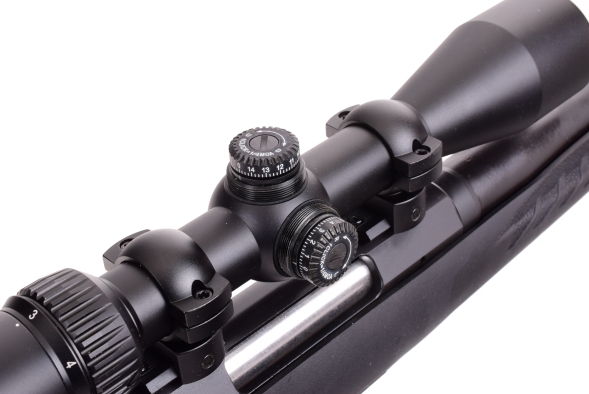 I think it is safe to assume that most people will just use the intersecting crosshairs for sighting in and aiming and save the rest of the possibilities for impressing friends and anyone else they can corner at the range,
The Crossfire II has exterior multi coated optics to cut reflection and promote light transmission, the one piece machined aluminum tube is O ring sealed to keep out debris and small animals, the scope if nitrogen purged to prevent fogging, and the turret adjustment settings can be reindexed to zero after sighting in to facilitate field adjustment. The Vortex scope carries a life time parts and labor warranty.
The 270 Winchester… An original hot rod

I don't shoot factory ammunition very often. It is typically over priced and heavily promoted refinements often are of zero benefit for anyone not shooting out beyond 500 yards.
In fact, the availability of good, bonded, high BC bullets in bulk makes handloading, once again, a significant money saving opportunity. Shoot much more, pay much less. And these are bullets that perform as well on game as highly touted bullets from leading manufacturers.
In this case, I chose two value priced brands of factory ammo to provide a bench mark anyone can duplicate for an apple and apple compare. L-R, PPU 130 grain and 150 grain ammunition.
So what can inexpensive ammo do?
In terms of velocity, the Ruger American's 22″ barrel chronographed 2,820 MV FPS compared to a manufacturer's rating of 3,060 MV FPS. The 150 grain PPU chronographed 2,665 MV FPS compared to the manufacturer's rating of 2,850 MV FPS. Part of the difference between actual and rating is due to the barrel length being 2″ shorter than a SAAMI test barrel can be attributed to sub zero temperature. But what does that look like, ballistically down range?
From the Real Guns's ballistic calculator
Best Zero : Range 0 – 500 yards – 130 Grain PPU
Yards
0
50
100
150
200
250
300
350
400
450
500
Velocity – fps
2820
2697
2578
2462
2349
2240
2133
2029
1929
1832
1737
Energy – ft.-lbs.
2295
2100
1918
1750
1593
1448
1313
1189
1074
968
871
Path – in.
-1.50
1.20
2.71
2.91
1.67
-1.14
-5.68
-12.14
-20.71
-31.61
-45.10
Best Zero : Range 0 – 500 yards – 150 grain PPU
Yards
0
50
100
150
200
250
300
350
400
450
500
Velocity – fps
2663
2536
2413
2294
2178
2066
1958
1852
1751
1653
1561
Energy – ft.-lbs.
2362
2142
1940
1752
1580
1422
1276
1143
1021
910
811
Path – in.
-1.50
1.33
2.81
2.79
1.12
-2.38
-7.92
-15.73
-26.07
-39.25
-55.61
What about handloading at a cost of $12 – $16 per box of 20? Quite a difference.
Best Zero : Range 0 – 500 yards – Speer Hot Core 130 Grain
Yards
0
50
100
150
200
250
300
350
400
450
500
Velocity – fps
3104
2984
2867
2753
2642
2533
2427
2324
2223
2125
2030
Energy – ft.-lbs.
2781
2570
2373
2188
2014
1852
1700
1559
1427
1304
1190
Path – in.
-1.50
1.00
2.52
2.99
2.31
0.39
-2.89
-7.65
-14.02
-22.14
-32.19
Best Zero : Range 0 – 500 yards – Nosler Partition
Yards
0
50
100
150
200
250
300
350
400
450
500
Velocity – fps
2924
2824
2726
2631
2537
2445
2356
2268
2183
2099
2017
Energy – ft.-lbs.
2847
2656
2475
2305
2143
1991
1848
1713
1586
1467
1355
Path – in.
-1.50
1.11
2.62
2.97
2.06
-0.20
-3.91
-9.19
-16.16
-24.96
-35.72
All Real Guns 270 Winchester Handloads
Conclusion?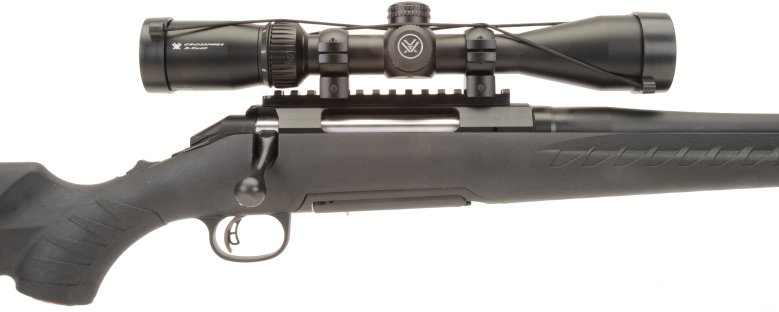 The subject Ruger American Standard can do everything a production rifle costing three times as much would deliver; accuracy, reliability, durability. The Vortex scope in terms, of being shock resistant and waterproof, non fogging, holding adjustment, and durability will do the same. Want a rifle for hunting and recreational target shooting? Pick a chamber of preference and you would be all set.
I know, with that price difference, that can't be. Not so. All of those terrific qualities have been engineered into the design. What's missing? A lot of expensive brand ego, some nicely figured walnut, some satin finished bluing or stainless and an overpriced scope.
I was going to say you would be missing bragging rights, however, the opposite may be true  when you out shoot the expensive competition.