My wife loves hummingbirds, I love my wife. Subsequently, I put up a double hook shepherd's pole in the garden outside of her office window and hung blown glass hummingbird feeders. 1:4 refined sugar to tap water filled, the sky and feeders became a hummingbird International airport. I say "International" because some just had that Canadian look.
Based on that success, we expanded into a bird seed feeder on a single hook shepherd's pole with special features that made it squirrel proof and we filled it with a blend of seed that squirrels don't like. For several days, chickadees buzzing and landing on the feeder and eating and, unfortunately dropping seeds to the ground where chipmunks gathered to team tunnel.
So we watched as a scout chipmunk climbed a near adjacent Japanese maple tree and tested each projecting branch in an effort to get within jumping distance of the pole. No dice. Next he tried to climb the slick 3/4″ pole, grappling furiously, rising five or six inches and the sliding back to the ground with a belly burn.
Eventually, he learned that if he hugged the pole with his hind legs, he could propel himself upward with his front paws, even if the approach was a little disturbing to watch. My only point is that there is a unique solution to every problem, like that of carrying concealed when dressed for hot summer days.
The Ruger LCP Max… Dun-Dun-Dun-Dunnnnnn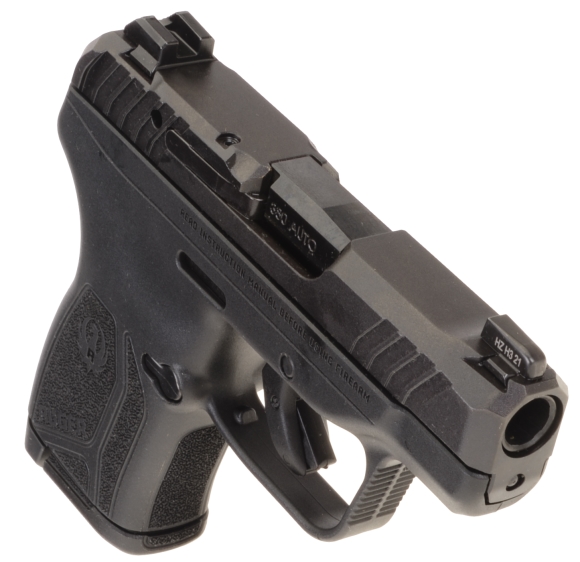 Ruger LCP MAX


Company

Sturm, Ruger & Co., Inc.

Manufacture

Mayodan, NC

Model #
13716
Type of Action
Secure Action™

Caliber
380 Auto
Magazine Capacity

10 – Optional 12

Barrel Length
2.8″
Barrel Material
Alloy Steel
Rifling Twist Rate
1:16″ 6 RH
Slide Material
Alloy Steel
Slide Finish
Black Oxide

Grip Frame Material
Glass Filled Nylon
Internal Chassis
Anodized Aluminum
Front Sight
Tritium – Dovetail Mount

Rear Sight
U Notch – Dovetail Mount

Weight of Firearm
10.6 Oz.

Trigger Pull
5 Lbs 12 Oz
Overall Length
5.17″
Overall Height
4.12″
Width At Widest

0.93″ Grip

Thumb Safety
No
Trigger Safety
Yes
Mag Disconnect
No
Key Lock
No
CA Approved
No
MA Approved
No
MSRP
$449
Table Elucidation
The Ruger LCP Max Secure Action™ Fire Control System is a locking breech version of the type employed in the Ruger-57, LCP II and Security-9 pistols. Within this system, an enclosed hammer is partially precocked through rearward slide movement and fully cocked during trigger pull.
Hammer and sear springs keep both components in constant contact and a secondary hammer notch serves to catch the hammer short of full travel in the event hammer and sear are jarred out of position. The trigger safety must be depressed for the trigger to be pulled.
A lightweight Titanium firing pin has no stored energy and does not need to be otherwise blocked to make the pistol muzzle down dropped safe. The hammer is fully enclosed under the slide where it cannot be inadvertently struck.
Ruger has an excellent video that is posted for the Model-57, but provides substantial insight into the Secure Action™ System operation.
Magazine Capacity
A standard LCP II holds 6 rounds without an extended magazine. The LCP MAX holds 10 rounds with only a 0.400″ increase in overall pistol height. Overall height measured from top of rear sight to farthest magazine surface.
In reality, the LCP MAX height increase is minor because most LCP II owners use an extended magazine floorplate to provide necessary finger support. From a concealment standpoint, the LCP MAX shows less than the LCP II with magazine extender in place.
For those who want more, Ruger offers 12 round magazines. The rear of these magazine is the same length as the 10 round, however, the forward portion of the 12 round is approximately 0.200″ longer than the 10. Personally, the 10 round magazine is exceptional for me.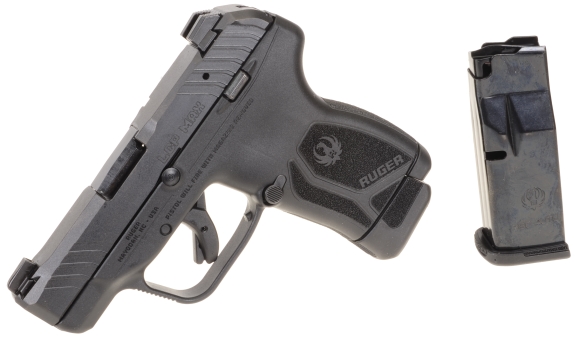 Ruger LCP MAX with 12 round magazine installed, 10 round Mag, right.
Size is relative
My wife's typical carry 380 Auto is a LC380, below – top.  When I use the same pistol, it is changed over to 9mm Luger with a Ruger conversion kit. The LC380 is considerably larger than the LCP MAX below it, and the LCP MAX hold 4 more rounds than the LC380. The LCP MAX mag release can be swapped left or right side.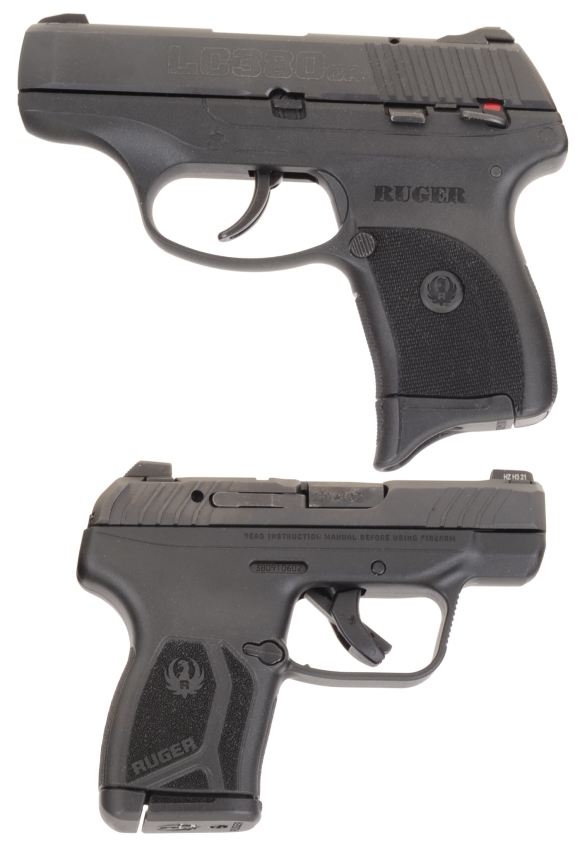 I moved to the LC380 from an LCP II primarily for improved sights and slightly larger grip length. The trade off was a larger pistol and no gain in capacity. The LCP MAX takes me back to the small size of the LCP II, good sights and a sharp increase in capacity. Plus the price is much better than the LC380.
Simple, clean parts and assemblies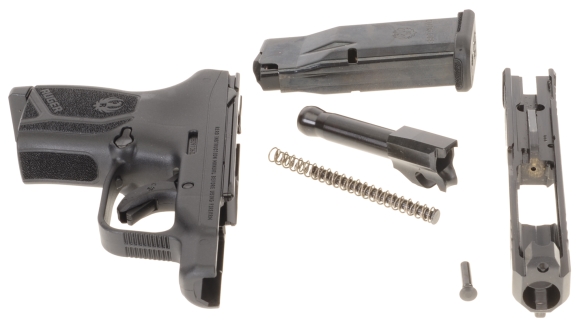 Sturdy poly frame, precision internal aluminum chassis, bushingless slide, dual recoil spring guide rode, and ramped barrel. Takedown is: mag out, check for clear chamber, push out take down pin, move slide forward and off frame, remove guide rod and barrel.
Good sights and appropriate

The front sight is Tritium with a white outline. The rear is a U notch type and is drift adjustable. Both sight dovetails are BodyGuard pattern compatible. Notice the protruding ears at the rear of the slide. They go a long ways to making the slide easy to open.

Better view of the Tritium front sight and ribbed rear sight face. The grip stippling is very effective, the rear slide gripping surfaces make for easy slide operation.
380 Automatic Ammunition
The LCP MAX is listed as a standard 380 Automatic ammunition pistol and is not for use with "+P" ammunition. Which is all good as the 380 Automatic has no SAAMI +P version. 380 Auto +P is the creation of independent ammo0 manufacturers, each deciding what +P means in regard to pressure. Ruger could hardly be expected to sign on to +P ammo when there is no spec to use as the basis for testing.
Unless part of a project that specifically requires the evaluation or use of 380 Auto +P ammo, I never use it. 380 Auto +P ammo does not add appreciable lethality to the round. If I needed more, I would just carry a 9mm Luger…. which I do on occasion where concealment is not challenging.
Performance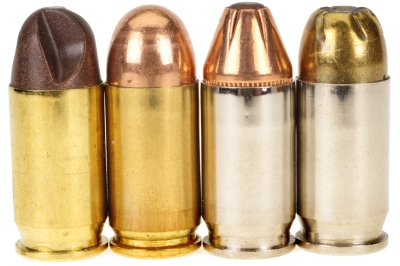 Caliber

Ammunition

Bullet
Weight
Grains
Rated
MV FPS
Recorded
MV FPS
2.8″ Bbl

380 Auto

ARX Self Defense

56

1315

1283

380 Auto

Hornady Critical Defense FTX

90

1000

997

380 Auto

PMC Bronze FMJ

90

961

881

380 Auto

Remington Golden Saber JHP

102

940

902
The LCP MAX did well over the chronograph, considering the standard test barrel length used for rating SAAMI ammunition is 3.75″ or 1″ longer than a LCP Max barrel. In addition, the LCP MAX was rock solid reliable, cycling anything it was fed reliably. Big, big deal for a defensive weapon… a good deal of peace of mind.
Accuracy was easily sub playing card size at ten yards, inside 2 1/2″ x 3 1/2″, shot with a two hand hold. The LCP MAX seemed easier to grip, two fingers beneath the trigger guard, than the LC II and it is more manageable under recoil. None of the LCP II's finger stinging I sometimes feel. The slide gripping surfaces are cut deeper than the LCP and the dog ears at the rear of the slide make pulling the slide back a minor effort.
Overall trigger stroke is longish, but 0.3″ is no resistance pretravel, and only about 0.1″ is dedicated to fully cocking the hammer and sear release. The trigger pull is manageable and would not be noticed in a defensive situation. I did enjoy shooting the LCP MAX and it is so compact and light it was an easy pocket holster carry.
The LC 380 pistol is packaged with one 10 round magazine, soft pocket holster and magazine loader. Nice Ultra-Compact. It is compatible with most LCP II holsters.