02/19/2023 – Optimizing combinations is essential to devising a system that is greater than the sum of its parts. Aristotle? Sure. Why not? Or… or… we can go with what is before me, spicy pork rinds and Swiss cheese. The pork rinds are tasty and have virtually zero carbs. However, they lack mass and are, therefore not appetite satisfying. Swiss is mild in taste, smooth in texture and filling. Break off a piece of Swiss, marry it to a pork rind of appropriate size and you have a serious snack.
Every morning, I make a 1/2 cup of egg substitute into a light and fluffy scrambled egg, matching it with 4 ounces of low sodium Italian sweet sausage, or Jimmy Dean breakfast sausage, at the urging of my cardiologist. Loose interpretation of his advice.
Both components are placed on a dish, each cut into a 5×5 grid, topped with Texas Pete's hot sauce, then consumed as an ensemble of one square of egg to one square of sausage. It totally freaks me out if either component suffers a casualty, and the meal concludes with one or the other a left over.
You don't even want to get me going on hot dogs on a dish alongside sauerkraut. That didn't take much persuasion.
Use this as a segue into systems comprised of firearms and ammunition? Not-A-chance! Well, okay, maybe a chance. Damn these pork rinds are hot!
While contemplating my next move…
I like Winchester lever action firearms. Not to the exclusion of all others, but enough to want to write about them over the past 25 years. Subsequently, Winchester lever action rifles have been covered extensively on Real Guns®. Below, models and specific chambers reviewed.

Model 1873 (44-40)
Winchester's Model 1873 Short Rifle Part 1
Winchester's Model 1873 Short Rifle Part 2
Winchester 1873 and the 44-40 WCF Part I
Winchester 1873 and the 44-40 WCF Part II

Model 1885 (17 HMR, 38-55 WCF)
Winchester's Model 1885
Winchester's Model 1885 Traditional Hunter Deluxe and the 38-55 WCF Part I
Winchester's Model 1885 and the 38-55 WCF Part II

Model 1886 (45-70, 45-90)
Winchester's Model 1886 Extra Light Rifle Part 1
Winchester's Model 1886 Extra Light Rifle Part 2
Winchester's Model 1886 Short Rifle in 45-90 Winchester Part I
Winchester's Model 1886 Short Rifle in 45-90 Winchester Part II
Winchester's Model 1886 Saddle Ring Carbine

Model 1892 (357 Mag, 44 Mag, 45 Colt)
The Winchester Repeating Arms Model 1892 Part 1
The Winchester Repeating Arms Model 1892 Part 2
Winchester Model 1892 Carbine In 45 Colt
Model 1892 Deluxe Trapper Takedown Case Hardened
Winchester's Model 1892 Carbine Part I
Winchester's Model 1892 Carbine Part II


Model 1894 (30-30 Win, 32 Special, 38-55 WCF, 44 Mag, 450 Marlin)
Winchester's Model 94 Trails End Takedown Part 1
Winchester's Model 94 Trails End Takedown Part 2
Winchester's Model 1894 Carbine in 38-55 WCF Part 1
Winchester's Model 1894 Carbine in 38-55 WCF Part 2
Winchester's Model 94 Short Rifle Part 1
Winchester's Model 94 Short Rifle Part 2
Winchester's Model 1894 32 Winchester Special Part I
Winchester's Model 1894 32 Winchester Special Part II
Winchester's Model 1894 Carbine
Winchester's Model 94 Short Rifle Part I
Winchester's Model 94 Short Rifle Part II

Model 1895 (30-40 Krag)
Winchester's Model 1895 Part 1
Winchester's Model 1895 Part 2
I think the amount of coverage would suggest I like Winchester firearms, so what follows doesn't represent a dislike for Winchester or a brand bias. I own and shoot Winchesters and like them a great deal.
What follows are my thoughts, after receiving Model 1886 for review and finding I had no enthusiasm for the project. I apologize in advance for the long wandering narrative that follows. It wasn't so much an article as thinking through the issue and cause.
The science behind review gun selection…
 Usually, while eating lunch, it will dawn on me that I haven't written about a manufacturer's products for a while. Then my brain cells sort that thought into "Intentional" and "Unintentional" thought buckets. Those buckets are sub sorted into "This is not a reader disservice" and "This is a reader disservice" buckets. Then I request whatever makes it through the filters as something useful to readers. Yes, sometimes the result is adjusted by what I would enjoy writing about.
I definitely do not use "New" as a primary criteria. New has to also pass through the filters. Usually "New" for numerous rifle manufacturers means they put the gun stock of the week on the same old barrel action, labeling it for: hunting, long range shooting, tactical, security, mountain use, woodland use. I get it. Manufacturers are always under pressure to make "New", but the incidence of truly new is extremely low.
So I got to thinking about Winchester, more specifically about not writing about the Winchester Model 1886 for a while.
The case of the Model 1886 – dwindling variety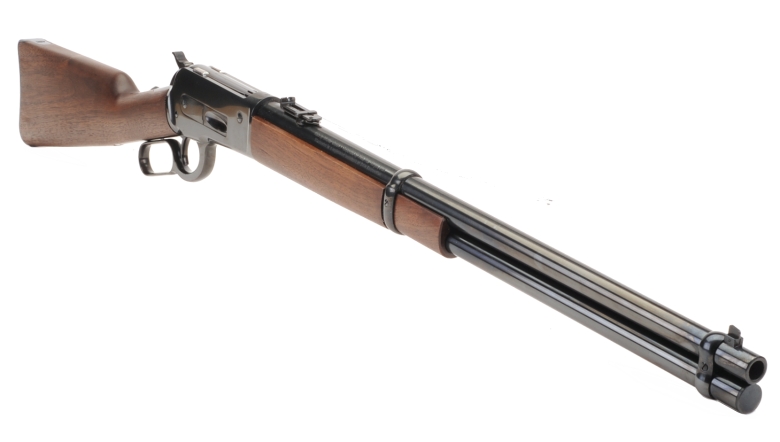 Manufacturers seem to be taking advantage of the lever action's continued popularity in replica and modernized versions, with the Model 1886 getting a good deal of attention from manufactures other than Winchester.
Chiappa Firearms – 6 versions, including carbon steel and stainless, short and long barrel, traditional and modern hunting versions. Approved for use with modern, high pressure ammunition.
Davide Pedersoli – 5 versions, case hardened carbon steel, replica and modern hunter versions, short and long barrel.
Taylor and company – 6 versions, including carbon steel and stainless, short and long barrel, traditional and modern hunting versions. Approved for use with modern, high pressure ammunition.
Uberti – 2 versions, carbon steel, shotgun style buttstock, Hunter Lite and long barrel.
Turnbull Restorations – High grade replica base model with a virtually limitless options to customer preference. Available in .45-70 Govt, .45-90 WCF, .475 Turnbull, .50-110 Win chambers.
For some reason, Winchester offers even fewer to choose from.
Limited offering…

Winchester currently offers only three versions of the Model 1886 . The Saddle Ring Carbine has a 22″ barrel and ladder rear sight. The Short Rifle and Deluxe Case Hardened have 24″ barrels. The Deluxe offers aesthetic upgrades; case hardened receiver, nicer walnut and checkering. Weights, respectively, are 8lbs, 8 lbs 6 Oz, 9 lbs 12 Oz..
Within the line up, there are no accommodations for the modern hunter; optical sights, scope or red dot, no short barrel options, no stainless steel, no accessory rails, no larger loop levers. Harsh recoiling chambers all have a steel buttplates, where a good recoil pad would be appreciated. The less ornate models, those more likely to find their way into the woods, do not have checkering or stippled gripping surfaces.
Conversely, Marlin Models, real and replicas, are going gang busters in sales in Winchester corresponding models; Marlin Model 1895 to Winchester Model 1886, Marlin Model 1894 to Winchester Model 1892, Marlin 336 to Winchester Model 1894. But those that are most successful have evolved into the inclusion of more modern features and capabilities.
Why is Winchester so… tucked in on the Model 1886? Strong, factually unsupported speculation to follow.
FN-Browning-Winchester-Olin quadrangle
Fabrique Nationale Herstal owns Browning and U.S. Repeating Arms, the latter producing firearms under the Winchester brand with license from Olin… the owner of the Winchester brand. While FN's manufacturing is world wide, including the U.S., FN's lever action products are manufactured by Japanese company Miroku. They are imported into the U.S. by BACO, Browning Arms Company.
For a time, Winchester dropped lever action rifles the time between the Connecticut facilities closing and Miroku coming on line. When Japanese production began, product quality was great in comparison to where U.S. production had strayed. I know, I owned a few examples from the last year of U.S. production, mostly the result of worn out tooling and equipment.
When Japan came on line, Winchester seemed to have an interest in preserving appearance of originals and producing lots of variations of each, specifics changing with each production run. More recently, the breadth of product lines seem to have narrowed and there are far fewer changes and production is limited and cyclical.
Some models receive thoughtful attention….
The Model 1892 if offered in five configurations, including trapper and take down versions, it is chambered in 357 Mag, 44 Rem Mag, 44-40 WCF, and 45 Colt. Available with semi buckhorn and ladder rear sights, they are also drilled and tapped for receiver mounted peep sights.
The Model 94 is offered in five variations, chambered for the 25-35 WCF, 30-30 WCF, 32 Special, 38-55 WCF, and 450 Marlin. Like the Model 1892, it is available in plain and fancy grades and take down version in 450 Marlin. The take down version has a shotgun style rather than crescent shaped buttstock, complete with a good recoil pad and tapped for scope mounts.
The Model 1886, however, seems… neglected. Perhaps Winchester hasn't seen sales to drive greater investment but, perhaps, Winchester lack of investment in this model is the cause? Could be that Winchester's history with various lever action rifles is driving today's marketing.
Winchester sold a lot of lever action rifles

Approximate units produced, by model, as an expression of model popularity. Data sourced from "The History Of Winchester Firearms 1866-1992" Thomas Henshaw:
| | |
| --- | --- |
| Model | Units |
| 1873 | 720,496 |
| 1885 | 139,725 |
| 1886 | 156,599 |
| 1892 | 1,007,608 |
| 1894 | 4,700,000 |
| 1895 | 425,881 |
Setting aside the Model 1885 single shot under lever model. The Model 1886 was the least in demand of all lever action Winchesters. Why might that be?
I have seen it inferred that the 1886 was a favorite with buffalo hunters. Curious, as commercial buffalo hunting ended in 1884. With an influx of newer cartridges, Winchester was due for a new model. Particularly one with the capacity to handle the 45-70 Government cartridge.
Adopted by our military, a standard between 1873 – 1892, the 45-70 government grew in popularity with civilians hunters and competitive shooters. So the Model 1886 became the heavy hitter lever action for Winchester.
The Model 1886 was sold into world wide markets; civilian, military and law enforcement. There were at least ten major catalogued configurations during its first run, including a musket. Additionally, there were many options available to the consumer, ranging from shorter/longer barrel lengths and highly embellished grades.
Over the course of its production runs, in order of introduction between 1886 and 1903, the Model 1886 was chambered in: 45-70 Gov't, 45-90 WCF, 45-82 WCF, 40-65 WCF, 38-56 WCF, 50-110 Express, 40-70 WCF, 38-70 WCF, 50-100-450 WCF, 33 WCF. With the exception of the 33 WCF, all of these cartridges were originally black powder charged and intended to stop heavy game.
Unfortunately, America was more a nation of deer hunters and trappers, all wanting a more compact, lightweight firearm, chambered for more moderate cartridges. Winchester attempted to address this change by updating the Model 1886 in 33 WCF in 1902, then again with the Model 71, an 1886 derivative, with the 348 WCF in 1936. Both cartridges were still more powerful than necessary and still the size and weight of the Models 1886 and 71 remained.
Winchester put John Browning back on the job, which resulted in the Model 1892, a carbine that outsold the Model 1886, 7 to 1. Light, compact and fast handling, the Model 1892, a scaled down 1886 design, was a huge success. Chambered for predominately revolver cartridges, the result was enough power for deer size game and self defense, light recoil, low report and ammunition that could be shared with a sidearm.
At the onset of the smokeless powder, high velocity era, Winchester led with the Model 1894, chambered for the 25-35 WCF and 30-30 WCF cartridges. The 94 has been manufactured in many, many forms, chambered for a wide variety of handgun and rifle cartridges, and with several iterations of design. At nearly 5,000,000 units produced, this is the most successful Winchester lever action firearm.
The current Model 1886

Model

1886 Saddle Ring Carbine



Item Number

534281142

Caliber
45-70 Government
Magazine Capacity
8 Rounds
Stocks
Black Walnut – Oil

Action/Barrel
Blued Alloy Steel – Brushed
Barrel
22″ Round
Rate of Twist
1:20″
Weight
8 Lbs 0 Oz
Overall Length
41″
Length Of Pull
13 1/4″
Drop At Comb
1 1/4″
Drop At Heel
2″
Rear Sight
Ladder

Front Sight
Marble Brass Bead
Sight Mounting
D&T for Receiver Sight
Trigger Pull
5 Lbs 7 Oz
Safety
Sliding Tang
MSRP
$1,629.99
Good stuff – The Model 1886 was designed from the beginning with big, high performance cartridges in mind. Subsequently, it has a stout design. Beyond the inherent strength of the thick walled steel receiver, the breech block has locating rails that ride in slots cut into the inside walls of the receiver. This arrangement holds the breech block square to the bore and held to only fore and aft movement.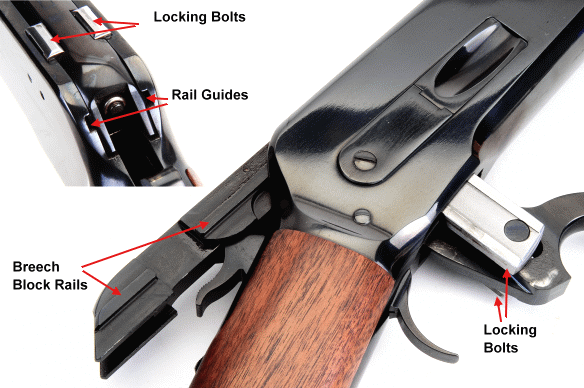 Rather than two small locking lugs as found on a typical bolt action rifle, with the lever rotated closed, the Winchester 1886's breech is locked with two 2.5″x0.750″x0.200″ locking bolts that move perpendicular to the gun's bore in an edge forward orientation. Above left, the action closed with the locking bolts "keyed" between receiver and breech bolt and rails fully forward in their corresponding receiver rail slots. Then the not great stuff…
Plain Jane stock not 45-70 worthy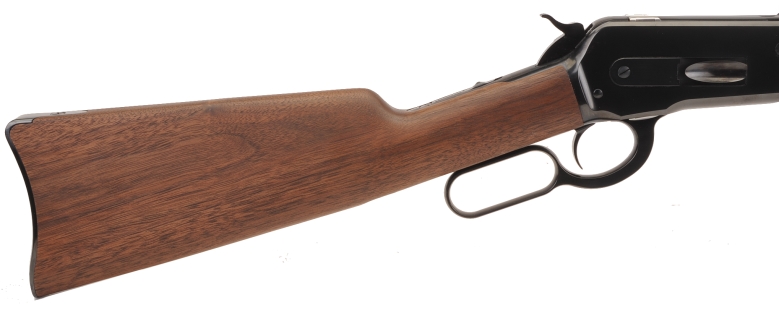 Ever know someone who purchased a firearm, but still had not shot it months after the fact? That is not me. I usually begin with a cartridge, find a rifle that appeals to me, then head for the range as soon as both are in my possession; the entire point of the process.
Not a reenactment fan, not a cartridge purist, for me the modern 45-70 cartridge is a brawler. So 400 grain bullets exit a barrel at 2,000 fps rather than 1,350 fps, with 43 ft. lbs of recoil rather than 24 ft. lbs. of recoil. Narrow  stocks and curved steel buttplates are not on my lit of Joe friendly features. I do not mind a lot of drop at the heal with open sights. The result is recoil diminishing muzzle rise.
Nonslip gripping surfaces are essential for hunting. Cold walnut, wet walnut do not make for stable, safe carry. Does not have to bee fancy, could be checkering, could be stippling, but it has to be coarse enough to hold with bare hands or gloves in any environment.
Sight systems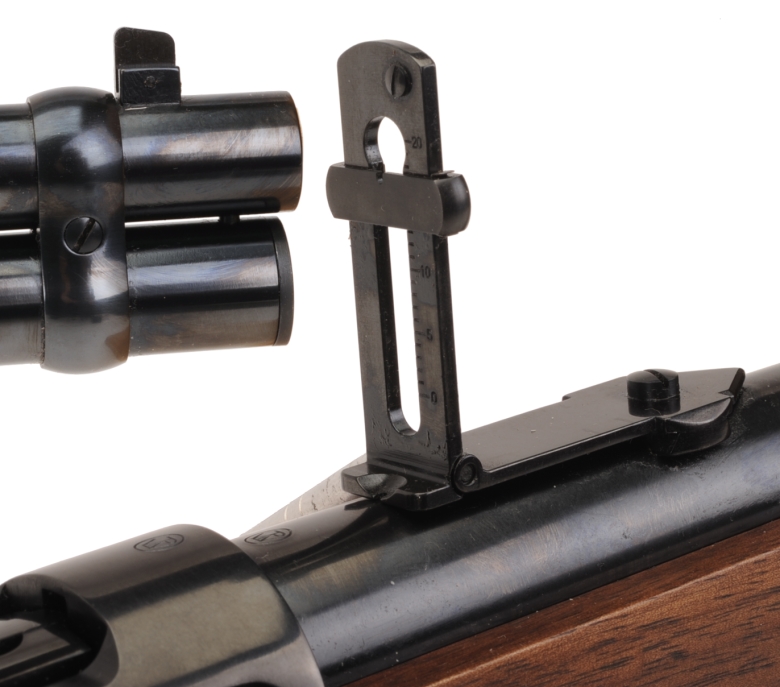 The Saddle Ring model's ladder rear sight and blase front sight are not bad as open sights go, but the range of adjustment far exceeds the potential of the cartridge and the v notch in the slide is too fine tracking moving game. The Short Rifle 1886 version, semi buckhorn sights is probably better.
Ladder site indexing is relative. The scale goes to 2,000, but 2,000 what? It would totally depend on the trajectory of the ammo, so it is best to calibrate sight to ammo and use the scale as relative.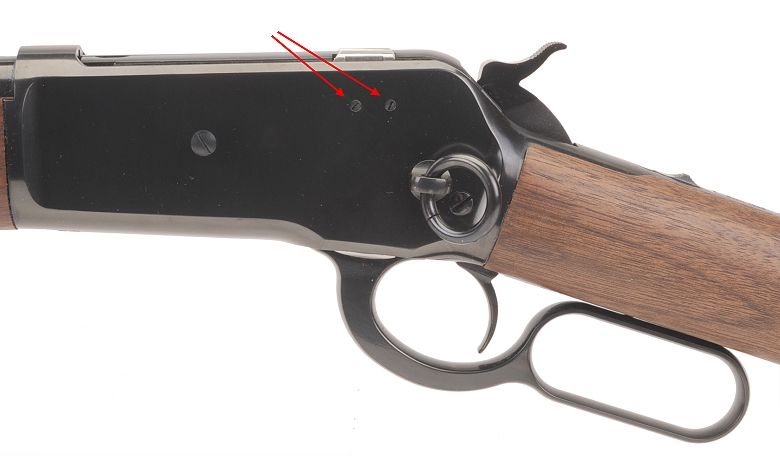 The left side of the receiver is taped for peep sights, as has historically been the case. There are now mounts that are secured at the same point to hold a red dot sight.
I have seen two piece mounts, one on the receiver and one in a vacated barrel dovetail slot for long tube retro scopes, but not for modern scopes. For me, the red dot capability helps, but the combination of this rifle and cartridge can place a shot far enough to warrant scope use. A sight system that doesn't obscure game at a distance.
You can never have too much barrel!…!! Sure you can.

The 45-70, at least in smokeless power form, is not overly barrel length sensitive in terms of velocity, particularly in heavier bullet weights. I can get 2,000 fps MV from a 22″ barrel and 1,1875 from an 18.5″ barrel.
Point blank range for a typical 400 grain @ 2,000 fps is 174 yards with a 4″ hold over at 200 yards. At 1,875 fps MV, point blank range is 164 yards with 5.9″ hold over at 200 yards. Muzzle KE are 2,000 ft lbs versus 1,800 ft. lbs.
In Maine I would surrender 3.5″ of  barrel to lighten a rifle by more  than a half pound and reduce overall length by 3.5″ of brush and tree bumping length. As for the 200 yard difference, shots taken at 50 yards is closer to the practical distance.
So what does all this mean?
With Winchester paring down the model range of thee 1886, they apparently no longer have a version I would select to take hunting.
Suggestions? Sure…. Replace one of the two 22″ barrel guns with an 18.5″ barrel version. Checker it, put a good recoil pad on it. Work it down until it weighs 7.25″, even if moving down from a full length magazine to mid length. Alternatively, make it out of stainless and fit it with a lighter poly stock. Maybe even the same type gun in 450 Alaskan or 50 Alaskan as a limited run.