My wife was a wonderful mom to her four children; our three sons and me. Quite some time ago, I got into a dispute with my heart over a workaholic life style and it, unfortunately, filed for a divorce. It was a long drawn out process that culminated with my wife and I moving to Maine, me getting to know a very talented surgeon on a first name basis and all favorite foods disappearing from my plate.
What got me through the dramatic change in diet, and having to eat virtually everything I did not like and/or respect, was my wife's incredible ability to make anything taste good. She graduated from école de cuisine with an 10 year undergrad degree in "Cooking on a no money budget" to a 54 year post grad degree in "The ability to make anything and everything taste good".
I hate chicken. I don't like the way chickens look, acts or appear in their naked pre-cooked state. I also hate salads and their crunchy, radical left pretentiousness.  Somehow, Di would make chicken salad and a leafy salad, then combine the two and make it all taste incredibly good.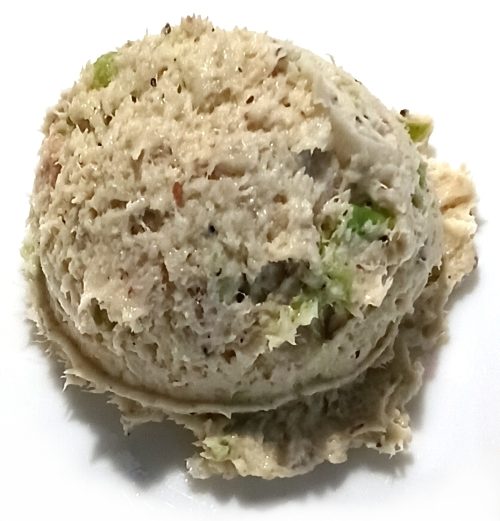 Sometimes I try to recreate dishes based on Diane's book of notated recipes, but there is knowledge I'm lacking and subjective descriptions that are too open to interpretation and factors unknown… many many factors unknown. As a result, my interpretation of her chicken salad recipe yields a soylent green like paste.
Winchester in name only?

I think FN Herstal may be having some difficulty with the recipe for making a Winchester.  But then, even the old Winchester Repeating Arms had that problem every now and then.
It isn't the "Not made in America" thing. Lord knows, peeking at product innards, most everything is made offshore or is riddled with component parts from… exotic cheap labor and environmental protection free destinations.
No, it is the final product's absence of an American traditional look that I find off putting. A global manufacturer's need for generic product? Perhaps a bit of cultural indifference? I do not know. In fact, for all I know, the Xpert could have been designed in the U.S., aimed at modern times and packaged for manufacture elsewhere.
I am old, and even that may be the problem. Competing in rimfire events as a child, the firearm was a Winchester Model 52. So my idea of a target shooting rimfire is in the form of a heavy, boiled linseed  oil rubbed stock made for competition shooting positions, a heavy match grade bull barrel and precision peep sights.
Youngsters, people under 106 years of age, may have a different perspective, especially if they play video games, embrace polymer and vote for Democrats. I am going to pause and listen to Duffy sing "Syrup & Honey". She has the same effect as Terry Moore playing "Beautiful Dreamer" on thee piano to an agitated Mighty Joe Young. Meditation, not medication.
Istanbul… Cause you can't go back to Constantinople?

The Winchester Xpert, like the semi auto Wildcat, is a collaboration of FN Herstal design and Istanbul Silah (Turkey), contract manufacturing. Lots and lots of firearms, of all types, are manufactured in Turkey. Some very good, some a little less so. In fact, I have several examples locked up in a cabinet labeled "Almost Finished".
No, there is no there is no factory anywhere in the world with a Winchester sign out front, as Winchester is only a brand licensed from Olin, operating under Browning, which operates with the very large FN Herstal conglomerate. The same FN company in a long and productive relationship with John Browning, the same place he worked for in Belgium in his last years. More to the point…
Winchester Xpert


Brand
Winchester
Manufactured
Istanbul Silah, Turkey

Item #

525200102

Type of Action

Bolt Action


Caliber

22 LR

Magazine Capacity

10

Magazine Type

Rotary Detachable


Barrel Length

18.0″


Barrel Material

Alloy Steel

Barrel Finish

Matte Black


Rifling Twist Rate

1:16″

Receiver Material

Alloy Steel

Receiver Finish

Matte Black

Embellishments

None

Stock Material

Composite

Length of Pull

13 1/2″

Drop at Comb

7/8″

Drop at heel

7/8″

Front Sight

Blade

Rear Sight

Adjustable W/E


Optical Sight Mounts

D&T


Weight of Firearm

4.5 Lbs


Overall Length

36 1/4″

Safety

2 Position Thumb


MSRP

$319.99
Good engineering. Modular assembly
A 4mm hex wrench, and removal of two trigger guard fasteners, will get you this far. Easy disassasembly. Interesting that assembly calls for imperial 20 in. lbs. torque and not cubic fig newtons to follow the metric theme. Yes, I am an imperial measurement dinosaur. Thank you for noticing.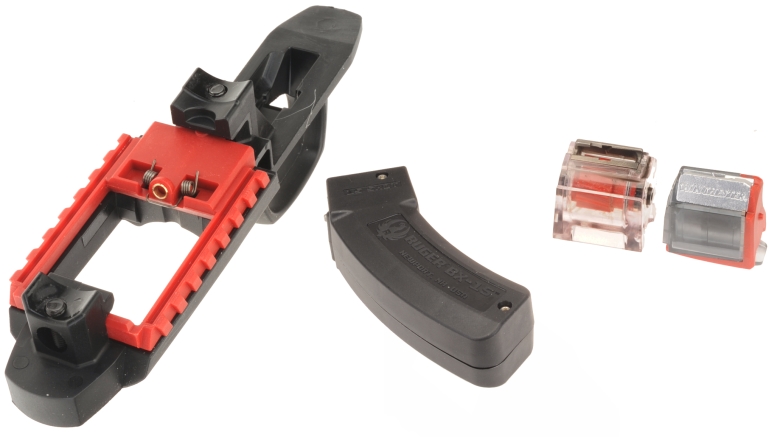 To the right of the trigger guard and, no, not to scale due to substandard photo editing skills… and maybe a little laziness, the Winchester Xpert accepts both Winchester brand rotary magazines and those made for the Ruger 10/22, including high capacity. The Winchester magazine has a thumb wheel to aid in loading.
Magazines pop out with considerable… zest by depressing a tab on the underside of the guard or sliding back on the sides of the orange release mechanism. No… it won't release oranges, just magazines. It is a very positive system and the magazine does really pop out.
Yes, the bolt does have lugs…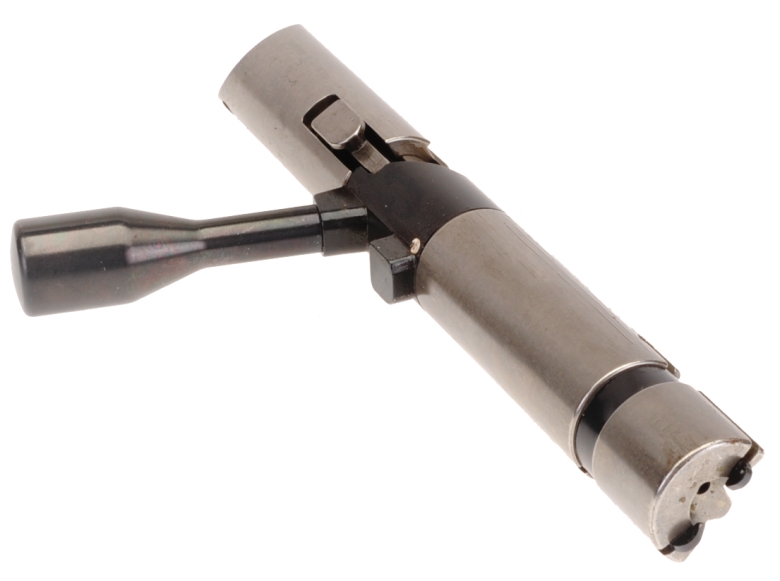 I have notice, several times, people saying the Winchester Xpert has no locking lugs, or one, with the bolt handle as the one lug. There are two; the bolt handle and that big old lump ahead of it, as both lock into vertical surfaces on the receiver. More than enough strength, as the 22 LR hardly stands as the pinnacle of high pressure and high bolt thrust.
The Xpert also has twin extractors to tug those uncooperative empties from the rifle's Bentz style chamber. I do not know why this chamber type is listed for the Xpert as a feature, as it is designed for auto loading 22 LR rimfire firearms, originally the Ruger 10/22. My guess is to permit a common barrel and process between the Wildcat and Xpert.
The Bentz chamber dimensions fall between a standard and a match chamber and allow a low mechanical advantage auto loader to reliably extract empties. In any event, there were zero feed, extraction or ejection failures. Setting aside my curiosity regarding purpose, between the leverage of an extended bolt handle and Bentz chamber, cycling is quick and easy.
Excellent trigger….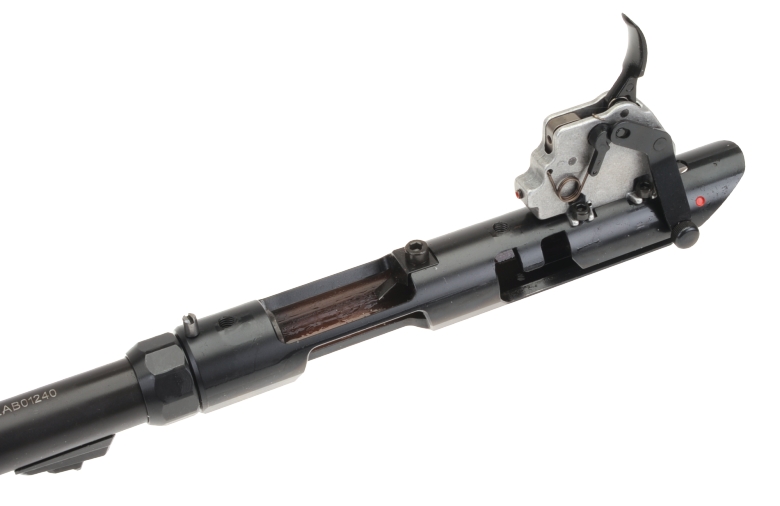 The Xpert sports a new 3 lever MOA adjustable trigger. Pull can be set to any shooter's preference between 3.5 and 6 lbs. Like the Winchester trigger on centerfire model rifles, it is a good one. No creep, consistent let off, easy to adjust with the stock removed.
The barrel shank is not threaded, but rather secured to the receiver with a barrel nut. The receiver is top side drilled and tapped for a rail, $49.99, sold separately. The muzzle has a recessed target crown and the bore is button rifled.
Form follows function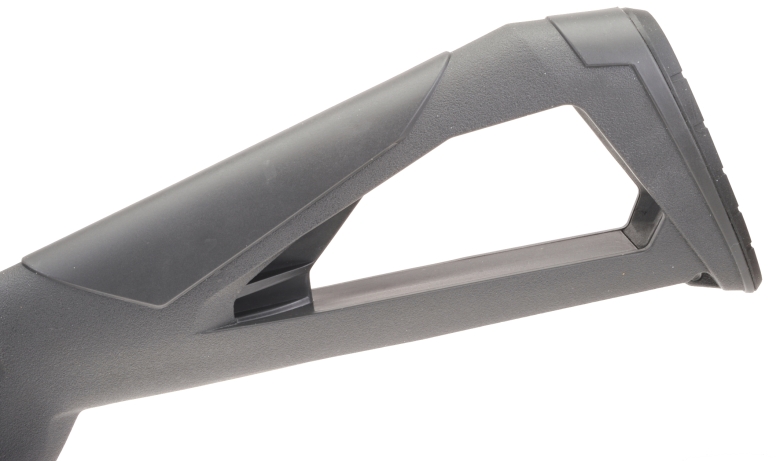 The stock is a good composite; rigid, barrel floating, solid two point contact with the action. Thanks to a major through hole, the stock is light and structural ribbing is placed on display.Seems a bit like wearing your underwear over your pant. Again old man, slow to change and adapt to modern thingies.
To further tailor the stock to a shooter, a snap on 1/2″ riser comb, $24.99, and a 3/4″ length of pull extender, $19.99, are offered separately.
Cost reduction realities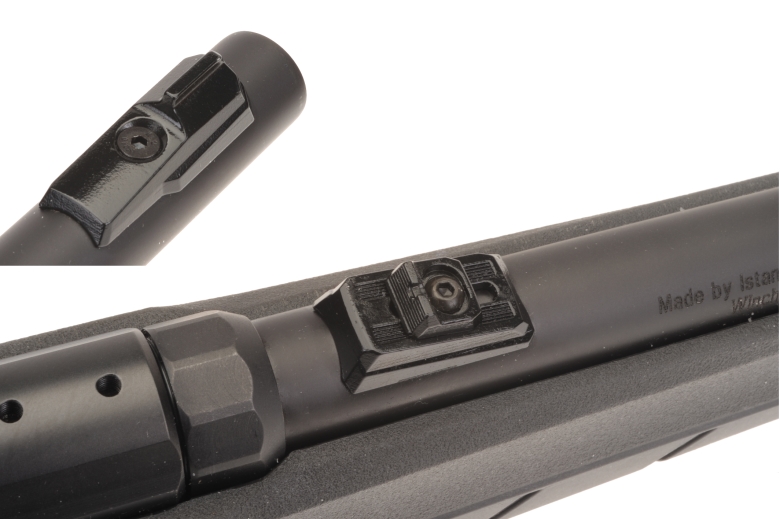 The result of cost reduction steps abound. The sights are molded polymer with a gloss finish. The rear sight is adjustable, but not precisely incrementally. Loosening the top fastener allows hand adjustment with a longitudinal slot on a wedge for elevation and cross slot for windage. So you just kind of push, pull, and shove until the rifle is sighted in.
The receiver holes for the rail are shipped without filler screws for thread protection and dirt shielding. I've not seen that… carefree configuration of a rifle before. The open buttstock may save weight, but it also saves material and related cost. No rail is included, $49.99, no comb riser, $24.99, no LOP spacer, $19.99. Seems a few bucks saved, but costly additions passed on to the customer.
What does this all mean? Not much. The Winchester Xpert is actually moderate in price for a decent bolt action 22 LR. Fit and finish is much better than a comparably featured Savage and the Winchester price is lower. I don't think the stock accessories are necessary for most, but better sights and including a rail would be nice.  Maybe a higher priced model is needed, as Winchester has done within their Wildcat line. Personal preferences, all.
Performance…
Ammunition
Bullet
Weight
Grains
Rated
MV FPS
24″ BBL

Actual
MV FPS
18″ BBL

50 Yard
5 Shot
Group
Remington Thunderbolt

40
1255
1213

1.7

Remington Golden Bullet

40

1255

1245


0.9

Remington Target

40
1150
1109

1.3

Winchester Target

40

1150

1162


1.0
Cold and gusting wind?  Not bad. I did a little woods shooting in addition to shooting from the bench.. The Xpert is really a light carry and the gripping surfaces held up against slippage, even in below freezing temperatures. Accuracy was good and most everyone has use for a good bolt action rimfire rifle.
I think my issue is that this is not 1955 and Winchester no longer makes the Model 52. For everyone else, the Winchester Xpert is a solid, moderately priced 22. Rock solid and decently accurate.