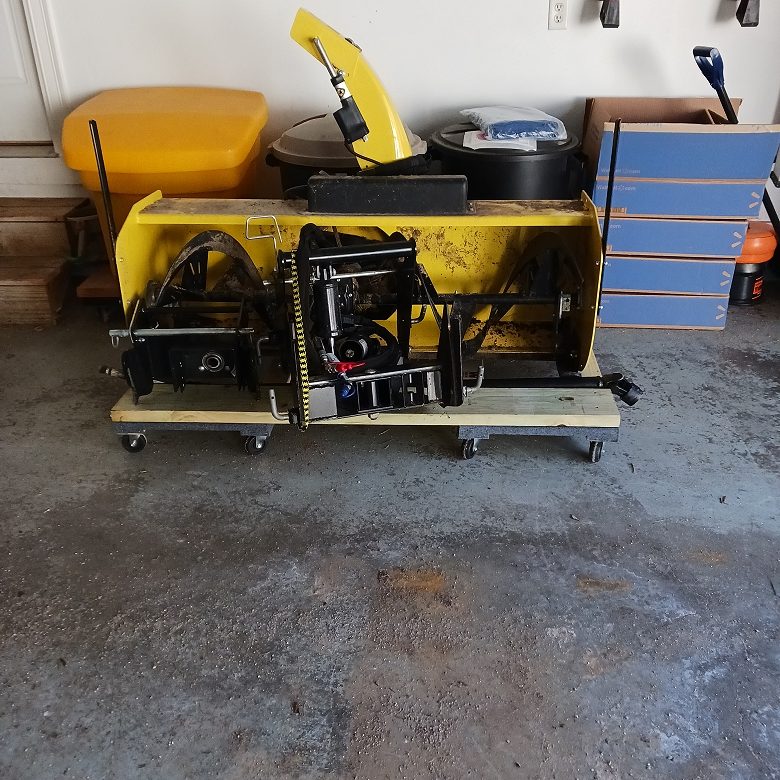 04/09/2023 – The official first day of spring was 03/20/2023, which may be true for urban dwellers and democrats. Here, the official first day of spring is the day I wake up, decide possible sow storms are limited and pull the snow blower off of the tractor and prep it for spring. This year, that would make it the first week of April.
Funny how machines and equipment keep getting bigger and heavier and I keep getting older and smaller. Makes me want to look up the word dichotomy. Antithetical? I'd say polar opposites, but that reminds me it is still cold and makes me want to switch on the small heater under my desk. No, the word polar does not make me think of magnets. That would be silly.
That snow blower, mounted on bomber art tattooed Skippy, made life in Maine possible this past winter season. Now, reunited with its front loader and quick hitch, Skippy is ready for lots of warm weather projects; patio construction, garden, landscaping, stump removal, firewood gathering, etc.. Tools and equipment always serve a purpose, or many purposes.
Handgun hunting…

As recorded in history, handgun hunting has been with us for as long as firearms have been with us, although the handgun has clearly evolved.
Chronicled in the May 1966 issue of "Boots and Knickers", sportsman/author Andrew Baggaley, told the story of a Wilderness Willy Williams. We are told Williams, on his way back to his campfire after a brief respite in some nearby foliage, encountered an elk. The year was 1630.
Startled, Williams collected himself enough to point his flintlock pistol in the animal's general direction, pulled the trigger and let loose with a 36 caliber lead ball, two feet of muzzle flash and an acrid block cloud that enveloped both of them. A look of incredulity crossed the face of the elk, just before expiring. Willy stood motionless, silent for a moment, until finally uttering "Duuuuude".
Evolution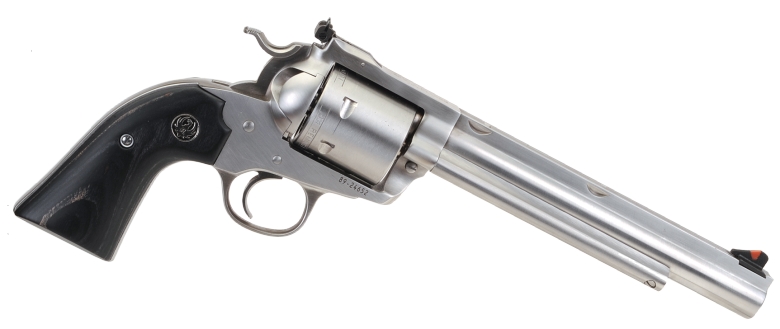 The Ruger Super Blackhawk Bisley Hunter is a handgun optimized for… hunting, so the barrel is long, its heft, appreciatively, offering a bit of counter to recoil and muzzle rise.
Ruger Super Blackhawk Bisley Hunter


Manufacturer
Sturm, Ruger & Company, Inc.
Model
0860

Type
Single Action Revolver
Caliber
44 Rem Mag

Capacity
6
Barrel Length
7.50"
Twist Rate
1:20″
Weight
52 oz.
Overall Length
13.63″
Grips
Black Laminate
Cylinder Frame

Stainless Steel
Grip Frame
Stainless Steel

Sights
Adj Rear – Ramp Front

Trigger Pull
3 lbs. 10 oz.

Safety
Transfer Bar
MSRP
$1219
Strong at the core…
The length of the subject Super Blackhawk Hunter's cylinder, less rear ratchet and front bushing, is 1.702″. The SAAMI maximum cartridge length for the 44 Remington Magnum is 1.610″, and the 0.060″ rim resides aft of the cylinder's body. The 270 grain round peeking out of the bottom chamber has 0.165″ clearance from the face of the cylinder.
Cylinder diameter is 1.730″. Outer wall thickness, measured with a pin micrometer is 0.102″, adjacent cylinder walls measured 0.118″. Chamber entry measured 0.458″ in diameter, chamber throats measured 0.430″. SAAMI chamber specs, respectively, are 0.4598″ +0.0040″/-0.0000″ and 0.4325″ +0.0040″/-0.0000″. The Ruger specs, while tight, are still well within cartridge dimension specs. Cylinder to barrel gap, hammer back, measured 0.005″. Pretty stout for a cartridge with a SAAMI MAP of 36kpsi.
Stout cylinder and grip frame to match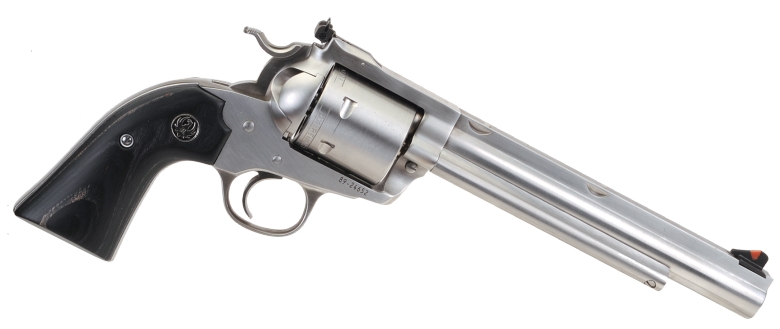 The Ruger SBH Hunter is as straight forward as it gets; simple single action, typical loading gate function and ejection rod to dump empties. As is the case with all Super Blackhawk versus Blackhawk revolvers, the grip frame is all steel rather than aluminum. While the Hunter can be configured for scope and red dot sights, the micro adjustable rear sight and red insert front sight is usually more than enough for 44 Mag big game reach. The front sights are interchangeable with a variety of colors available at the Ruger Shop.
Scoped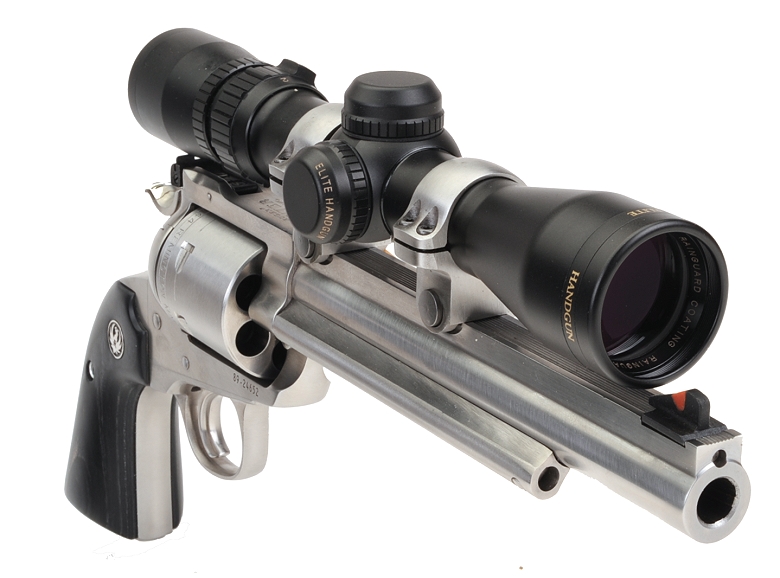 Ruger supplies a set of their proprietary scope rings with the Hunter. Clamped into scallops on the sides of the barrel ramp and keyed to the rail's top with lugs projecting from the rings, they really stay put.
I suspect there are a good number of people who shoot at longer ranges where a long eye relief handgun scope fit well.
Other Optical Sights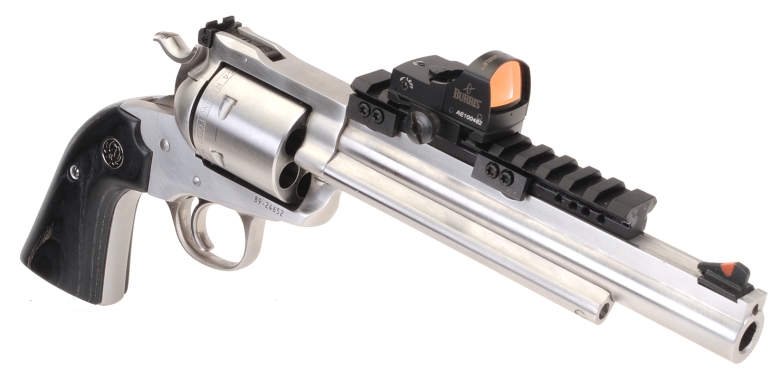 There was a time when less than eagle eyesight caused a lot of mature shooters to put up handgun, hunting or otherwise. Scopes are a bit much for many, as they are not easy to master and they are not very fast getting on target or tracking to moving targets.
Personally, I favor red dot sights as there is no metallic sight point to point to point alignment, just placement on the projected dot on target and there is no appreciable parallax, unlike scopes. Unable to find a Picatinny rail for the Hunter, a rail from a Mini 14 was modified to fit the Hunter.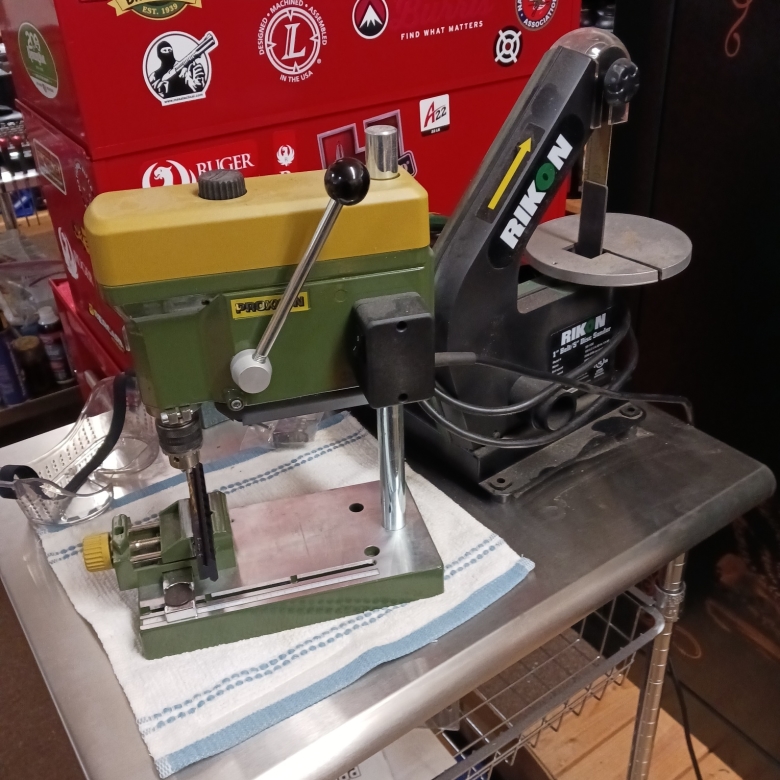 A rare glimpse into some of our exotic CNC equipment. This little Proxxon drill press and mini Rikon belt sander were purchased at the onset of some military surplus rifle projects. The shop is overcrowded so they are assigned to a stainless steel roll cart for mobility so it can constantly be pushed out of the way. That said, both are used frequently for this type of small part work.
The rail was mounted to the Hunter by its rear clamps and then one of the front clamps was placed at the forward Hunter mounting point and used as a template to mark new hole locations. The rail was flipped on its side in the drill press vice and drilled through with a #36 (0.1065″) drill. Holes were tapped 6-32 and the usual Swiss file and stone cleanup ensued.
For me, work like this, like handloading or bullet casting, extends appreciation of firearms. Oh hell, it's just fun to play with hand tools and machines.
Factory ammo…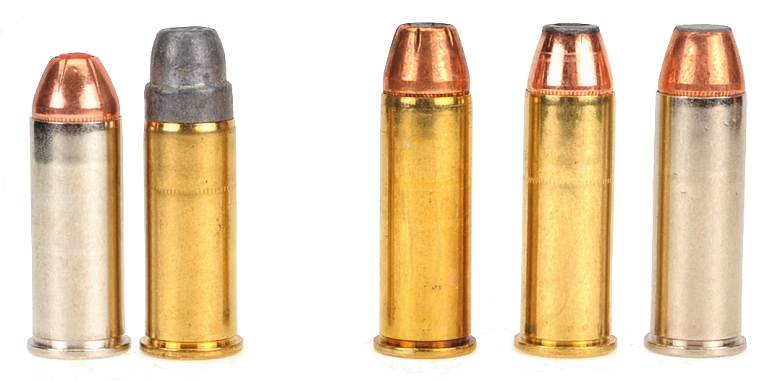 Pictured above, Hornady 165 grain FTX 44 Special, Federal 200 grain Champion 44 Special, Hornady 180 grain Custom 44 Mag, Federal 240 grain Fusion 44 Mag, Speer 270 grain GoldDot 44 Mag.
There are approximately 61 factory loads for the 44 Remington Magnum, in bullet weights from 160 grains to 340 grains, sold under 19 brand names. Some are for personal defense, others are for the deer hunter, and some for big and dangerous game.
For folks who want to practice religiously, and are concerned with teeth jarring loads, the Hunter is also quite content with lighter loaded 44 Special ammo. Yes, the Hunter will also function as well with 44 Russian. Email me when you find them in stock.
A handloader's cartridge
For the handloader, there are bullet weights from 125 grain to 330 grains in 16 weight increments, conventional lead and lead core and lead free. They are a composite of 12 brand names. For folks casting lead bullets, molds are available to cast weights from 122 grains to 310 grain through mainstream retail, so many more available from more specialized sources. There are approximately 1 dozen cast bullets routinely available through retail for folks who don't cast.

Six bullets that routinely make their way into my handloads L-R: Remington bulk 180 gr JHP, Hornady 225 gr FTX, Hornady 240 gr HP/XTP, Cast Performance 255 gr Heat Treated WFNPB, Cast Performance 275 gr Heat Treated WFNPB, Sierra 300 gr JSP.
Suitable for which game? How good of a shot are you?
We are all a little wacky when it comes to selecting cartridges, as the choice is typically much broader than we allow ourselves to accept. Twenty years ago, a guy from Alaska asked me what I thought about the 45-70 Gov't being used for big bear hunting. I dismissed it as being under powered.
That was dumb, but perhaps not so much within the context of standard pressure ammunition and quick expanding bullets… which were my points of reference at that time. A year after I wrote that opinion, after putting a very large number of modern pressure 45-70 Gov't handloads through chronographs and into targets? Bring on the dinosaurs.
The 44 Mag's reputation has fallen victim to the 454 Casull and overdone 460 & 500 S&W rounds. My reality? I really dislike shooting the 454 Casull, particularly in handy, relatively light single action revolvers. I have less of a problem with 460 S&W and 500 S&W, but only because of the immense size and weight of X Frame revolvers. So for routine use, I top out with the 44 Mag. If I needed more, I'd select a rifle. If I were somehow restricted to "Handguns" I would select my bolt action handgun in 308 Win.
There are plenty of skilled and experienced hunters that would hunt anything in the Americas with a 44 mag revolver, at moderate ranges. I would surely hunt anything in Maine with a 44 Mag. No, there is no "Must be a hit to the vitals" caveat, as every shot a hunter takes should, without exception, be considered and to vitals organs. No points for "winging" game or having to follow a blood trail for a mile while an animal suffers an agonizing death.
Unfortunately, it is a lot easier to shoot a rifle accurately than it is to shoot a revolver accurately, which means successful hunting with a handgun is very much dependent on the skills of the hunter. Not just the preciseness of the hunter shots, but also the hunter's ability to get in close for a shot.
So let's put the Ruger Hunter and some ammo together…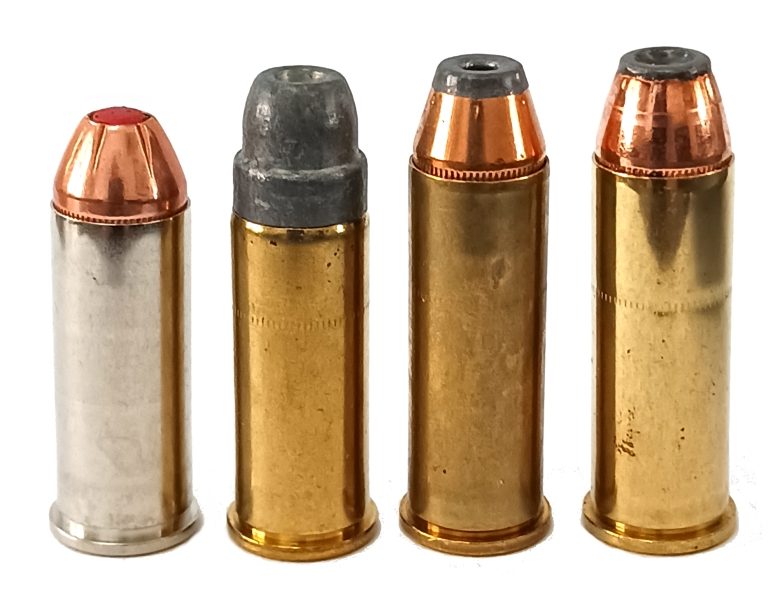 I apologize for the phone photo of bullets taken with my phone. Perhaps if I had one of those fancy shmancy iPhones I could have done better, but I have a cheapo, old Samsung Android that uses roll film… Pictured above, left to right, as they appear on the table below, top to bottom.
Cartridge

Brand

Bullet




Type

Bullet




Weight

Rated




MV

Recorded




7.5″ BBL




MV

% FPS




Gain




*50 Yd




5 Shot




Groups

44 Special

Hornady Critical Defense

FTX

165

900

1017

13


2.1

44 Special

Federal Champion

SWHP

200

870

849

-2


1.8

44 Mag

Federal Power SHOK

JHP

180

1460

1655

13


2.3

44 Mag

Federal Fusion

JSP

240

1290

1420

10


2.2

*Groups shot with scope and Ruger rings installed

The Ruger Super Blackhawk Hunter, "Hunter" for sake of name brevity, puts its barrel length to good use. The SAAMI test barrel length used to rate factory ammo is 5.763″ ± .010″ Vented to simulate a revolver with a cylinder/barrel gap bleeding pressure.
Why did the Federal Champion cross the road? Hard to say, as I did not have another 44 Mag at standard barrel length to use as a baseline. The ammo may generally under perform. The lower velocity and subsequent extended barrel time may have allowed greater cylinder gap bleed. The very soft lead bullet may not have provided good barrel seal.
Does this pick up matter? Yes, MORE arts and charts!
Best Zero Results Federal Fusion 1290 FPS
Near-Zero – yards.
11
Mid Range – yards.
60
Far-Zero – yards.
105
Max Ordinate – "
+3.0
Point Blank – yards.
112
Best Zero : Range 0 – 300 yards
Yards
0
50
100
150
200
250
300
Velocity – fps
1290
1171
1080
1012
959
914
876
Energy – ft.-lbs.
887
730
621
545
490
445
409
Momentum – lbs-sec
44
40
37
35
33
31
30
Path – "
-1.50
2.73
0.62
-8.93
-26.97
-54.46
-92.34
Drift – "
0.00
0.00
0.00
0.00
0.00
0.00
0.00
Time Of Flight – sec.
0.00
0.12
0.26
0.40
0.55
0.71
0.88
Best Zero Results Federal Fusion 1420 FPS
Near-Zero – yards.
12
Mid Range – yards.
65
Far-Zero – yards.
113
Max Ordinate – "
+3.0
Point Blank – yards.
121
Best Zero : Range 0 – 300 yards
Yards
0
50
100
150
200
250
300
Velocity – fps
1420
1276
1160
1071
1005
954
910
Energy – ft.-lbs.
1074
867
717
612
539
484
441
Momentum – lbs-sec
49
44
40
37
34
33
31
Path – "
-1.50
2.61
1.38
-6.30
-21.55
-45.39
-78.78
Drift – "
0.00
0.00
0.00
0.00
0.00
0.00
0.00
Time Of Flight – sec.
0.00
0.11
0.24
0.37
0.51
0.67
0.83
At 100 yards, the pickup in velocity (7%) added kinetic energy (15%) and flattened trajectory (+9 point blank yards). A measurable edge. Plus, for open sight hunters, the increase in sight radius over a shorter barrel revolver is a big assist in accurate shot placement.
But, Joe, wouldn't those pointed Hornady FTX bullets benefit from the velocity boost more than those barn door ballistic coefficient bullets? I honestly don't get the purpose of the FTX in many cases.
The 44 caliber 225 grain FTX has a BC of 0.150, which is mostly a function of low weight and low sectional density. As a point of reference, a conventional 240 grain has a BC of 0.205. An RCBS mold for a cast lead bullet, 225 grain SWC has a 0.165 BC and would outperform the FTX. In addition to the less than exciting BC, use of the FTX requires shortening brass to a non-standard length, which makes for non-standard case inventory.
The Ruger Super Blackhawk Hunter overall…

The most comfortable I felt shooting the Super Blackhawk Bisley Hunter was with the factory open sights. They are good sights, the long sight radius boosted accuracy of shot placement and the pistol did not feel… encumbered. For me, I think bright fiber optic sights would be nice. For now, they are generally available as aftermarket pieces at a reasonable price.
The laid back Bisley style hammer is within thumb reach and cocking effort is modest. Trigger pull is light and crisp. Grip profiles are often the subject of debate. I like the Bisley shape as offering a more natural point of aim and, unlike traditional plow handle grips, they afford more control with heavier recoiling cartridges. The Bisley grip profile was designed for target shooting, not fast draw or driving nails.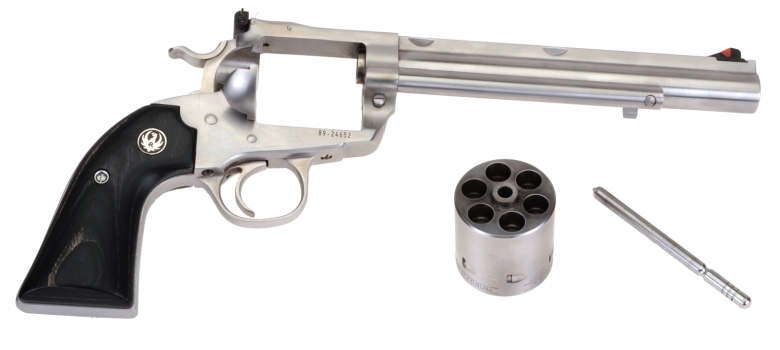 The Hunter is easy to service and clean, the cylinder comes out by pulling out the cylinder centered base pin. The Hunter is easy to load and unload; flick open the side loading gate, rotating the cylinder clockwise, filling a chamber or working the ejector rod to pop out fired brass.
Accuracy is good and the 44 Mag, powerful enough for big game, falls into the category of controllable big bore. Practice, practice, practice. The Ruger Super Blackhawk Bisley Hunter is a terrific hunting revolver, wrapped in a traditional single shooter package.