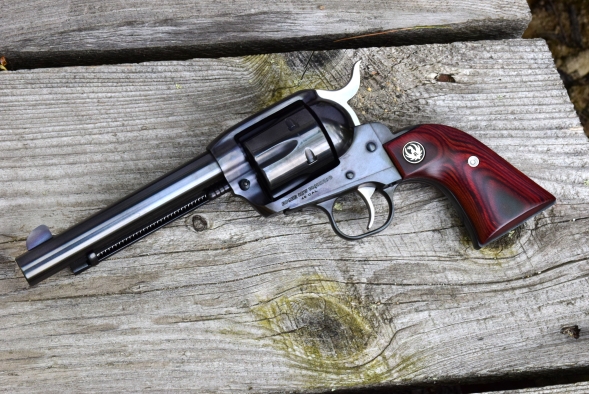 Ruger's first introduction of the Vaquero was in 1993. The Ruger Vaquero New Model Single-Action Revolver was released as a fixed sight version of the New Model Blackhawk that would qualify for action shooting events. The pistol was made available in blue and highly polished stainless steel versions, chambered first in 45 Colt, then 44-40 WCF and 44 Magnum the following year.
The Ruger New Model Vaquero

Company

Sturm, Ruger & Co.

Point of Manufacturer

Newport. New Hampshire

Model #

5101

Type of Action

SA Revolver

Caliber

45 Colt

Capacity

6

Barrel Length

5.50″

Rifling Twist Rate

1:16″

Construction

Alloy Steel

Finish

Blued

Grips

Hardwood

Front Sight

Blade

Rear Sight

Integral Groove

Weight – Nominal

40 Oz

Overall Length

11.12″

Overall Height

5.25″

Width

1.685″

Safety

Transfer Bar

Key Lock

No

CA Certified

Not Required

MA Certified

Yes

MSRP

$829.00
Ruger brought action shooters some significant improvements over the 1873 Colt Single Action Army: lower cost, the increased safety of a transfer bar and loading gate interlock, the ability to safely load six rounds without lowering the hammer on an empty chamber, the increased reliability steel coil springs pf unbreakable music wire, and the power of the 44 Magnum. The polished stainless steel finish provided the authentic look of an antique nickel finish, but without chipping, flaking or peeling. All substantial differences that remain in contrast to Colt and Colt replicas. More was to develop.
A Bisley grip frame Vaquero was added in 1997. A Birdshead grip frame was introduced in 2001 and in 2003 the 357 Magnum chamber was added to this same model. In 2005, with the exception of distributor specials in 44 Magnum, the Vaquero became a mid size frame model with a small XR-3 Colt SAA size grip frame, extended hammer spur and the 357 Magnum joined the 45 Colt as available calibers.
At the time of this writing there were nineteen standard production model Vaqueros differing in material, finish, grip frame type, barrel length, hammer profile, and caliber and nine more Vaquero variations available as distributor exclusive models. Over the years of the Vaquero's production run there have been many variations, standard production and specials, in numerous calibers not specifically noted here.
Look and feel…
Palming the Vaquero, it feels small because of the reduced cylinder and frame size. The Blackhawk and pre-2005 Vaqueros have a cylinder that is nominally 1.730″ in diameter and 1.705″ long. This post 2005 Vaquero's cylinder measured 1.675″ in diameter and 1.610″ in length. The cylinder frame has been scaled down proportionally as has the previously noted grip frame. While compact, the Vaquero is all steel, including its grip frame and subsequently weighs two ounces more than a large frame Blackhawk with an aluminum grip frame and only 5 ounces less than an all steel, large frame Super Blackhawk.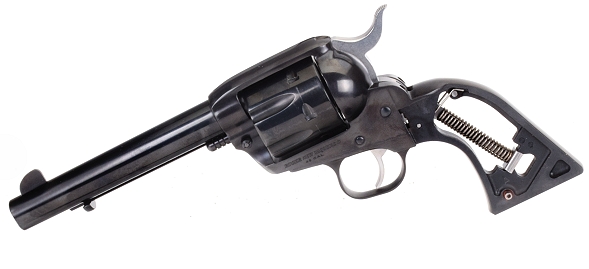 The Vaquero, as is the case of all Ruger single action revolvers, has unbreakable coil springs rather than flat springs. Missing is the key actuated hammer lock that hides under the grips and makes an appearance in some Blackhawks.
The top side is slick, no adjustable sights waiting to get caught in a holster or on clothing and the groove in the top strap is highly visible once the hammer is back and out of the way. I am not accustomed to having fixed sights on anything other than short barrel double action revolvers and stubby autoloaders. I never expect much out of them other than to get me pointed in the right direction and at close ranges, but the Vaquero sights offer a good deal more.
The Vaquero sights, once acclimated, were very precise aiming and clearly visible against most backdrops. All that was missing where the adjusters to shift for windage, elevation and the ability to shift point of impact with ammo changes. Throughout the course of a Real Guns project, ammo types are changed frequently as part of firearm assessment so it seemed the Vaquero would cause a file and barrel vise to loom large in my sight adjusting future. But that isn't what happens in typical use.

Typically, an acquired firearm is wrung out for best ammo selection, sighted in and then shot periodically to maintain proficiency. Ammo type is rarely changed and sights are set to appropriate alignment, then rarely readjusted. The need to constantly adjust sights becomes not much of… an issue.
I am a big fan of Ruger's Bisley grip and Birdshead grip as my hand and plow handle grips from firearms of any manufacturer don't seem to get along, so it took a little time to feel comfortable with the thin Vaquero grips and small grip frame. Initially, I tended to grip to the right of center with my top knuckles pressed up tight against the trigger guard and my thumb coming down to far forward on the hammer. A couple of rounds of trigger guard knuckle scolding and shots pulled left, quickly pointed out the error of my ways. Then I got centered, but my grip was so high that one handed hammer cocking put the hammer spur in the web of my hand and point of impact shifted to high center. Finally, I dropped my grip, centered and lower, took advantage of the long hammer spur to cock one handed and shot to point of aim. From then on, precise shot placement became second nature.
The reverse pawl feature is not minor. Sometimes, loading and unloading a Blackhawk chamber is like chasing a rabbit through a revolving door, especially when hurried or with gloved hands in cold weather. The slight amount of allowable counterclockwise rotation stops each chamber in perfect alignment for loading or unloading. The shoulderless base pin tucks in a bit, which results in a longer ejection stroke to get empties out of a chamber and out of the way. The crescent shaped ejector rod head provides greater purchase.
Every mechanical click and whirl was clean and consistent from from pulling back the hammer to cylinder rotation to trigger pull. The loading gate snapped fully open and closed with enough effort to assure it will stay locked in the position it is placed. The trigger on the subject revolver was the slickest factory Ruger I believe I've handled with no creep and a very repeatable 3 1/2 Lb pull. The safe use warning notice is on the underside of the barrel and away from obvious view. There were no blemishes or handling marks on metal or wood parts as received.
Don't know much about Action Shooting…
Sounds like the opening line to a Sam Cooke song. Yes, I have friends who dress in period costume, participate in what can be intense action shooting competition and they do seem to have a lot of fun. However, I do not have the direct exposure and experience to speak of the fit of the Vaquero within this application, so I will let the very wide spread use of Rugers in this venue speaks to its suitability.

I have spent a good deal of time with revolvers in holsters in open carry, from big bore double action to diminutive single action rimfire revolvers. Sometimes for self defense, sometimes for hunting, some for plinking. It is with these applications in mind that I would comment on the Vaquero.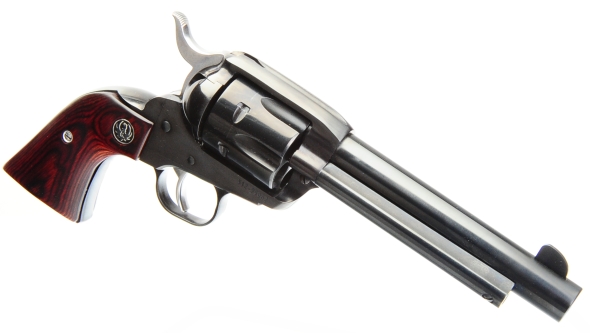 The 45 Colt is way more than a fly swatter…
Approximately 2 million years ago, Harry in the Hominids woke up hungry, stepped out of the communal cave, picked up a rock and clocked an unsuspecting Gazelle. As a result, several things happened; breakfast was served, the government of Bedrock stepped in to regulate hunting and the phrase was coined "It isn't the power of the rock, it's the hand that wields it. A brief 1.5 million years latter, Ned and the Neanderthals progressed to sling thrown spears and were knocking off wooly mammoth, cave bear and giant tree sloths with minor reciprocity. Unfortunately, the modern hunter insists upon laying down mortar fire from the safety of a tree stand before taking on the grazing Odocoileus Virginianus… Is there a point to all of this? Sure. In a thinking man's world, you can do as much damage as required with the 45 Colt.
Single action 45 Colt type revolvers have been in continual use and manufacturer since 1873, roughly 143 years or about as long as the venerable 45-70 Gov't. It has gone to war, put down injured live stock, exorcised more than a few outlaws, provided self defense on the trail, and brought plenty of food into camp. Like the 45-70 Gov't, it began life as a black powder cartridge and benefited greatly from the evolution of propellants and projectiles. The information that follows is based upon standard pressure SAAMI compliant ammunition, which is consistent with this firearm's approved ammunition types. None of the ammunition falls into the non-standard, manufacturer's discretion +P classification, a type that should never be used in this model firearm.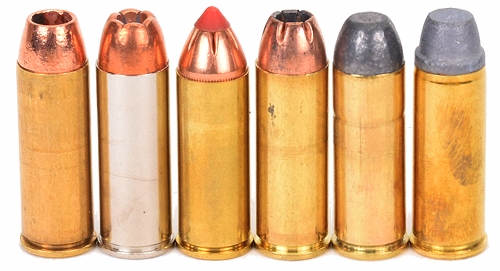 Ammunition

Bullet
Type
Bullet
Weight
Grains
Rated
FPS
Actual
FPS
Energy
Ft-Lbs
50 FT
3 Shot
Group"

Barnes Vortex HPB

HP

200

1025

1130

567

1.3

Winchester PDX1 Defender Bonded

JHP

225

890

911

415

1.2

Hornady Leverevolution

FTX

225

960

894

461

1.0

Remington High Terminal Performance

JHP

230

850

924

436

1.2

Magtech Cowboy Action

LFN
250
761
836

388

1.3

Buffalo Bore Standard Pressure Heavy 45 Colt

Keith

255

1000

1051

626

1.

1

Groups shot from a Ransom Rest
Live fire results suggest that the standard pressure 45 Colt is considerably more powerful than the 45 Auto, it generates about the same kinetic energy as the 357 Magnum, but it makes a considerably larger hole. Inside 50 yards, with hard cast 255 grain bullets, the 45 Colt can hole punch hogs, black bear and deer size game. Of course, it is certainly good for self defense and recreational shooting. The Ruger Vaquero is a simple firearm, with excellent all around capability.