The new site is up and I actually like it. Simple, mostly white space, it provides a nice wall to hang pictures of firearms on without distractions.
I am really procrastinating with producing videos. I am just not an on air personality. I'm awkward in front of a crowd… that's anything more than two people I have known all my life, and Lord knows I can't get by on looks.
I was thinking about doing videos using puppets, or maybe claymation. But then I also thought of taking up the electric guitar, until I learned that, practicing four hours each day, the process would take 13.9 years to master the instrument. Do you know how much shooting, tractor driving and TV watching I could do in that same amount of time? Anyway…
What's black and silver and goes "psst"?
The current Ruger Mark IV™ 22/45™ Lite is Ruger's fifteenth iteration of the Model. The other fourteen are still cataloged, however, they are produced as distributor exclusives.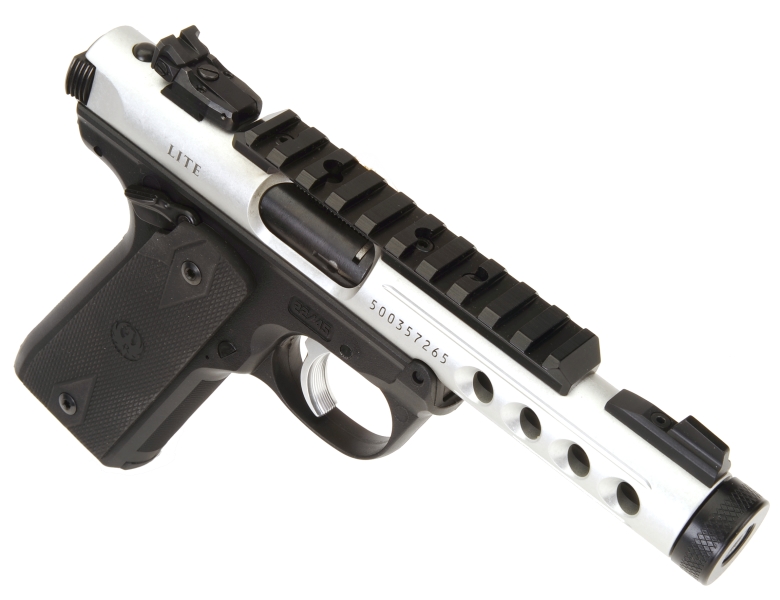 I admit to being an all stainless  Mark IV™ Competition snob. Primarily because its 6.88″ barrel and steadying heft play well in my long range small varmint control activities and my special occasion small game table fare. It also has striking aesthetics. No, not striker aesthetics, striking. Go ahead, google it. I'll wait.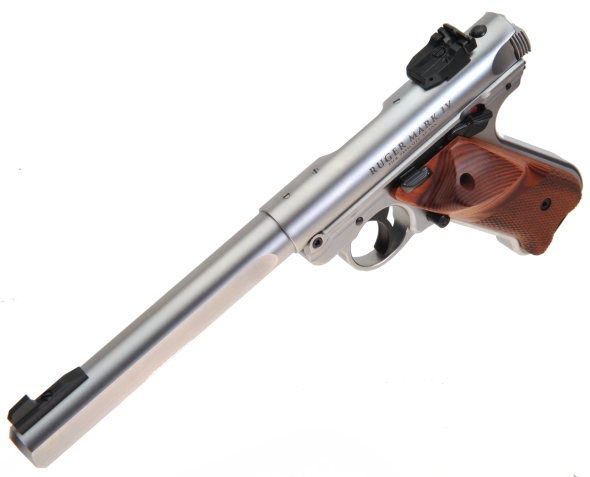 So the Mark IV™ Competition is the pistol I like to show off, but the Lite is the one that gets picked up and shot with great frequency. Why is that?
A table – the lazy man's tool for communication
Ruger Mark IV™ 22/45™ Lite and Mark IV Competition Comparison

Manufacturer

Sturm, Ruger & Company, Inc.

Point of Manufacturer

Prescott, AZ U.S.A.

Model #

43945

40112

Description

Mark IV 22/45 Lite

Mark IV Competition

Type of Action

Blow Back Auto Loader SA

Caliber

22 Long Rifle

Magazine Capacity

10

Barrel Length

4.40″ 1/2″x28 Threads

 6.88″

Barrel Material

 Stainless Steel

Barrel Contour

Narrow – Tensioned – Shrouded

 Slab Sided Bull

Rifling Twist Rate

1:16″ RH

Receiver Material

Clear Anodized Aluminum

 Stainless Steel

Grip Frame Material

Polymer

 Stainless Steel

Frame Finish

Matte Black

 Natural – Satin

Grips

Poly Checkered 1911 Type

 Laminate Thumbrest

Front Sight

Ramped Serrated Face

 Undercut Blade

Rear Sight

 Adjustable Windage & Elevation

Weight of Firearm

25.0 Oz.

 45.8 Oz.

Overall Length

8.40″

 11.12″

Overall Height

5.50″

 5.50″

Width

1.22″

 1.75″

Manual Safety

 Thumb – Ambidextrous

Magazine Disconnect

 Yes

Loaded Chamber Indicator

 No

Key Lock

 No

CA/MA Approved

 No

MSRP

$699

 $919
And some elaboration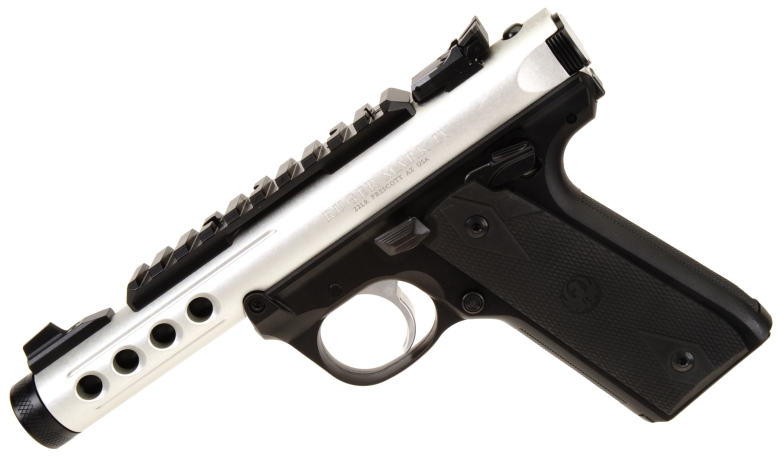 There is good reason for the "Lite" designation. Where non 22/45 Models are a combination of stainless or alloy steel receivers and stainless steel or aluminum alloy grip frames, the 22/45 series has a polymer grip frame and a 1911 type grip angle.
Tension can be a good thing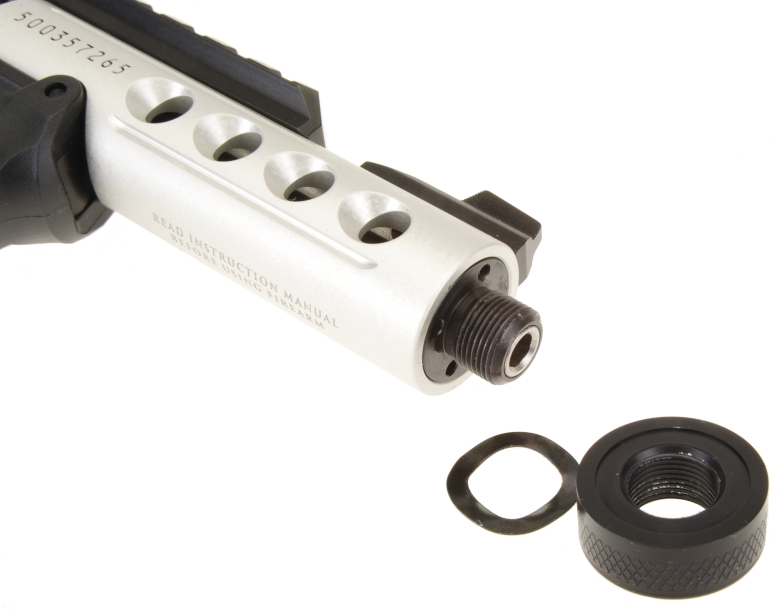 Unlike other Ruger Mark IV 22/45 with alloy steel receivers, the Lite has a heat dissipating, ventilated aluminum receiver with a thin profile, stainless steel barrel. The barrel is kept under constant tension with the use of a barrel nut that resides behind the pistol's barrel cap.
Flexible configuration accommodation
The Ruger Mark IV 22/45 Lite sports a threaded barrel with standard 1/2″x28 threads to accommodate muzzle devices… like the Ruger Silent-SR 22 LR suppressor pictured below. Mine is a first generation Silent-SR, which has been replaced with a newer Ruger design. I promised myself I would get the new model when this one expires, but that end seems nowhere in sight.
The new generation Ruger Silent-SR is rated full auto for .22 LR and is approved for use with .22 WMR and .17HMR rifles and pistols. Like the early version, the Silent-SR can be disassembled for cleaning.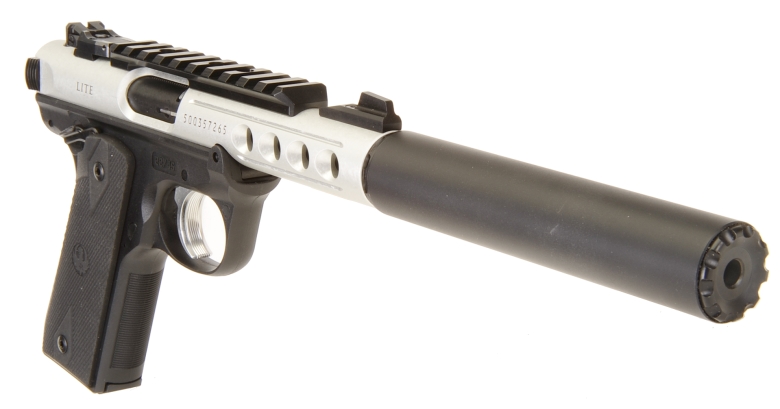 At my location, temperature and elevation put the speed of sound at 1,153 fps. All ammunition used, thanks to a pistol length 4.88″ barrel, was subsonic. There was no sonic crack, however, sound pressure reduction is proportional.  Eley Subsonic that clocked 899 fps MV was significantly quieter than Winchester Wildcat at 1,000 fps MV. All were a gift to hearing.
The combination of ramped front sight and adjustable rear sight is more than adequate for the bulk of shooting circumstances. The 22/45 Lite's  Picatinny rail allows for easy use of optical sights. In fact, 25 yard accuracy groups were shot with an open red dot sight in place.
Yes, I know the rail is underexposed and unevenly lit. I'm still trying to get the hang of the studio lights I've been working with for twenty years and the dodge/burn tools on a new to me photo editor.
Easy disassembly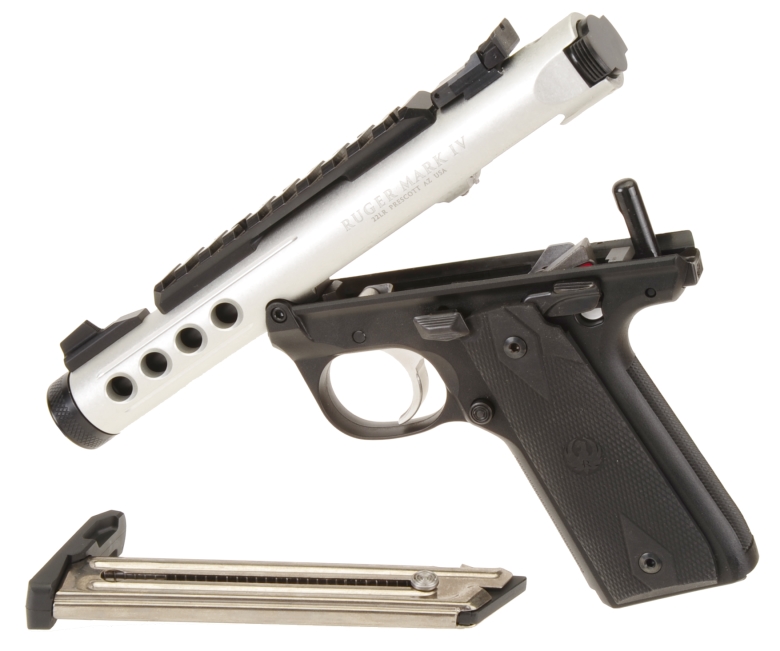 As is the case with all Marl IV series pistols, the pistol is disassembled for cleaning/service by depressing the take-down button at the rear of the frame. This is accomplished by pressing with a finger or, alternatively, telling it sad stories.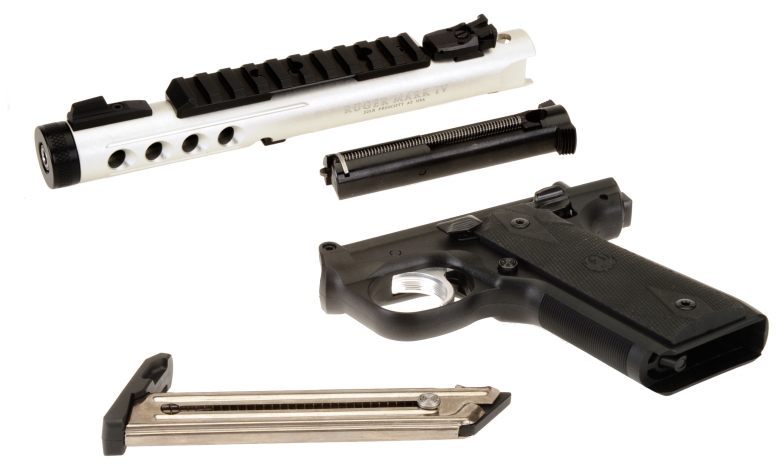 ndling excellent utility. Nice pistol. Quite a ways from where the Ruger 22/45 Lite began.
The Mark IV Ruger series ended the cult of disassembly difficulty whining that dogged previous versions. Good for owners/shooters and for those who participate on social media.
How many times have I read on social media, "The Ruger is a heck of a pistol. Highly accurate, reliable, durable, and aesthetically pleasing to the senses", only to receive this reply within 10 seconds, "Yeah, but I once spent a week trying to reassemble it after cleaning"… the latter just before his little sister read the instructions and reassembled it for him.
Controls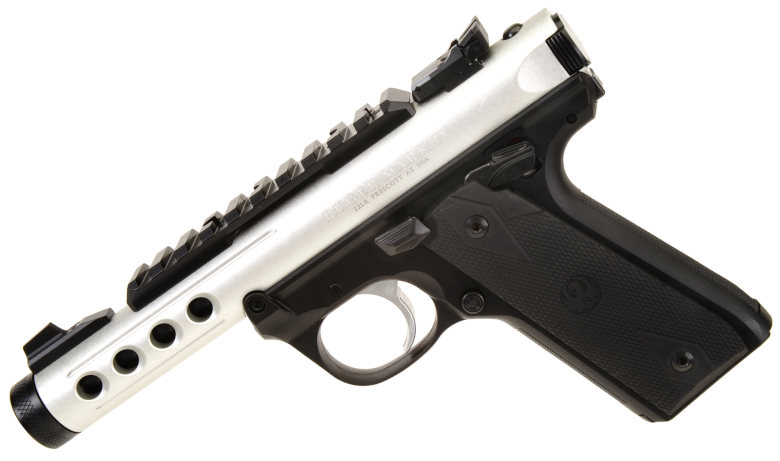 There are the typical controls, at the typical locations, all within thumb swipe range… including the magazine release button, bolt stop and ambidextrous thumb safety.
The thumb safety take a little getting used to if you are a 1911 user as the safety pivots at the front, rather than the rear and the right side tends to contact the top of the hand when moved to the fire position. Ruger, in its wisdom, designed the pistol so the right side thumb piece can easily  be removed.
The 22/45 is designed to not fire with the magazine removed, with the caveat that this does not remove or reduce the need for following safe firearm handling procedures.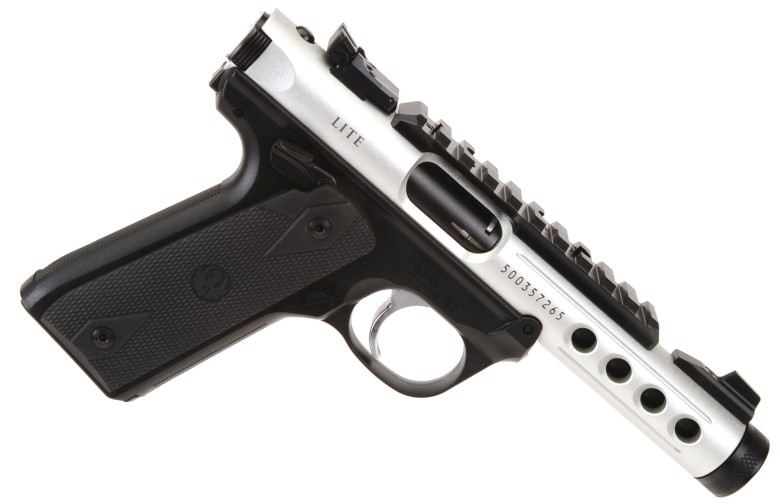 The aft portion of the receiver is scalloped to facilitate grasping the bolt ears. The bore centered, cylindrical bolt, inside of the cylindrical receiver assures concentric alignment for consistent accuracy. The grip angle is comfortable and familiar for 1911 users.
Performance; mine and the Ruger 22/45 Lite
Ammunition
Bullet
Grains
Rated
24″ BBL
MV FPS
Actual
4.88″ BBL
MV FPS
25 Yard
5 Shot
Group"
Remington Target

40

1150

953

1.7

Remington Thunderbolt RN
40
1255
993
1.9
Eley Subsonic HP
40
1040
899
1.6
Winchester Wildcat HP
40
1255
1000
0.9
I feel compelled to say the groups were shot from a rest with a red dot sight, as opposed to being shot while standing on the saddle of a galloping zebra. The rest is not to embellish the performance of the 22/45 Lite as much as protecting it from mediocrity of my eyesight and offhand shooting.
Skidding to a full stop…
Accurate, light, fast handling excellent utility. Nice pistol. Quite a ways from where the Ruger 22/45 Lite began, as pictured below. I think it is great that so many variations are offered, have been offered, as aesthetic appeal is so subjective while objective performance is universally outstanding.