I'm usually not overly enthused with AR 15 type rifles for hunting. While there are exceptions, most are overweight, under powered and uncomfortable to carry. The Ruger AR 556 MPR in 350 Legend is one of those exceptions and much the antithesis of the general AR population's short comings.
Ruger AR-556 Multi Purpose Rifle

Manufacturer
Sturm, Ruger & Co.
Point of Manufacture
Mayodan, NC
Model#
8532
Caliber
350 Legend

Operating System

Direct impingement Gas – Pistol Length System

Mag Capacity
5 round – AR 15 Standard
Barrel Material

4140 Chrome-Moly Steel

Barrel Length
16.38″, 1/2″-28 x 0.4″Threaded

Rifling
1:16″ RH 5 Groove

Weight
6.6 Lbs
Overall Length
33.38″ – 36.63″
Stock
Collapsible
Receivers
7075-T6 Aluminum Forging
Receiver Finish
Type III Hard Coat Anodized
Barrel & Gas Block
Matte Black Oxide
Length of Pull
11.10″ – 14.40″
Sights
None As Shipped – Full Length Picatinny Rail

Trigger Pull
4 Lbs. 7 Oz. Single Stage
Safety
Rotating
MSRP
$1269.00
In quick comment, the subject Ruger MPR weighs just 6 3/4 lbs. The 16.38″ barrel makes for a compact rifle, but is sufficient for the 350 Legend's modest 38.6 grain case capacity. The full floating handguard cross section in an easy to hold and support 1.550″. Quick detach sling points and M-LOK attachment slots make for an easy carry.
A suitable cartridge
In addition to complying with state mandated cartridge restrictions, this combination is excellent for deer, hogs and black bear size and game in any moderate range circumstance.  In support of those applications, there are currently 16 commercial loads for the 350 Legend, a composite of 5 brands. Bullet weights ranges from 145 Grain supersonic to 250 grain subsonic and they are generally in stock within retail distribution. The 350 Legend is not a forgotten cartridge.
Best Zero : Range 0 – 200 yards Hornady 165 grain FTX
Yards
0
50
100
150
200
Velocity – fps
2200
2043
1892
1749
1613
Energy – ft.-lbs.
1773
1528
1311
1120
953
Momentum – lbs-sec
52
48
45
41
38
Path – in.
-1.50
1.79
2.99
1.76
-2.32
Drift – in.
0.00
0.00
0.00
0.00
0.00
Time Of Flight – sec.
0.00
0.07
0.15
0.23
0.32
Essentially, the Hornady FTX 350 Legend ammunition, with less than +/- 3″ trajectory compared to line of sight, is point blank out to 200 yards and requires no hold over. There are numerous product from other manufacturer that perform as well.
Performance – AR platform compared to bolt action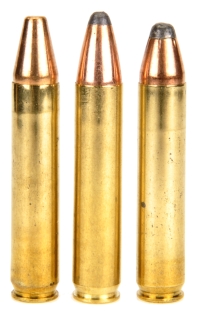 Not unlike cars where an automatic transmission takes a bit of power in exchange for the convenience over a manual transmission, an AR often does the same when moving a cartridge from a bolt action firearm with a same length barrel. In this case, the differences range from negligible to none.
The three cartridges selected to appear on the table below are typical and are representative of performance standards, with the exception of subsonic loads, which we are not addressing at this time.
For handloaders, there is a narrow over the counter component bullet selection. With few exceptions, 0.355″ diameter bullets are for handgun application and sport a short ogive and a stubby shank.
After a good deal of 350 Legend development in support of project work, we found we could run some excellent 0.357″ and 0.358″ rifle bullets through a bullet sizer die and have a wide selection of bullets that produce very accurate, properly expanding handloads.
Factory ammo performance
Ammunition

Bullet Weight Grains

Bullet
Type
Recorded MV FPS
AR MPR
AR MPR
ME Ft/Lbs
Recorded
MV FPS
Bolt Action
Bolt Action
ME Ft/Lbs

Winchester White Box

145

FMJ

2279

1673

2273

1664

Hornady Whitetail

170

SP

2280

1963

2307

2010

Winchester Power Point

180

SP

2058

1693

2094

1753
A firearm manufactured by Ruger with quality components
The Ruger 556 MPR is available in 5.56 NATO, 350 Legend and 450 Bushmaster. Regardless the choice, all models have features associated with quality firearms.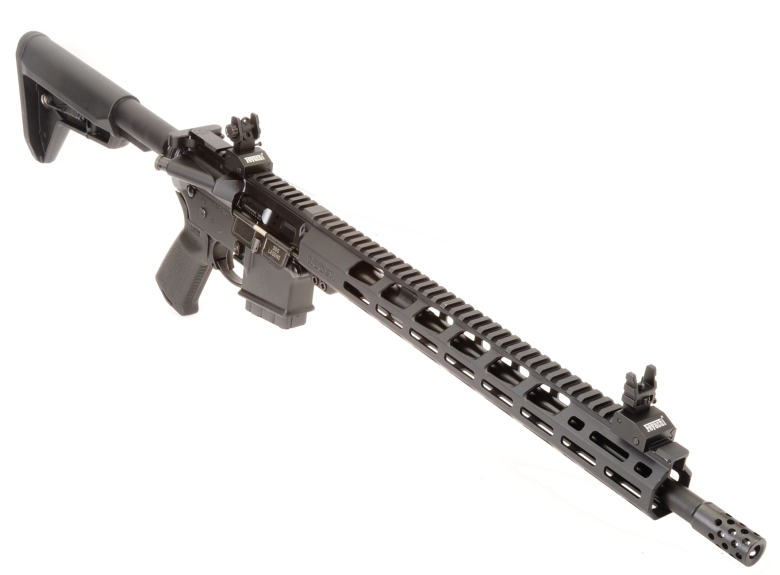 The Ruger AR 556 MPR is supplied with a full length Picatinny rail, but without sights. This allows the customer to select what they want in sight systems without incurring the cost of the manufacturer's selection. In this case a $20 set of all aluminum, inexpensive Feyachi flip up sights.
The flat top receiver is forged from aerospace grade 7075-T6 aluminum and Type III anodized for a durable finish. The receiver features a forward assist, dust cover and brass deflector.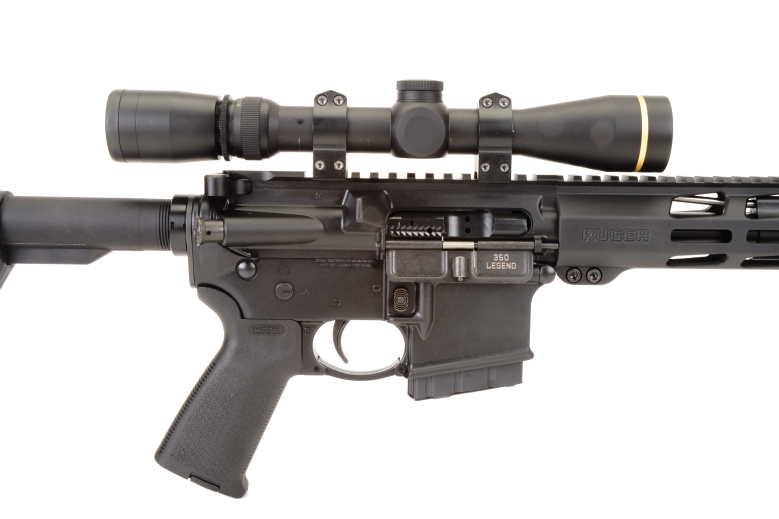 The Ruger AR 556 MPR spent range time with metallic, red dot and telescopic sights installed. The scope was kept close to bore centerline with low mounts.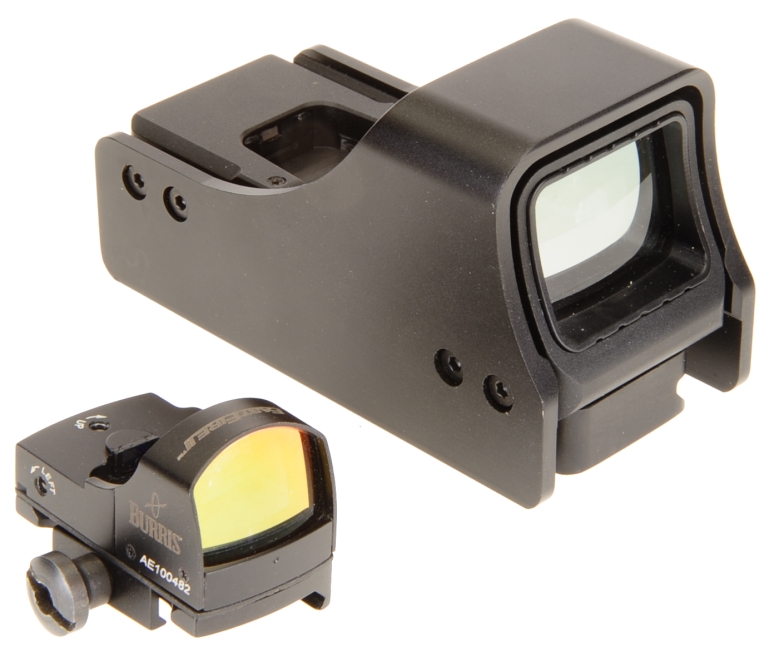 A compact red dot worked well without any other sight systems installed, however its very low profile prevented it from being used with the metallic sights installed.The larger bush guarded red dot worked well with the metallic sights in place and locked down or up.
Below, the radial port Ruger muzzle brake sharply cuts recoil and muzzle rise. The barrel's 1/2″-28 x 0.4″ threads accommodates a wide selection of muzzle devices. As an example, during the course of live fire range time, the MPR was shot with and without a silencer in place. The silencer did not impede accuracy or cycling reliability, but was easy to take on and off.
The Ruger AR 556 MPR utilizes a pistol length gas system which provided reliable operation. Ruger indicates the short gas system reduces recoil. The MPR's recoil isn't substantial enough to be q concern.

The floating handguard is light and right sized. Approximately 1.5″ across and contoured at the bottom, the short, 5 round magazine permits a proper off hand shooting position; no supporting arm elbow floating in the breeze. That long top rail makes for an accuracy yielding, long sight radius when using metallic sights.
The 15″ long Magpul handguard is clean. However, it is fabricated with M-Lok slots so what can be hung on it is only limited by the imagination; redundant sight systems, exotic sling systems, tactical lights, night vision, car keys, lunch? Keeping with the light weight theme, I keep handguards unpopulated, except for forward sling attachment or maybe a bipod, which is not the same as biped.
The  Ruger 452 Elite Trigger

The Ruger AR-556 MPR gets the two stage Ruger Elite 452 trigger in place of a standard single stage. The trigger pull is clean, relatively light at 4 1/2 lbs, and it has 30% faster lock time than a standard single stage AR 15 type trigger.
On the single stage side #1, the notch in the hammer is retained by #3, the primary sear. When the trigger is squeezed, the sear is pulled downward and the hammer is released to rotate forward to move the firing pin. If the bolt cycles the hammer before the trigger is reset, the secondary sear #4, engages the #2, the hook at the back of the hammer and prevents it from falling forward.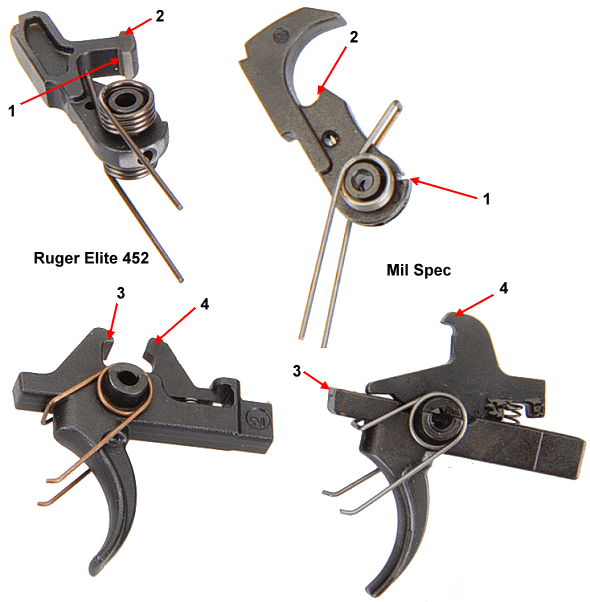 On the two stage trigger, the latching surface at the rear of the hammer #1, engages the primary sear #3. As the trigger is squeezed, the first part of trigger travel meets a light one pound resistance from the trigger spring and begins moving the sear away from hammer engagement. Then there is an increase in pressure as the backside of the hammer #2 contacts the nose of the secondary sear on the disconnector #4 and compresses the disconnector spring during the second stage of pull. The hammer's secondary sear contact surface #2 was relocated, but functions the same.
These are all details of the rifle's construction that should not be taken for granted as the first stop with lesser quality ARs is often to buy replacement parts to upgrade inferior pieces. So the inclusion of the Ruger® Elite 452® AR-Trigger is a $170 added value.
Mil-spec bolt…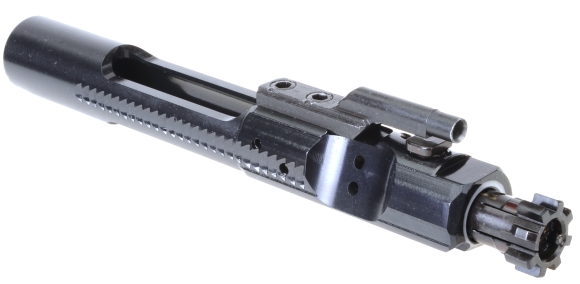 Yes, I do know that is a carrier assembly with a bolt. The AR-556 bolt is fashioned from mil-spec 9310 steel, machined and shot peened for added strength and durability. Both the bolt carrier and gas key are internally chrome-plated for increased resistance to gas induced erosion/corrosion. The gas key is staked so it won't shoot loose.
All is where expected to be…

Controls are AR 15 conventionally placed. The buttstock has 5 telescoping locking positions and is mounted to a mil-spec diameter buffer tube. The Ruger AR 556 MPR includes 1, 5 round magazine.
Overall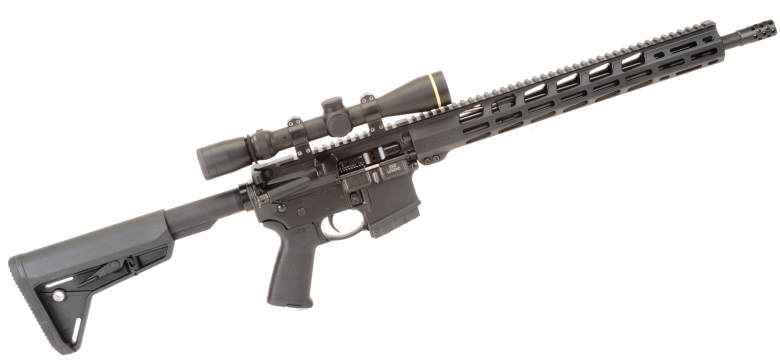 The impression left by the Ruger 556 MPR 350 Legend is one that instills pride of ownership. It is, in anyone's appreciation of nice firearms, a nice firearm.
Fit and finish is excellent. Reliability, within my exposure to several versions, has been 100%. Accuracy is sub MOA with decent ammo and a capable equipment operator. Power is more than enough for medium to large size game. Ruger's service policies are industry leading. Yup. Nice firearm.