10/16/2022 – The thing I like about New England fall, and rainy Indian Summer days, it is too wet to go out and rake leaves. Within an hour of taking this picture, the sky darkened, storm clouds rolled in it became a great day to listen to Buddy Guy… "Born to Play Guitar" at the moment, but "Feels Like Rain" is up next.
Relevant ancient history
The presence of modern day Marlin firearms makes me happy. My first centerfire rifle was a Marlin Model 336 in 30-30 Winchester. Now a little rounded on the edges, the bluing is worn thin and the stocks have been refinished several times, but it still works well and it holds a lot of memories. It will be sixty five years old this coming Christmas. Seeing new Marlins made with care; quality fit and finish, reliable operation and excellent accuracy is reassuring.
The recently reintroduced Marlin Gide Gun, manufactured in Mayodan, NC, is appreciated. Yes, it has some refinements, but none that break with a traditional lever action rifle. The level of quality is notable to the extent I wonder who oversees production. It takes a lot of work to develop an organizational wide mindset for quality.
That was then, this is now…


The reintroduced Marlin Model 1895 Guide Gun, left, previous manufacturer's Model 1895 Guide Gun right.
The new Marlin Guide Gun stuck with a traditional lever action theme, but added… good stuff.
The magazine capacity was extended from 4 rounds to 6. Considering this rifle's typical hunting environment, woodland, quick appearing and disappearing shooting opportunities, having follow up shot capacity could be useful.
Pistol grip. I find a pistol grip on a short lever gun to be stabilizing and an aid in control of trigger squeeze. The extra purchase of a pistol grip also spreads the transfer of recoil.
This third reintroduction of a Marlin lever gun model by Ruger continues the slimmed down feature. Both forearm and buttstock are 0.100″ thinner. Not a lot of material, but enough to get rid of the earlier Marlin's oversize feel.
Overall, the combination of a laminated stock, pistol grip and thinned forearm kept the  weight increase over early versions less than 4 ounces.
The recoil pad is much improved over the brick that was installed on prior manufacturer's Model 1895s. One of my first tasks, after buying one of the early Model 1895s, was buying and installing and upgraded $40 recoil pad. No need now.

Big loop lever. I protested them when they were placed on the pre-Ruger produced Model 1895 GBL (big loop), griped about them, challenged their place on a classic style firearm. Then shut up and installed them on my lever guns when I remembered I lived in Maine and could not fit gloved fingers through the standard lever.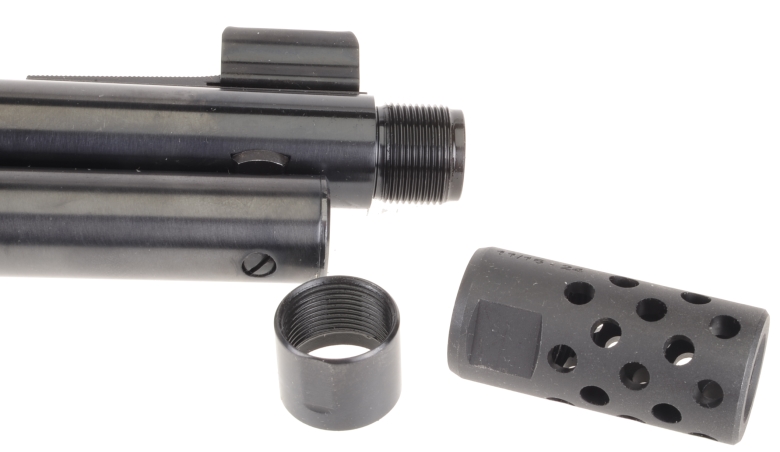 Threaded barrel, muzzle end. If there are threads, I will install a silencer. I just got so damn tired of say, "Huh?", "Whut?", "Say again?" and/or trying to read lips. If not a believer is suppression, a 45-70 Gov't lever gun can definitely benefit from a recoil reducing muzzle brake.
The new Marlin has a cold hammer-forged barrel, both new and old have Ballard type rifling. Both have a stout barrel profile, tapering from 0.938″ at the receiver to 0.768″ diameter at the muzzle

The new Marlin Guide Gun has the same combination of brass bead, ramped and hooded front sight and semi buckhorn. A stepped elevator slide in the rear sight adjusts for, yes, elevation and a non marring punch and hammer tap drift the rear sight to change point of impact on a horizontal plane.
I did not want to say windage because adjustment typically has more to do with changes in ammunition and resulting shift in point of impact than it has to do with wind.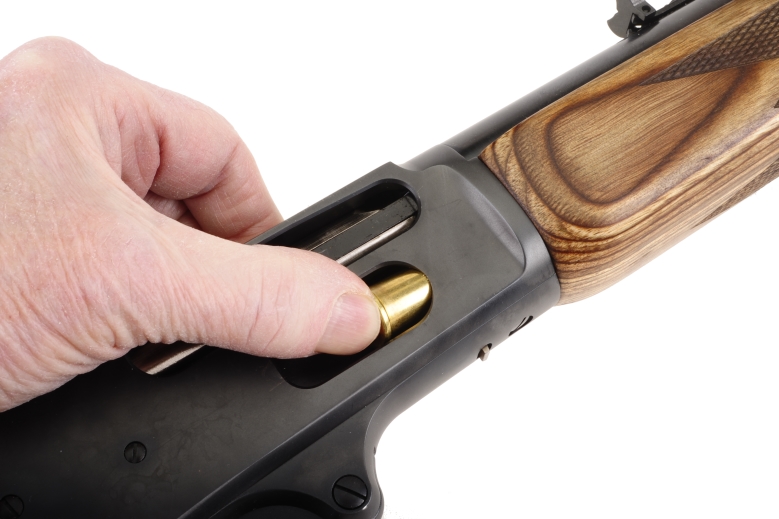 I little thing that means a lot. Both the old Marlin Company and the Remington insisted on saving .00001 cents by not tumbling or polishing the spring loaded, loading gate or cleaning up the inside of the receiver at the loading port. Constantly having a bloody thumb from the simple act of loading a rifle is not as much fun as one might think. So, Ruger, I thank you and my thumb thanks you for finishing the Marlin even in places not visible, but surely tactile.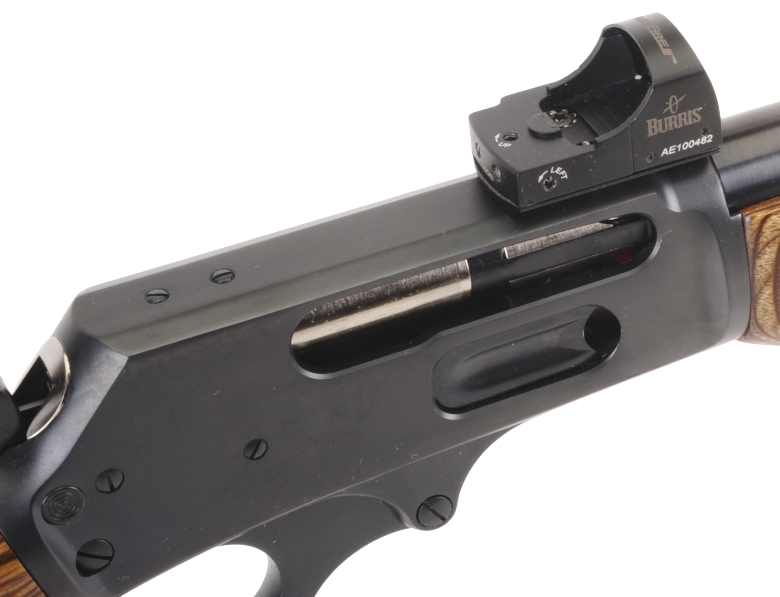 D&T receiver top. Yes, the flag ship feature of a closed top receiver remains beneficial. Scope mounting, red dot mounting and peep sight mounting are easy and secure. the spacing and location is a carry over from original Marlin factory product, so no problem finding sight attaching hardware and fasteners.
Dimensional changes – As noted before, stocks have been slimmed down by 0.100″. Length of pull increased from 13.25″ to 13.38″, mostly due to the improved recoil pad. Barrel length increased to 19.1″ from the earlier versions which were 18.5″.  The difference is the addition of 0.6″ of 11/16″-24 threads added to the muzzle end of the barrel.

A straight measurement from muzzle to recoil pad shows an overall length of 37.25″ compared to the pre Ruger guns at 37.00″. The change from straight stock to pistol grip stock came with altered stock geometry. The new Model 1895 has a 1″ drop at the comb and 1 3/4″ drop at the heel. The early Model 1895 has a 1.25″ drop at the comb and 2″ drop at the heel. Makes a big difference in increased noggin support and natural sight alignment favoring the new version.
Multi Paragraph Ammunition Rant – You can skip to "Rant Over"

I wish the industry would petition SAAMI for a +P rating for the 45-70. There is only one SAAMI pressure standard for the 45-70 Gov't and it is 28,000 psi MAP. There is no +P standard.
Reloading manuals have 45-70 sections that take advantage of the strength of modern firearms and feature increased powder charges and resulting pressure. There are specialty ammunition manufacturers that do not honor SAAMI standards, label their ammunition as 45-70 Mag, +P, or even +P+, but there is no pressure stipulated and each manufacturer produces to their own standard.
So there is data and ammunition assembled to a higher pressure level, but zero approval concurrence from firearm manufacturers who, for some reason, won't approve their product for use with nonstandard ammunition. After all, what could go wrong? Yes, that is sarcasm.
Ironically, if the 45-70 had not received many decades of increased performance handloads and ammunition I do not, for one minute, believe it would have maintained its popularity with each new generation of gun owner.
The SAAMI firearm manufacturers addressed the problem with the 450 Marlin, which died on the vine; lower potential performance than the 45-70, more costly ammunition and reloading components, not found on shelves anywhere.
Specialty ammunition manufacturers will not submit their ammunition to establish a 45-70 +P standard because they would have to surrender their proprietary ammunition claims and more people could manufacture common ammunition at a competitive price rather than the $100/20 for $25/20 worth of ammunition they now enjoy.
I think all it would take is one gun manufacturer or mainstream ammo maker to submit a spec for SAAMI to create a +P 45-70 standard. Gun manufacturers could stamp barrels or approve within manuals for its use and all of these specialty manufacturers would have to fall in line. It would also give buyers of both assurance of safety. Then maybe Hornady would stop making nonstandard length 45-70 ammunition and producing short brass casings? Sure, and then Congress will work for the benefit of the country.
Compounding the problem… There are 45 factory loads for the 45-70, a composite of 13 brands. There are 13 clearly labeled +P, there are others that are clearly operating at pressures exceeding 28,000 psi SAAMI, but not labeled +P.
Somehow these specialty manufacturers manage to push a 350 grain – 400 grain bullet to 400+ fps above standard ammo while claiming not exceeding maximum SAAMI standard and charging twice as much as standard ammo. Yes, we need a SAAMI +P standard.
Rant over – Back to the subject
The Marlin manual, page 19, states only new factory ammunition that complies with U.S. Industry standard practices. No re-manufactured, no handloads, no non-standard. Specifically, the use of nonstandard ammunition labeled +P is not recommended. The manual also does not recommend aluminum casing ammunition. I ass-u-me it has to do with the lever action design's low extraction mechanical advantage and aluminum's penchant for expanding more than brass and its unwillingness to return to original dimension.
The Marlin manual also does a good job of defining cartridge maximum length as 2.550″ for 45-70 flat nose ammo, the same as the SAAMI maximum cartridge length specification, or 2.600″ for Hornady pointed FTX bullet ammunition. The tapering FTX ogive gives it a little more clearance for cycling from magazine to chamber.
I am not going to go renegade and shoot common modern pressure ammunition or my handloads in this rifle. This is Ruger's firearm and it would be disrespectful to represent it in any way not in keeping with its intended use. Not sarcasm.
Shooting factory ammunition… So that's what it looks like!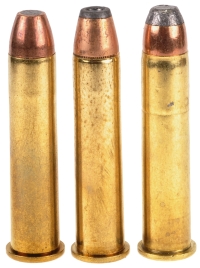 Cartridge

Type

Bullet




Weight




Grains

Rated




Muzzle




FPS

Recorded




Muzzle




FPS

100 Yard




3 Shot




Group"

Winchester Super X

JHP

300

1880

1842

0.7

Winchester Supreme Partition

JSP

300

1880

1663

0.8

Remington Core-Lokt

JSP

405

1600

1494

1.1
Why is the new Marlin Model 1895 so slow!..!!! It isn't. The test barrel length standard to set ammunition rated velocity for the 45-70 is 24″… which clearly is not a typical length firearm barrel. So, subtracting 5″ of barrel to get to a compact firearm does diminish velocity to some degree. Well, actually, to the degree indicated on the table.It is actually a tad quicker than the Model 1895 of earlier manufacture.
We can only wonder how the newly reintroduced Model 1895 would have performed with modern pressure ammunition. Pure speculation on my part, but I'd guess: HSM Bear Load 350 grain @ 2204 fps, Buffalo Bore 45-70 Magnum 350 grain @2200 fps, Garrett Hammerhead 500 grain @1513 fps. All right on or very close to rated.
The reality is that the Marlin 1895's accuracy is so superior to the old days of lever actions when shooting a 3″ group with a lever action made it a tack driver. For a deer hunter, elk or moose hunter, hog or black bear hunter, standard pressure factory ammo is more than enough.
Conclusion? Please, please…
I probably could have skipped most everything I said and just wrote, "Better than the original". The current Marlin is more accurate, better in fit and finished and backed by a better, certainly more stable, company.
The Marlin has a natural point. It cycles smoothly, both extracting and feeding. Its operation is in no way finicky. The hammer has three positions, cocked, half cocked and fire which feels familiar and traditional. Glad they did not implement the Browning – Winchester dreaded flopping hammer system.
Very nice rifle.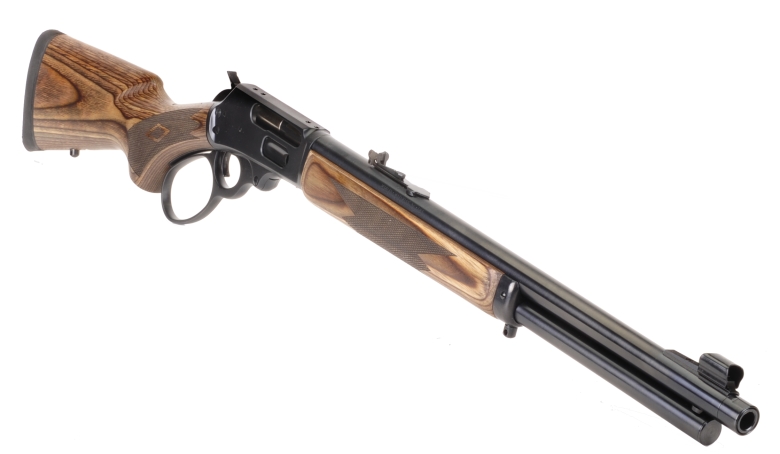 Reintroduced Marlin Guide Gun


Origin
Mayodan, NC

Manufacturer
Ruger
Model
Model 1895
Type
Lever Action
Caliber
45-70 Gov't
Mag Capacity
6
Barrel Length
19.1″
Rifling
1:20″
Nominal Weight
7 lbs 4 Oz

Overall Length
37.25″
Stock
Laminated Hardwood

Hardware
Satin Blued Steel
Length of Pull
13.38″
Drop at comb
1.00″
Drop at heel
1.75″
Sights R – F
Semi-Buckhorn – Ramped Brass Bead
Scope
Receiver D&T for Scope/Red Dot

Trigger Pull
5 lbs. 9 oz.
Safety
Cross Bolt Safety
MSRP
$1,149