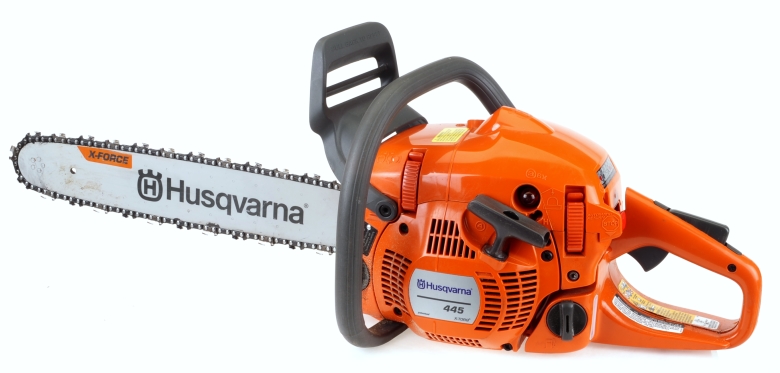 10/23/2022 – I promised some firewood to someone who helped me out. Unfortunately, I procrastinate on such things, so now I am cruising for standing dead trees and last year's tree fall.
Five cuts and the saw seemed to be better at giving trees friction burns than cutting them down. So I broke out the file and began sharpening. Oh, well. Back to cutting again in the morning.
The world is changing, the seasons are changing, the price of guns and ammo are really changing. Sometimes, the easiest way to maintain focus of thought and not be overwhelmed is to scale life down to something more manageable… like a chainsaw problem that can be fixed is fifteen minutes with a $2 file.
The return of the 22 rimfire
I notice my shooting habits have changed considerably over the past couple of years. Before COVID, my shooting, outside of that required for writing, was almost exclusively centerfire rifle and handgun. There seemed to be either inexpensive factory ammo on sale, or inexpensive components to convert into inexpensive handloads.
I started that transition when $10 per 10 boxes, 500 rounds, loss leader ammo disappeared from retailers shelves and went as high as $100 per 10 boxes. Rimfire ammo went  from a device to bring in new generations of shooters to yet another way for ammunition maker CEOs to send their kids to private schools in Europe.
Today, centerfire ammo is very expensive and handloading components have increased in price even greater. 22LR rimfire ammo has increased in price over 300% over the past few years, well before inflation became an excuse. Still, quality 22 LR ammo can be purchased for 7¢ per round, $3.50 per box/50 while inexpensive JHP 357 Mag (reloadable) starts at 75¢ per round, $37.50/50.
In practical terms, I can have a 200 round shooting day for $14 with a rimfire or $150 with my 357 Mag.  With rimfire, I can spend the day shooting with family and friends and put the differential of $136 toward gas for the car, heating oil for the house, food shopping…
Yes, self defense proficiency training still requires use of the firearm, firearms, dedicated to that purpose, but that leaves a great deal of rimfire shooting; recreational target shooting, small game hunting, developing marksmanship skills.
The Performance Center® SW22 VICTORY®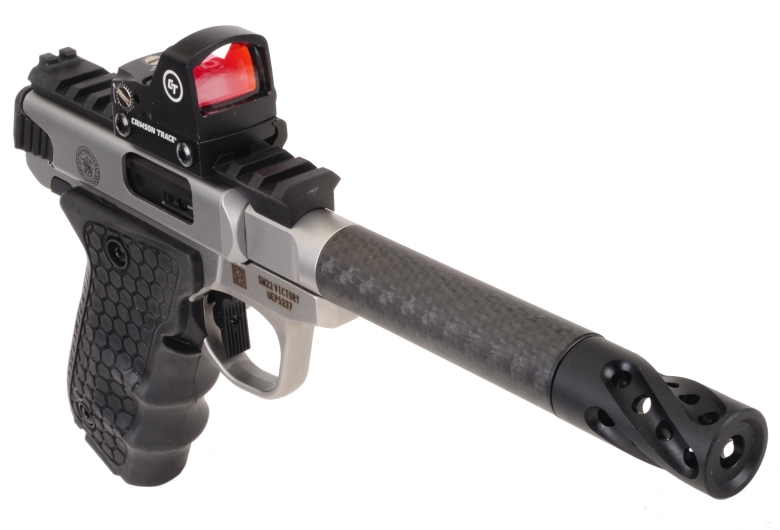 Joe, Joe… Joe. You talk about saving money, then you post a picture of a very fancy smancy pistol. Is this the focusing thoughts problem mentioned in the intro? Could be, inquisitive stranger, but I don't think so.
Rimfire ammunition is a consumable; items purchased, used up, then replaced… much like Gummy Bears. Firearms fit into a second category, long term assets; items purchased for use over the long term.
Where the initial purchase price of a quality firearm may be higher, because their service life is much longer they are less costly over the long haul. A $300 firearm that fails under heavy use after a couple of years costs $150/year. A $745 firearm lasting, conservatively 20 years, under heavy use and with a life time warranty, costs $37.25/year. Additionally, the purchaser is shielded from price inflation for twenty years. How much is twenty years of inflation? 65% during the previous twenty years.
Configuration options…
There are eight version of the S&W Victory, with an MSRP starting at $454. The Performance Center® SW22 VICTORY® Target is available with carbon fiber or stainless steel barrel for $746. There is also a The Performance Center® SW22 VICTORY®with stainless barrel, sans rail, but with fiber optic sights also with a $746 MSRP. The subject pistol, with $945 MSRP, is a Performance Center kit that includes a Crimson Trace red dot sight, soft case and other accessories.
Specifics
Smith & Wesson SW22 Victory Target Pistol – With Red Dot Sight


Company
Smith & Wesson
Point of Manufacturer
Springfield, MA
SKU#
 12081
Type of Action
Blow Back Semi-Automatic
Caliber
22 Long Rifle
Capacity
10+1
Barrel Length
6.0″
Barrel Material
400 Series Stainless Steel + Carbon Fiber

Rifling Twist Rate
1:15″ 6 Groove RH
Slide Material
400 Series Stainless Steel
Frame Material
400 Series Stainless Steel
Finish
Matte
Grips
Tandemkross "Hive"/Target Thumbrest
Front Sight
None

Rear Sight
Rail / 6 MOA Red Dot

Weight of Firearm
33.0 Oz.
Trigger Pull – Measured
4 Lbs 2 Oz.
Trigger Adjustment
Flat Face – Overtravel Adjustment

Overall Length
11.25″
Overall Height
5.6″
Width
1.2″
Thumb Safety
Yes
Magazine Disconnect
Yes
Loaded Chamber Indicator
No
Key Lock
No
CA, MA, MD Compliant
N-Y-N
MSRP
$945
A little more info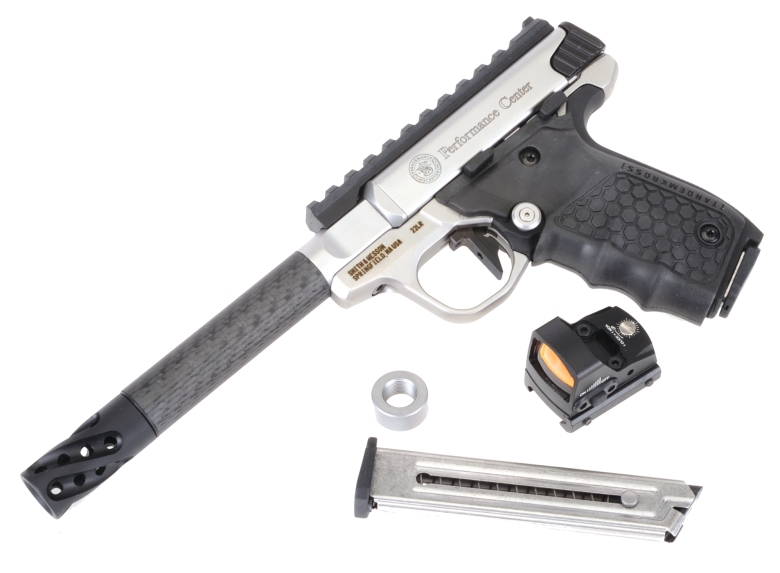 This kit includes the Victory pistol with enhancements, a red dot sight, two magazines, a barrel thread protector and assorted tools (Not pictured).
The Crimson Trace red dot sight manual, packaged with the Victory, indicates Model CTS-105, 8 levels of brightness and a 3.5 MOA dot. The S&W site indicates a 6 MOA dot. The apparent size of a red dot changes with intensity.
At the lower end of the brightness spectrum, the apparent dot size makes for precise placement on a target. At full bright, even a 6 MOA dot is still only 1.5″ at 25 yards and a lot easier to keep on moving small game and easier to see on bright backgrounds.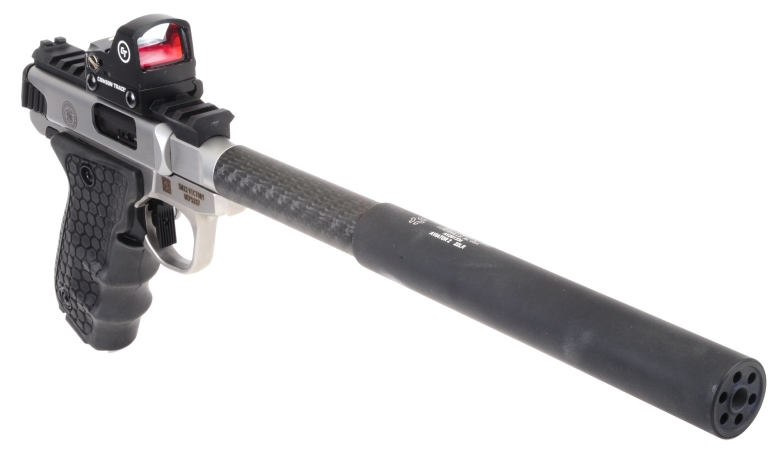 Yes, a silencer can easily be mounted for suppressed fire. All standard velocity 40 grain 22LR ammo is subsonic when shot from a pistol barrel and even some high velocity, making a silencer a useful tool.
I did not want to disassemble it, I wanted to shoot it…
Forgive me for not taking these picture with the carbon fiber subject pistol. Not wanting to sacrifice time planned for the range, I decided to use images from one of our earlier reviews of the Victory. As a practical matter, in this regard they are the same.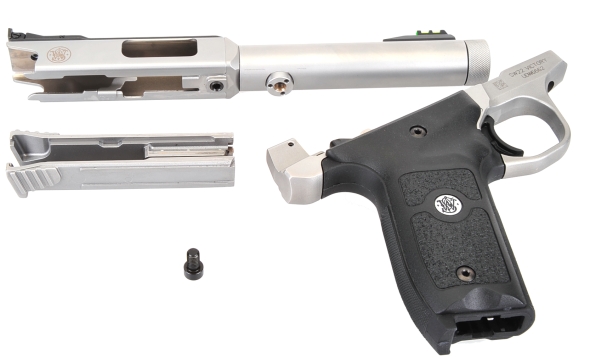 Removal of one takedown fastener, allows lift off removal of slide, receiver and barrel from the Victory's frame.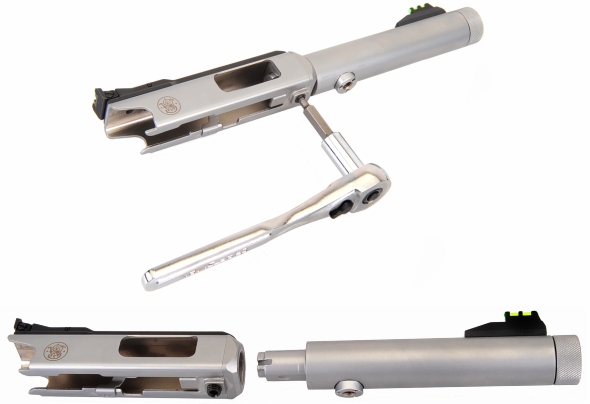 Removal of one more fastener permits the slip fit barrel from the receiver. Why is this modular, easy disassembly of consequence?
Other that ease of service and maintenance, there are a wealth of aftermarket parts for the S&W Victory platform, both Performance Center and standard versions. Both Tandemkross and Volquartsen offer lots of piecces to customize/personalize a Victory/
Shooting… It was only a matter of time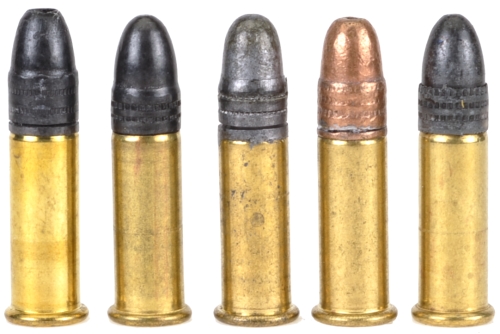 The thing about rimfire handguns and rifles, is that accuracy is very much ammunition dependent. Yes, that includes the target versions. While they are also sensitive to ammunition, they will produce smaller groups with the right ammo, than the best groups of non-target firearms.
Cartridge
Bullet
Weight
Grains
Rated FPS
Recorded
FPS
25 Yard
5 shot Group"
Eley Subsonic
40
1040
964
0.8
Remington Target
40
1150
1026
1.8
Winchester Match
40
1150
1075
0.6
Winchester Wildcat
40
1255
1089
2.1
Remington Thunderbolt
40
1255
1130
0.8
Conclusions?
The S&W Victory is an excellent pistol. Regardless version selected, it is a good shooter, each configuration offering something unique.
Selecting a carbon fiber vs stainless steel six inch barrel would take come consideration. I like the look of a fluted stainless barrel, but the carbon fiber version is a full six ounces lighter.
The Victory is reliable, ignition and cycling. Slightly muzzle heavy, the carbon fiber barrel is steady on target. The honeycomb grip is hand filling and slip free.
The trigger feel is good. A little takeup, but the uniform resistance actually helps in trigger squeeze control.
For anyone looking for a quality 22LR pistol and not just a 22LR pistol, it is a good choice.