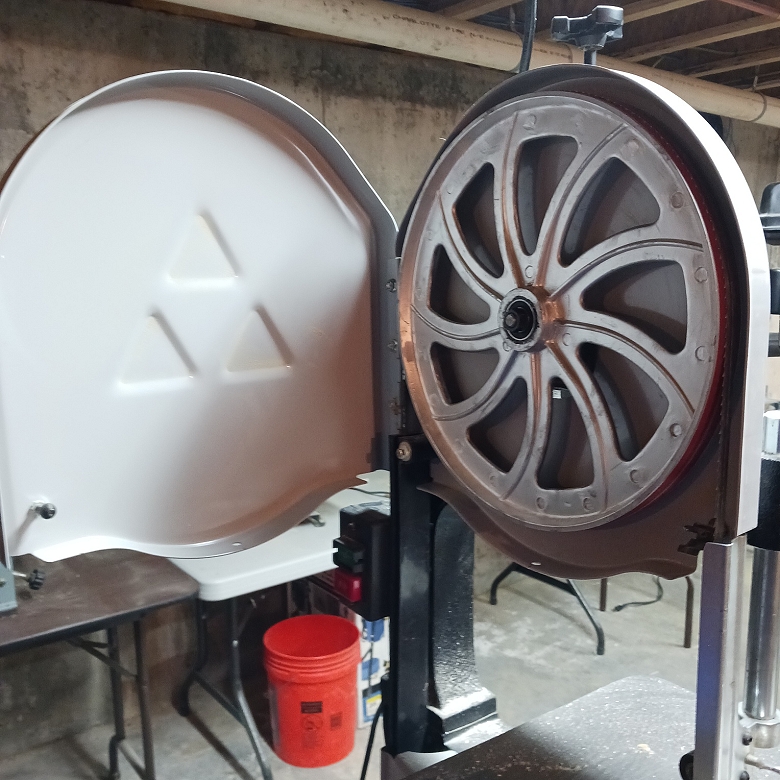 I work on all of my electrical and carpentry projects in a basement workshop. By workshop, I mean a bunch of old machines strewn about and parked on tables, two work benches piled high in a state of disarray, and many… many 30 amp outlets along the walls and ceiling. Oh, and saw dust and wire clippings one or two feet deep on the floor. In the midst of craft and creative genius, there is no time for tending to the details of organization and cleanliness… or for restricting the scope of projects to my abilities.
For a while, I've had an on again, off again relationship with my band saw. "A while" defined, loosely, as twenty years. Typically, in the midst of a critical cut, the saw blade would decide it was having philosophical disparities with the saw's large drive wheels and they would go their separate ways. Sometimes amicably, sometimes not. The latter, sometimes, aerobic level exciting.
Torrential rainfall, lightning and thunder, and hopes of not becoming a human lightning rod with a pole saw, caused me to suspend my tree pruning project. So why not head to the basement and disassemble the band saw? Not knowing anything about band saws, the odds on outcome were 50-50, resulting either in a repaired band saw or its ride on a hand truck ride to the dump pile.
The effort was touch and go for a while. I lost its pulse several times and it woke from anesthesia and bit me at least twice.
Post surgical notes
Apparently, the saw blade forms a loop around the upper and lower wheel assemblies. The blade is supposed to track to the center line of the wheels, riding on a center tire… a flat tire, and pass through upper and lower blade guide assemblies.
To keep the blade tracking to wheel center, the upper wheel is mounted to a hinged spindle that can be adjusted to alter its camber. Sort of like my old Fords with shimmed A frames. The hinge is mounted to a sliding bracket that moves up and down in the saw's frame to adjust the wheel spacing, and a tension crank keeps the blade preloaded against the wheels.
After a couple of decades in use, applying too much tension to the blade caused the sliding bracket to back out of the saw's cast iron frame. That movement raised the spindle, forced increased positive camber, and caused the blade to frequently pop off of the wheels. The increased spacing between wheels, at last jump, made it impossible to remount the blade and set proper camber.
The upper wheel was removed with a puller. Loosening the two sliding bracket mount fasteners facilitated wonking the bracket with a rubber mallet, lowering it 1/4″ into its slot in the frame. Reinstalled, the top wheel was now closer to the bottom wheel by 1/4″ and camber was adjusted to zero.
The blade was reinstalled, the tension crank was adjusted for a 1/2″ wide blade, and camber was adjusted slightly positive, allowing the blade to track to wheel center. Upper and lower guides were readjusted, the wheel door covers wheels were closed, the saw was powered up and it worked better than when it was new, with all parts working in harmony.
I like machines. At least those that require manual control. While they have no intelligence, they function on pure logic, so trouble shooting and repairing are like playing an Adventure themed video game. Yes, perhaps a wandering narrative, but writing it gave me time to consider my thoughts on the LC Charger.
The necessity versus fun dichotomy
I don't know the true worth of the 5.7x28mm cartridge and associated firearms, but only because "true worth" is such an elusive unit of measure. Scenarios defined to create the illusion of necessity are rarely steeped in reality, nor are the thoughts of the people who cite them in social media. But there is almost always a substantial reason behind a cartridge design. Often a cartridge begins with a military application, where the designing company then taps into civilian markets to more quickly absorb the cost of R&D.
Military and law enforcement purchases represent a routine of dire need. Civilian purchases? Not so much. Considering one rifle, one handgun and one shotgun could cover all categories of "necessity", from hunting to defense, I am not sure why it is so hard for people to say that they want a firearm just because they find it interesting, or its fun to shoot, or they want to be the envy of their friends and associates, or they just like new things to explore.
The Ruger 5.7 LC Charger
I spent a couple of weeks shooting the LC Charger, taking it apart and poking at the bits and pieces and reflecting on the experience. Yes, like my process with the band saw. Suppressed, not suppressed, pop up sights, red dot sight, and scoped; it was fun to shoot, accuracy was good and the firearm was made to Ruger's high standards for quality.
Ruger LC Charger


Company
Ruger
Manufactured

Prescott, AZ

Model #

19303
Type of Action
Blowback

Caliber
5.7x28mm

Magazine Capacity
20
Magazine Type
Staggered – Steel

Barrel Length

10.3″- 1/2×28 Threads

Barrel Material
Alloy Steel

Barrel Finish
Black Nitride
Rifling Twist Rate
1:9″ RH 8 Groove

Receiver Material
7075-T6 Aluminum
Receiver Finish

Type III Hard Coat
Handguard

M-Lok Free-Float

Handguard Material

Anodized Aluminum

Sight Mount

Picatinny Rail
Weight

4.2 Lbs

Overall Length
16″
Safety
Ambidextrous – Thumb

MSRP
$999.00
So what to do with a 5.7x28mm Ruger LC Charger? Lots!..!!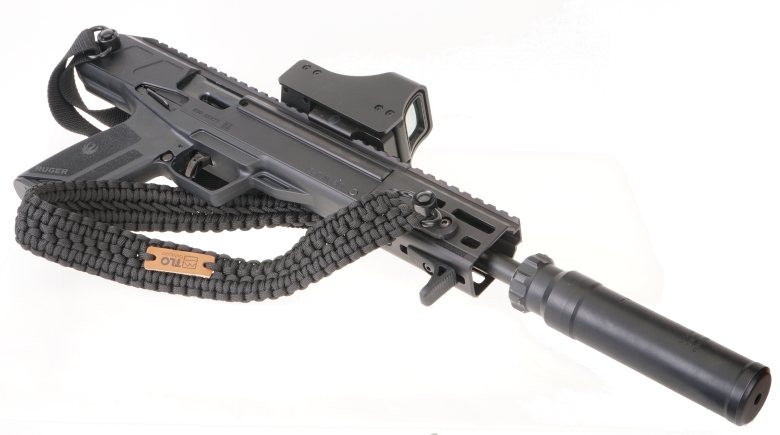 With a top rail, muzzle end barrel threads and quick detach mount points, the LC was configured as pictured; TLO sling, red dot optical sight and a silencer. The mounted silencer is a 5.56 NATO model. Ruger cautions against using a 22 rim fire silencer as having insufficient capacity and suggests 9mm silencers would yield an acceptable result.
Hung on my tractor ROP bar, it spent a week on pine cone and pest duty, performing admirably on both assignments. I'm finding this scenario to be a useful way to evaluate firearms. I get to work on property related projects and check out a firearm with something other than popping holes in paper targets from a shooting bench. Pine cones can really bounce around when shot… I just wish they didn't scream.
Not that I didn't pop holes in paper targets…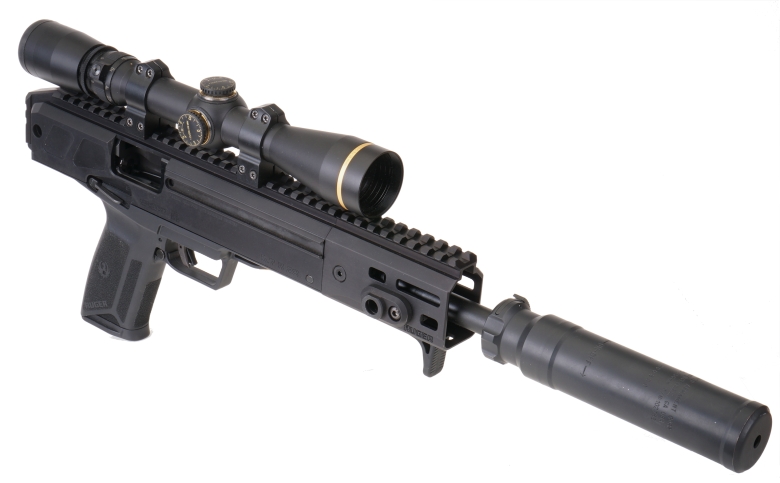 Yes, that is a goofy set up. Thank you for noticing. The approach is always intended to remove issues of vision and marksman mastery skills, so the firearm potential is shown and not mine. Wanting something more steady than a bipod, or holding out at arms length, a rifle scope with 3.75″ of eye relief was mounted, rather than a handgun scope with long eye relief. The handguard was parked on a cast iron rifle rest and the pistol grip was planted on the tapered front of a large bunny bag. Did I say bunny bag? I meant to say manly tactical weapon shooting support system.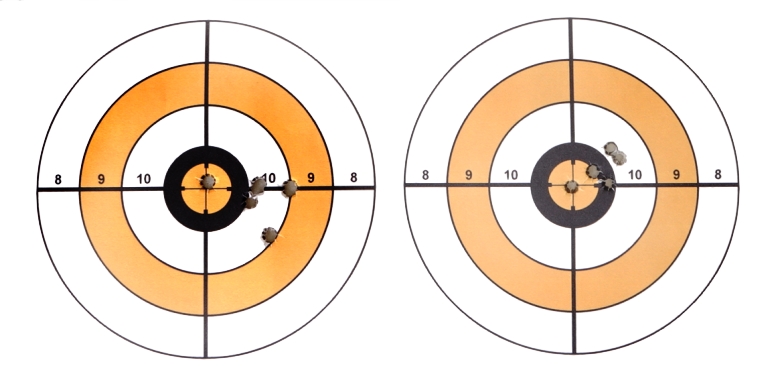 Both targets pictured represent 5 shot, 50 yard groups. The first shot, left, measures 1 1/8″. The second measures 3/4″. Subsequent groups shot were like the target on the right. All groups were shot with Federal American Eagle FMJ 40 grain, which went 1,951 fps over the chronograph. FN lead free 27 grain was recorded at 2,499 fps, but was not shot for accuracy. It was used to blow up pine cones until the action locked back on empty and I was out of ammo.
The disparity between the first and second targets was caused by two factors. The first, the time it took for me to settle into a comfortable steady hold around the Charger's geometry. The second cause was me getting used to a longish active trigger pull. The trigger pull does the final cocking on the internal hammer, just prior to sear release. I am sure a little more quality shooting time and even the right side group would have tightened.
Setting aside the longish trigger pull, and me whining about it like a spoiled child, after shooting a variety of 5.7x28mm firearms, both recoil and gas operated, I believe Ruger has the best handle on functional reliability. In fairness to others, designing a reliable firearm chambered for the 5.7x28mm cartridge takes some head scratching and spit balling, sometimes concurrently.
The 5.7×28 FN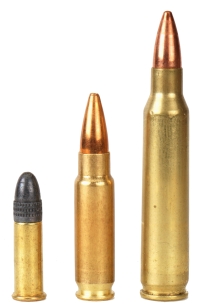 The 5.7x28mm FN is a 1986 design. Commercially available for military applications since 1990, it made its way into U.S. law enforcement and civilian sport firearm market in 2004.
Originally, the 5.7 was intended to replace 9mm Luger handguns, providing longer reach, less recoil and, with specialized ammunition, body armor defeating capability and tracers. Specialized ammunition is not sold on the civilian market.
L-R 22 Long Rifle, 5.7x28mm, 5.56 NATO. As an indication of relative performance, chronograph muzzle velocity and kinetic energy, stated in the same order: 988 fps/87 ft-lbs, 1951 fps/338 ft-lbs, 2529 fps/568 ft-lbs. All noted are 40 grain loads, selected for the sake of uniformity, however, barrel length differed: 4″, 10.3″ and 10″ respectively.
The 5.7x28mm is a commercially successful cartridge; civilian, military and law enforcement applications. The cartridge can be found in the firearms of law enforcement, as well as in use with the military of 40 countries. The 5.7x28mm has been adopted by NATO. The most notable agency use within the U.S. is our Secret Service.
The finicky part…
Low weight/mass bullets, modest gas volume and Isaac Newton conspire to make firearm bolt mass and recoil spring a close balancing act. Gas operated systems are more of the same. In either, ejection force is so mild, and case taper is so minimal, that cartridge cases are polymer coated to reduce friction. The key to a reliable 5.7x28mm operation is expressed as basic gun owner responsibilities – a clean firearm and proper light lube. It's that simple.
 Outside – inside…

From a size, weight and balance standpoint, the LC Charger can be carried with the sling that is included in the package. At a weight just a tick over 4 lbs, it is light. The LC Charger begins as pictured above, so the customer can install just about any type of sights; metallic, red dot, scope. Additionally, the abbreviated, M-Lock handguard can accommodate a bipod.
Modular design…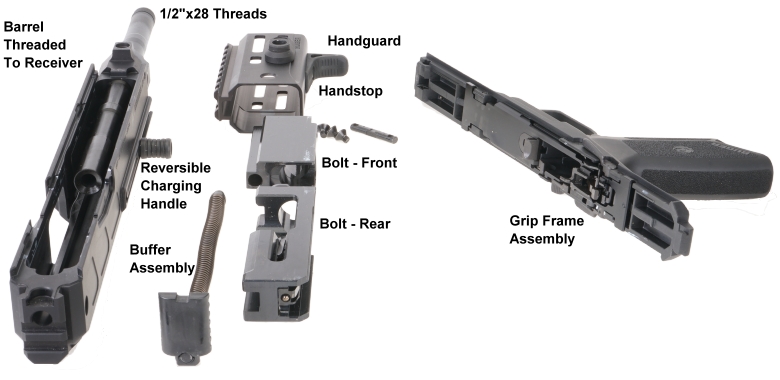 The LC Charger design is modular and easy to disassemble. Why do I say easy? If I have a really easy time disassembling, and I don't fret reassembling, that is easy. Fretting is the reoccurring nightmare that I will have to return a firearm in pieces so the manufacturer can put Humpty Dumpty back together again.
The takedown pin pushes out, the grip frame pulls back and out, the bolts and buffer assembly lift out, the handguard is held on with three 1/8″ Allen head fasteners. Nothing tricky, complicated or requiring more than typical human agility.


A little closer look at the receiver mounted barrel, buffer assembly and two piece bolt. The LC Charger is an internal hammer design with the final hammer cocking done within the trigger pull. The rear work carries the weight of responsibility and the firing pin. It extracts and ejects the empties and strip a fresh round from the magazine. The system is a blow back design, with both bolt segments held in battery by the buffer assembly.
Overall… I am nothing if not redundant
Okay. So the Ruger LC Carbine is a lot of fun. Ammunition is not cheap, but then what is these days. About the same as 223 Rem ammo on sale and in bulk. Performance is very short barrel 22 Hornet like, which is good for varmints up to coyote size with expanding bullets, targets to a hundred yards and pine cones where you find them.
The large format pistol presence, and an absence of a buttstock, requires a little proficiency training, unless familiar with shooting other Ruger Charger products, long barrel AR pistols, or silhouette or hunting handguns. The task is mostly learning to engage the pistol's geometry; a couple of range hours to "Get on target" and a few days of shooting the LC Charger will makes handling its form second nature.
For security work, looking at all of the law enforcement and military users world wide suggests there is a good fit. Certainly compact and light enough to take out on the trail and handy around the house. Perhaps a tad much to conceal, for the average person. Now, if you'll excuse me, I'm going to shoot some more and run myself out of 40 grain.