It's 3AM. I'm working on this week's article. A TV show is on in the background to create a little settling down noise, a documentary that might help me understand the culture of Comic-Con. The noise isn't settling and I will never understand Comic-Con culture. Three cups of dark coffee and two cups of black tea are not helping.
The weather had been good, so lots of outdoor project getting done. A good deal of tree line clearing turned into a firewood cutting exercise. Changing out fascia board led to reinstalling the gutters with a better pitch and replacing a downspout that lost an arm wrestling match with the tractor during winter snow removal. But then, it rained, and rained some more…. and kept raining.
Inside work routine is not like working outdoors. Outdoor projects feel good. They often require heavy physical labor, which makes exercise interesting. Inside routine? Somehow, running bleach and vinegar through a washing machine as a cleaning process, or dusting and wiping down the high side of light fixtures is less than exciting.
Additionally, rain was preventing me from wrapping up the live fire component of this Ruger American Rimfire Target project.
Listen to the rhythm of the falling rain…. The Cascades?
It came to me that rain is a natural phenomena. No different than a morning shower… except without soap… and no control of water volume. If I got wet, I would eventually dry off and, because I live in the boonies, there would be no witness to me walking around, changing targets in a downpour.
So I grabbed the Ruger American Target rifle, mounted a retired Leopold variable scope with a 50mm objective lens, screwed on a Ruger Silent-SR, and headed for the back porch. Yes, those of us who decline the cultural riches of urban and suburban America enjoy different benefits.

But what about the effects of rain on paper targets? Splatterburst targets. I generally do not like them. I can see bullet holes through a scope or walk down range to check hits and misses without exaggerated target recording. Splatterburst targets are costly, but they are poly coated, and do not absorb water.
A little firearm specificity…
Ruger American Rimfire Target


Manufacturer
Sturm, Ruger & Co., Inc.

Point of Origin
Mayodan, NC

Model Number

8348
Type Action
Bolt Action

Caliber
22 LR
Magazine Capacity
10
Barrel Length
18″ Bull – 0.860″ Diameter

Twist
 1:16″ RH 6 Groove

Receiver Material
Blued Alloy Steel

Barrel Material
Blued Alloy Steel

Muzzle Threads

1/2-28

Scope Mount
Picatinny Rail

Stock
Black Laminate

Pull Length
13.75″

Overall Length
37.0"
Weight
6.7 Lbs
Safety
Tang
MSRP
$639
There are eight configurations of the Ruger American Target. They vary in caliber: 22 LR, 17 HMR, 22 WMR. They vary in construction, stainless steel and alloy steel. They vary in stock type, solid or thumbhole, all are black laminate.
Personal preferences…
I have previously worked with the Ruger thumbhole version in 22 LR and 22 WMR. They are interesting and good shooters, but I feel most comfortable with the heft and balance of the solid stock. I also like the 22 LR chamber. It is good for target shooting, new shooter training, pest control, and small game hunting. Even at current prices, it is still the least expensive cartridge to shoot.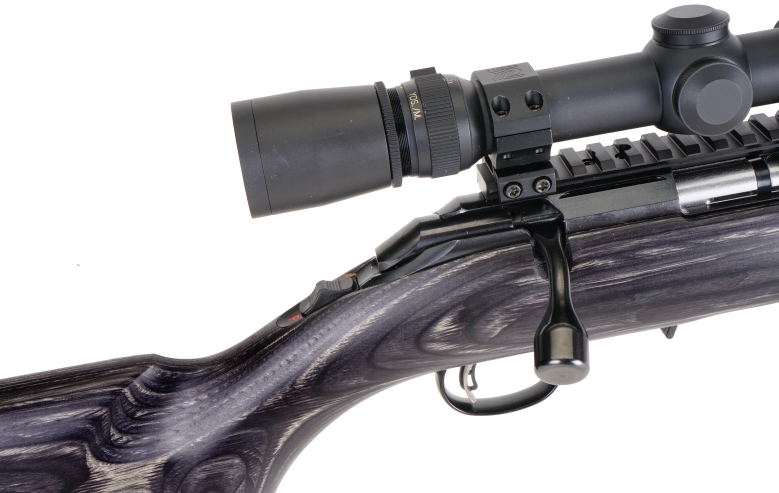 The Ruger American Rimfire Target rifle thoughtfully includes a Picatinny rail which makes scope and ring installation and swapping an easy task. A tang safety is on a great place to allow actuation without grip shifting. Bolt lift is 60° which provides scope eyepiece clearance.
The Marksman adjustable trigger, 3 to 5 lbs, is a good one in terms of feel and pull. Nothing is lost with the inclusion of a trigger safety.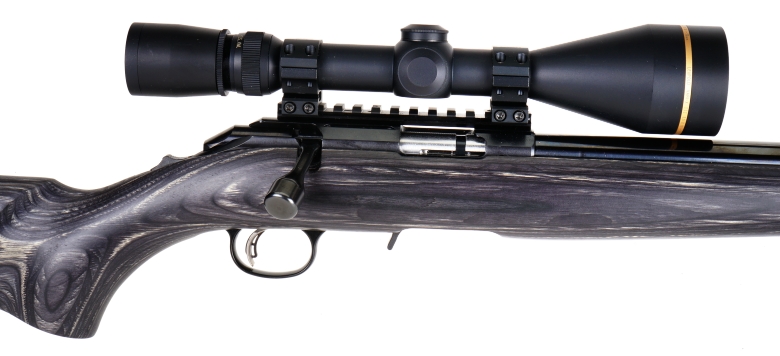 The underside side of the stock's forearm is formed into a shallow radius, the inserted 10 shot rotary magazine is flush. The stock narrows a bit in profile forward of holding surfaces, the stock is devoid of checkering. I am guessing that some insightful engineer assumed competitive shooters do not sweat and writers do not work in the rain.
For folks who prefer extended magazine capacity, the Ruger American Rimfire Target is compatible with all Ruger 10/22 BX type magazines, including those with a 25 round capacity.  The only protuberance is the extended magazine release.

Swivel / bipod mounting studs are in place as shipped from the factory. The grip has slight palm swells on both sides, which proved to be comfortable and steadying. Something usually seen on the Ruger No.1 product, the Rimfire Target has an Alexander Henry type forend with grooves to aid in the use of shooting sticks and similar supports.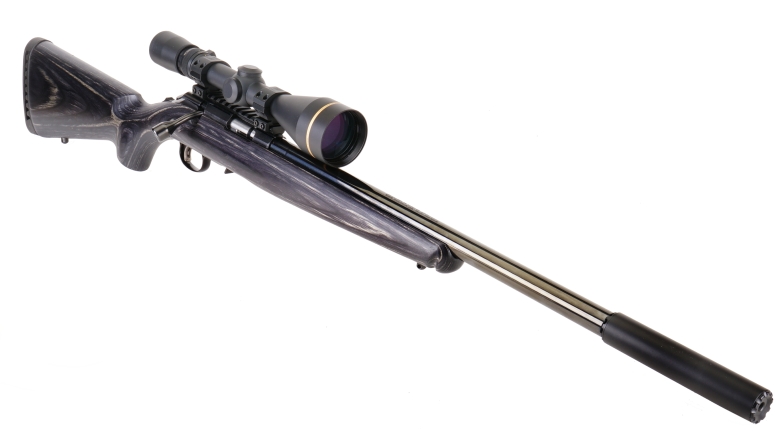 The Ruger American Rimfire Target utilizes Ruger's patented Power Bedding. The barreled action is keyed to the bedding blocks in the stock and secured with two fasteners. The 0.860″ bull barrel floats in the forearm for greater shot to shot precision. That is a very good set up for all of the rimfire and centerfire firearms in the Ruger American lineup.
How did it shoot… in the rain… winds gusting to 10 knots?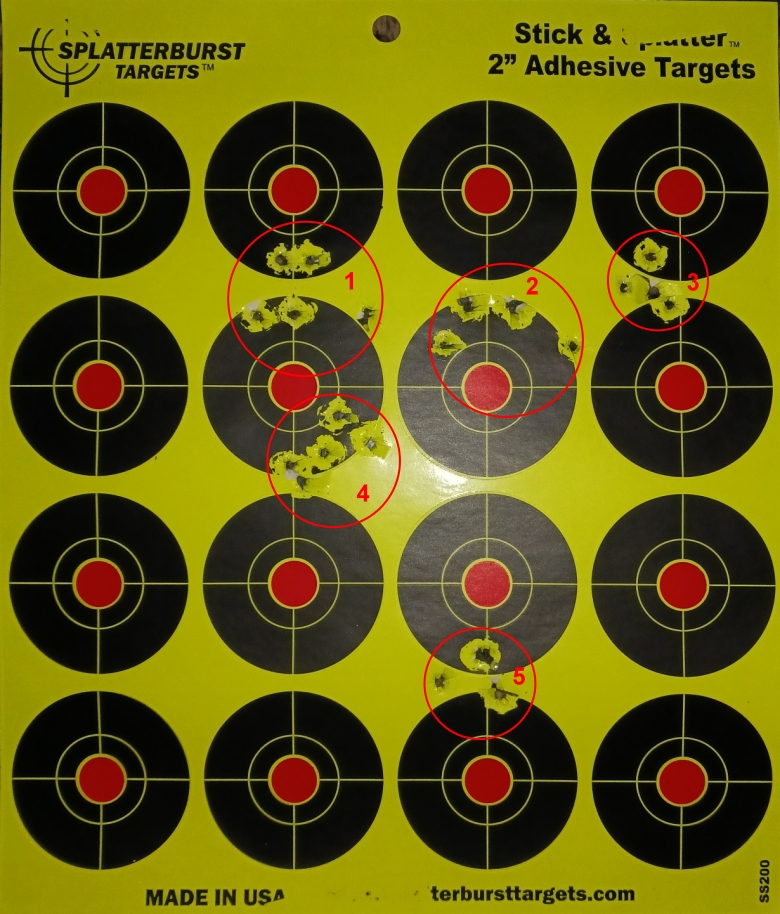 I apologize for the target photography; see back porch, lousy weather, old guy's generic Samsung Galaxy phone camera. So, at 50 yards / 5 shot groups:
1) Winchester Wildcat High Velocity 40 grain 1.2″
2) Remington Standard Velocity Target 40 grain 1.3″
3) Remington Cyclone High Velocity 36 grain 0.5″
4) Winchester Standard Velocity Match 40 grain 0.9″
5) Remington Golden Bullet High Velocity 40 grain 0.4″
My approach was to wait for breaks where rain to change from torrential to steady drizzle and breaks in the buffeting wind. They I would squeeze off 5 shots, and wait for the next calm.
Three sets of targets were shot with essentially the same results. A good illustration of why sorting through rimfire ammunition with a new rifle is important. Even the worst groups, were good rimfire groups, but the smallest shot, in trying conditions, underscore the use of the term "Target" in the product name.
All out of coffee. All out of tea…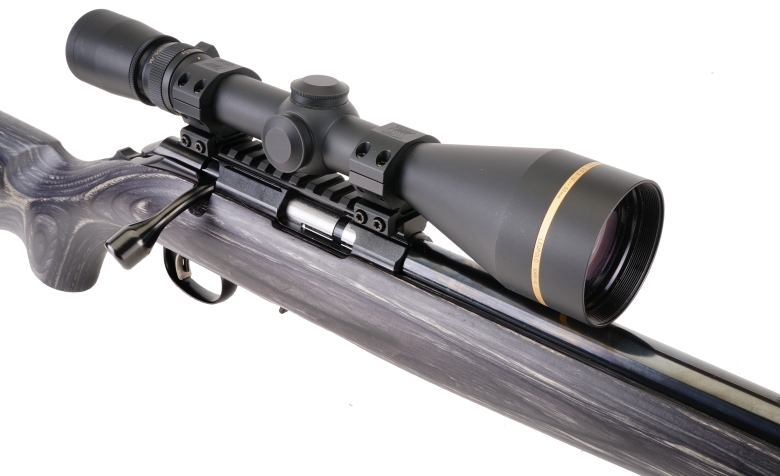 The Ruger American is clearly a rimfire rifle with a well deserved reputation for accuracy and reliability. My intention is to wait for something other than ark building weather and reshoot the live fire portion. That said, I think what the American Rimfire Target was able to do under less than ideal conditions was commendable.
What I have learned about this series Ruger, is that with nothing more than occasional cleaning, the American Rimfire Target will deliver reliably and do so for a very long time. Good for anyone who could use a quality, U.S. manufactured rimfire.