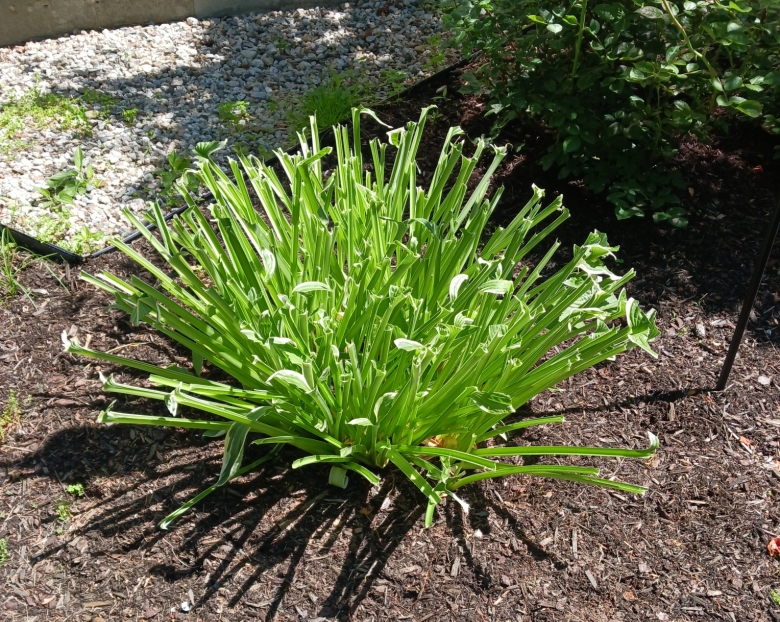 This is Hostas number five. Yes, it is supposed to have big, two tone green striped leaves, as did Hostas one through four. One by one, overnight, they were converted into green stalks.
The disappearance of leaves was not much of a mystery. Yesterday afternoon, while eating lunch, a very healthy and heavy doe wandered through the backyard, with two spotted month old fawns in tow. Mom was evidently showing her offspring where to fine the best dining experience.
The upside is that I will not have to trim the Hostas… or the La Vistas. The downside for me? Stalks are not much of a reward for time spent landscaping… Yeah, I never say "gardening".  The associated visual is of old men, wearing wide brimmed straw hats with a draw string, speaking in muted tones about the roses they just pruned. See Clint Eastwood, "The Mule".
My preference is the image of an old man wearing a John Deere baseball cap, driving his tractor into the woods to harvest firewood and to clear out tree stumps… even if that scenario concludes with him sitting on a parked tractor, with the seat reclined just a little bit, and taking a nap. Throw in a little snoring, and it is a much more manly persona.
Ruger's big bore double action revolver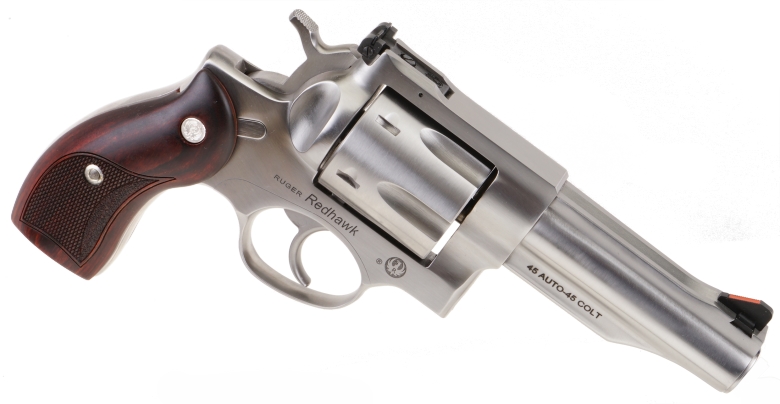 The Redhawk was introduced in 1979 as a hunting revolver, chambered for the 44 Remington Magnum. Additional chambers followed: 41 Rem Mag, 357 Mag, 45 Colt, and combination 45 Colt/45 Auto. The Redhawk design is the product of Harry Sefried, Roy Melcher and Bill Ruger.
Since its introduction, the Redhawk has been available in stainless and blued chrome-molybdenum steel. While the 44 Rem Magnum has been in production whenever any Redhawk is in catalog, the other chambers have cycled in and out of production, changes driven by demand. I am sure Ruger has some book to build ratio they follow that determines revenue generating production.
Ruger Redhawk

Manufacturer

Sturm, Ruger & Co.

Model #
05050
Type Action
Double/Single Revolver
Capacity
45 Auto / 45 Colt
Capacity
6
Barrel Length
4.2″
Rifling Twist
1:16″ RH
Weight
47.00 Oz
Overall Length
9.5"
Grips
Hardwood
Hardware
Satin Stainless
Trigger SA/DA
7 Lbs 8 Oz / 9 Lbs 14 Oz
Rear Sight
Micro Adjustable
Front Sight
Interchangeable Inserts
MSRP
$1,379.00
Includes 3 45 Auto moon clips
Shooting rimmed and rimless… although not simutaiously
The 45 Colt/45 Auto capable Redhawk was introduced on June 15, 2015, a round butt, stainless steel version. This was the first Redhawk configured to shoot both a rimmed and a rimless cartridge. Subsequently, the face of its cylinder is machined to accept moon clips for use with 45 Auto ammunition and properly supporting rimmed 45 Colt ammunition.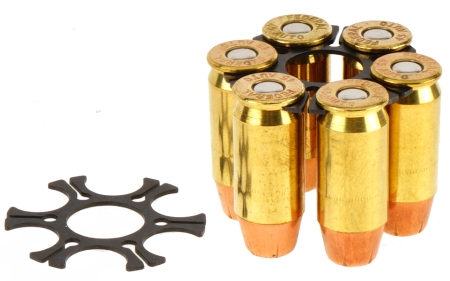 The moon clip grips a rimless case at its extractor groove, controls cartridge headspace within the revolver's cylinder and allow the revolver's ejector to function normally. Moon clips also speed loading by allowing all cartridges, six in this case, to be inserted into a cylinder, and ejected, simultaneously.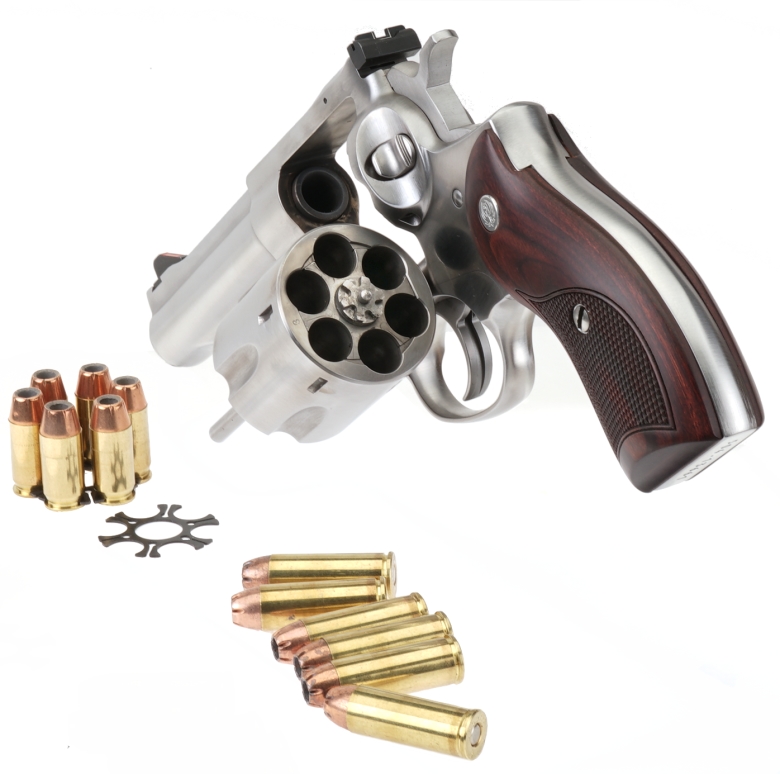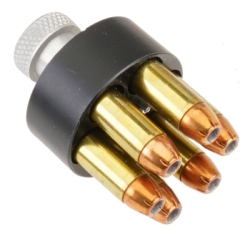 Above, an illustration of the relieved cylinder face, six rimless 45 Auto cartridges held in a moon clip and six rimmed 45 Colt cartridges that are managed individually.
Yes, you, the guy waving his hand in the air? Yes, you can load a cylinder full of 45 Colt ammo, in one fell swoop, with a speed loader. However, the speed loader is an accessory and it does not remain with the ammunition in the cylinder and it requires no accommodation on the firearm. OK? Let's move on, shall we?.
Closed frame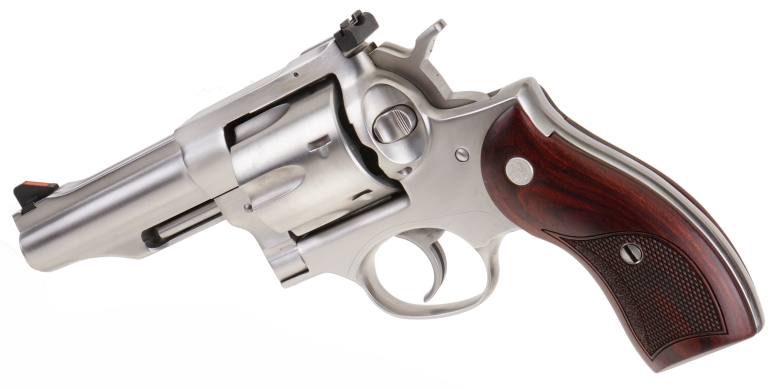 The Redhawk is the elder statesman within the current Ruger revolver lineup. The SP101, GP100 and Super Redhawk have intended peg grip frames and they have independent main and trigger return springs. The Redhawk has a one piece frame, an integration of cylinder and full perimeter grip frame, and a mainspring that also serves as the trigger return spring.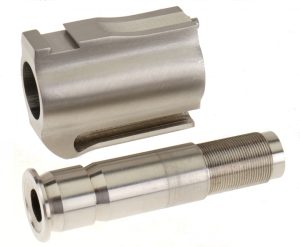 The barrel assembly on the Redhawk is comprised of two pieces, the barrel and its shroud. This, rather than a one piece design, results in a more precise rifling and radial positioning of the front sight. The front sight is dovetail mounted.
Stoutnicity
Ruger double action revolvers have very good sights. Fully adjustable rear with a white outlined aperture and a ramped front with a red dovetail mounted insert. They certainly have a sound, and anti reflective foundation to sit upon.
The Redhawk has a reputation for strength, based on a beefy top strap and oversized cylinder. Those elements play well with the cartridges chambered. More on this later.
Model

Cylinder




Length "

Cylinder




Diameter "

Outer Wall Thickness "

Interior Wall




Thickness "

Top Strap




Thickness"

Redhawk – 45 Colt

1.755

1.780

0.104

0.070

0.240

Blackhawk – 45 Colt

1.704

1.735

0.095

0.060

0.250

GP100 – 357 Rem Mag

1.553

1.617

0.095

0.125*

0.250

*Thick wall is the result of a small diameter 357 Mag chamber

The Redhawk. A strange case of Dr Jekyll and Mr Hyde
The Ruger Redhawk assumes several personalities, depending on the ammo it is fed.
Ammunition
Cartridge

 Bullet
Type
Bullet
Grains
Rated
FPS
Actual
MV FPS
25 Yard
5 Shot
Group "
Handload Bullseye SWC

45 Auto


FMJ

185

750

732

2.6

Federal Personal Defense

45 Auto


 JHP

185

 950

759

3.1

Remington HTP

45 Colt

JHP

230

850

866

2.0

Grizzly*

45 Colt +P

Hard Cast

265

1400

1282

2.7

Buffalo Bore*

45 Colt +P

JHP

260

1450

1430

2.5

* There is no +P standard for the 45 Colt. +P is manufacturer's designation



The weight of the Redhawk goes a long ways toward dampening recoil. The 45 Auto semi wad cutter was barely a pop. Muted and virtually no recoil. The Federal Personal Defense was not much more. Amazing how tame the stubby 45 Auto cartridge is with out the weight and motion of a reciprocating slide.

Standard pressure/velocity Remington ammo was very soft also, and relatively easy to shoot accurately. The +P loads were not punishing to shoot, but they gave a confident… smack to the palm of the hand and noise level was significantly elevated.
So there was a definite power spectrum exhibited, that ran from all day at the range target shooting to fifty year deer and hog dropping power. A lot of versatility.
Some Marie
Yes, that is a pretty feeble attempt at humor, but at this time of day, that is about as clever as I get and I have to pull ribs from the smoker in approximately 22 minutes.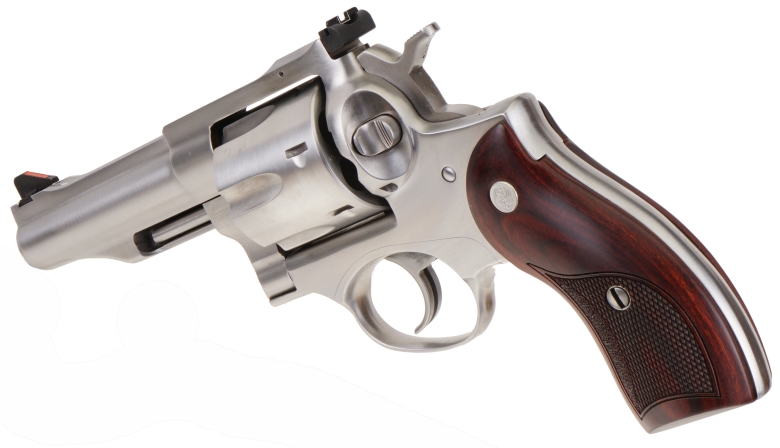 The Ruger Redhawk is a beast, the good kind. It is strong, substantial, accurate and artfully designed. The combination of 45 Colt and 45 Auto compatibility greatly expand the circumstances where those Redhawk features may apply.
I am a big 45 Colt fan, factory and handload ammunition. The 45 Colt is a light load in standard pressure form, but enough for any big game in specialty factory loads and handloads. There are 55, 45 Colt factory loads, sold under 20 brands, in bullet weights from 78 grains to 335 grains.
Unfortunately, approximately only half of those loads are routinely in stock in retail channels. What is in stock is not cheap. Low end? $1.50/round. Mid? $2.25/round. High performance defensive and hunting ammo? $3.25/round and more.
I am a big 45 Auto fan, typically loaded into one of John Browning's popular designs. The 45 Automatic is a light load in standard pressure form, but enough for any defensive circumstance, and medium size game, with specialty factory loads and handloads. There are 97, 45 Auto factory loads, sold under 29 brands, in bullet weights from 78 grains to 255 grains.
Fortunately, approximately 70 of those loads are routinely in stock in retail channels. What is in stock can be comparatively inexpensive. Low end? 45¢/round. Mid? 80¢/round. High performance defensive and hunting ammo? $2.25/round.
Being able to handle 45 Colt and 45 Auto ammo offers a huge amount of utility in range of power, in range of cost, in range of applications, and in terms of availability.
The Redhawk is a high quality revolver, one that would last generations, and provide useful service to each.