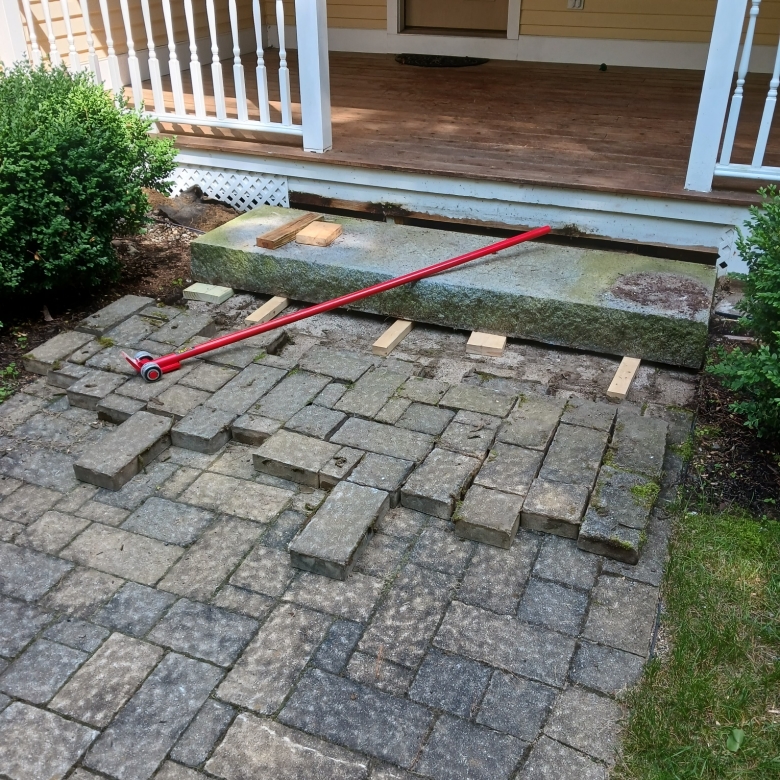 I thought I was getting caught up with this year's projects. Not a chance. I attempted to wash off the porch's rim joist and found surface rot where the granite slab front step had been bearing against the wood. Trapped dirt and moisture took a toll.
At 1,400 lbs, the slab is too heavy for Skippy to lift, and dragging it back would have disturbed the step and walkway foundations. A little Etruscan engineering; rolled back several rows of pavers, laid down some 2x skids to protect the walkway foundation, and a 6′ Johnson bar walked the slab away from the porch. An hour's worth of thinking, a half hour of labor. Lets hope it will go back together as quickly after the carpentry repairs.
Another look at the Ruger Mini-14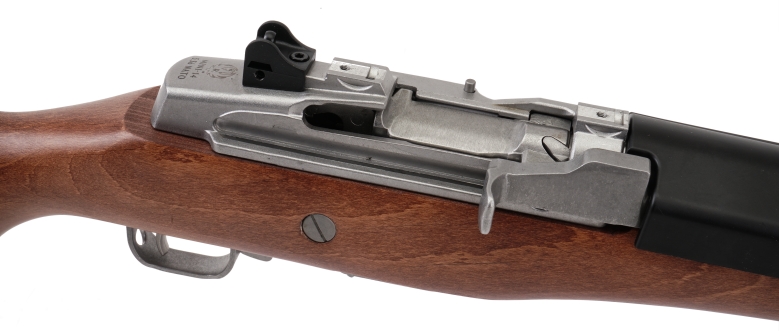 Periodically, I run a shooting/handloading project based on the Mini-14 or Mini-Thirty. For folks with patience, and a desire to configure a firearm that fits their application, the Mini-14 is as flexible to customize as the Ruger 10/22 rimfire.
If you poke around in the Real Guns article archives, you'll find Mini rifle projects ranging from restocking to modifying gas systems and trigger groups. For hardcore Mini owner, there is Accuracy Systems, a company that offers many upgraded pieces, they a;so overhaul customers' firearms and sell complete firearm packages in standard and non-standard chambers.
This time around, my objective was to sample the current crop of Mini-14 production and work up some hunting handloads for deer, hogs and similar size game.
Ruger Mini-14 Ranch


Manufacturer

Ruger

Model

5802

Hardware Finish

Matte Stainless Steel

Stock

Hardwood

Action Type

Fixed Piston Gas – Semi Auto

Caliber

5.56 NATO/223 Remington

Magazines

2 x 5 Rounds

Barrel Length

18.5″

Twist Rate

1:9″ RH

Adjustable Sights

Peep Rear – Blade Front

Sight Mounting

Ruger Rings / Rail

Overall Length

38.0″

Length of Pull

13.5″

Nominal Weight

7 lbs

Trigger Pull

5 lbs 7 oz

MSRP

$1359.0
The Ruger Mini-14, as described by Ruger literature, is a gas operated, box magazine fed, auto loading rifle. The Ruger utilizes a gas operating system that is similar to the Garand, however, the Mini-14's has a fixed piston and moving cylinder, rather than the M1's long stroke piston acting on its operating rod.
Magazine feed is more closely related to the M14 or M1 Carbine than the M1 Garand, as the Mini-14 doesn't signifying it is empty by bopping the shooter on the head with an empty ammo clip and then mashing the shooter's thumb on reload. Also, very much unlike the Garand, the Mini-14 is short, light and fast handling.
A little background
It is difficult to write about the Mini-14 without getting lost in Ruger's, and the Mini-14's history in the process. Until the recent dozen years or so, 1975 – 1982 was one of the most expansive periods in Sturm, Ruger & Co., Inc.'s company development; firearm designs, expansion of facilities and manufacturing technology.
In the 1973 Ruger annual report, three years into the firearm's development, the product nearing production was the Mini 14 Police Carbine. The Mini-14 Ranch Rifle did not become a product until 1982. From its inception, the Mini-14 was seen as potentially the third in a sequence of scaled down military firearms.
The Mini-14 in 5.56x45mm, was to the larger M-14 in 7.62x51mm, what the M-14 was to the larger M-1 Grand in 7.62x63mm. So think of the Ruger Mini-14 as a next step in a logical service rifle progression. Bill Ruger speculated that if the Mini-14 had been developed 5 years earlier, it would have been the next service rifle, rather than the M-16. Considering the number of agencies utilizing the Mini-14, that speculation may not have been far fetched.
To that end, semi automatic, fully automatic and selective fire versions of the Mini-14 were produced. Semi automatic to civilian customers and all versions to LE and military customers, both here and abroad. Civilian versions were standard with 5 shot magazines. 10 and 20 round magazines were offered as accessories until 1979 for the 10 round and 1989 for the 20 round magazine. 30 round magazines were not offered for civilian consumption.
In more recent years, 5, 10, 20, and 30 round magazines for the Mini-14 are sold as accessory magazines and Mini-14 and Mini-Thirty products can be purchased with 5 and 20 round capacities.
Almost the same as the M-14… except for what falls between the front sight and recoil pad..


The Mini-14 was designed by Jim Sullivan, Harry Sefried, Roy Melcher, and Bill Ruger. The stock design was done by Len Brownell. I did not, and do not, know any of these people, but reading some of Sullivan's comments on work he did at Ruger, I've never seen such little ego on a person with so much talent.
While very similar to the M-14, the Mini-14 has longer locking lugs, revised feed geometry, revised gas system, and removal of a friction reducing roller that was built into the M-14's right hand lug*. Part design also took into consideration the use of Ruger's Pine Tree foundry, which was coming on line within approximately the same time frame.
From a handling and shooting standpoint, setting aside weight and scale difference, the M-1, M-14 and Mini-14 feel very much the same. Shooting the Mini-14, it is easy to channel Audie Murphy. Google it or watch To Hell and Back.
Sights and whatnot…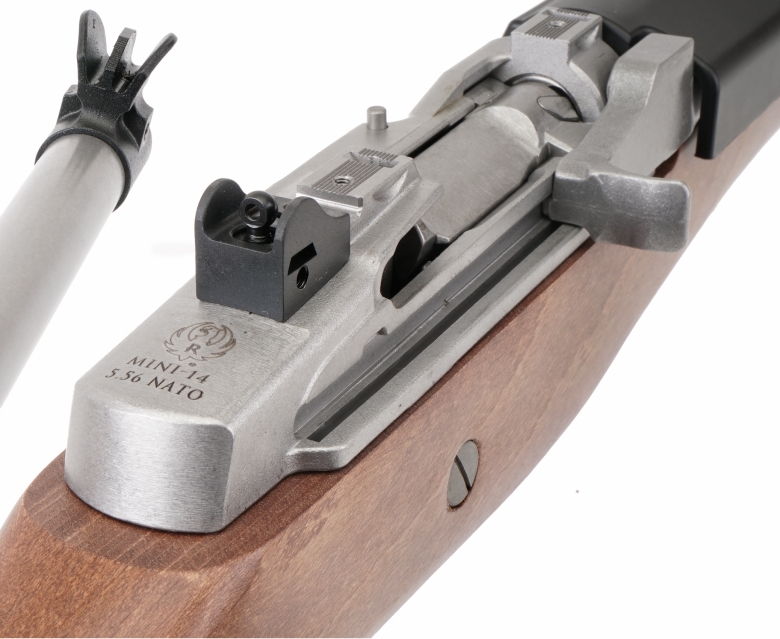 The ghost rear sight is adjustable for windage and elevation. The front blade sight is brush guarded, so while you're pushing through Maine's woods, you may get face slapped profusely about the head and ears by low flying branches and brush, but your rifle's front sight would protected.
I was struck in the head by a flushed quail one time. But my rifle's front sight would have been safe… if I was carrying a Mini-14 Ranch. No I have no idea where I was going with that. Just sort of wandered off and into a ditch while reliving a childhood trauma.
The top of the Mini-14's receiver is scalloped to accept Ruger proprietary rings, included, and drilled and tapped to accept a Picatinny rail, also included. So an owner can use the ghost sight, mount a scope, red dot, or any other electro-mechanical-optical gadget, including those that may come onto the market.
Magazines. Read 'em if you got 'em…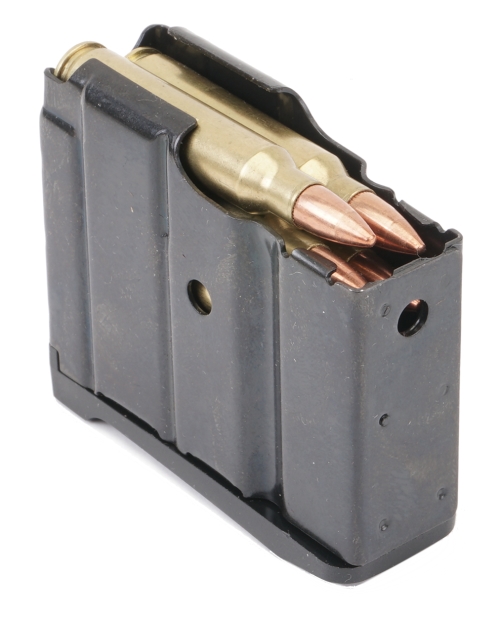 This Ruger Mini-14 Ranch configuration is supplied with 2 x 5 round magazines. Other variations are shipped with 20 round magazines, with 20 and 30 round magazines available as accessories for folks who do not take target practice seriously or insist on taking shots beyond their abilities. No, Scott Atkins movies do not good examples of magazine capacity needs.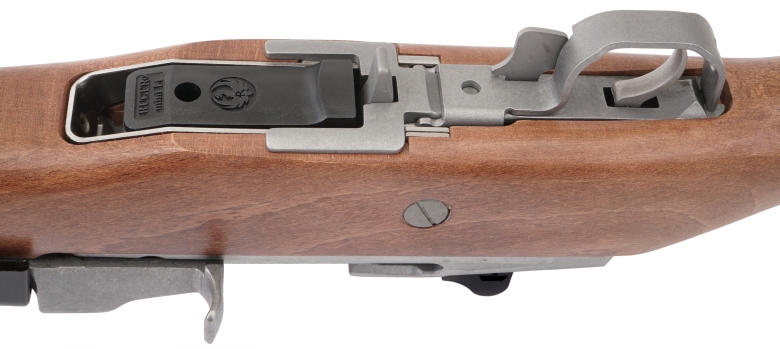 The flush fitting Mini-14 magazines are proprietary, high quality and function reliably. Why does Ruger not make Min-14s AR compatible? Why don't Ford Mustangs use Chevy Camero transmissions? Of course, if it is the end of the world, and you lose your last Mini-14 magazine, you won't be able to scavenge AR mags from fallen zombies. I'll put that on the "Cons" list.
Roll you're own
The Ruger owner's manual okays the use of factory, industry standard 223 Remington and 5.56 NATO ammunition. Ruger specifically disavows the use of handloaded or re-manufactured ammunition. If I were manufacturing rifles designed around a standard cartridge, I would not want to take a chance on non-specified ammunition, handloaded by anonymous social media poster #sasquatch47, either.
That said, I shoot with frequency, and I pay for ammunition like anyone else. These days, ammunition prices are increases at about twice the rate of inflation, and to the extent the prices have almost as effective in suppressing the growth of shooting sports as government.
The irony is, there is no difference in kill performance between the ammunition and bullet construction I used throughout the late 50s and 60s to make one shot kills on medium and large game, and a marketing department's creations of today.
The success of today's super duper premium ammunition won't be found in hunting success, but rather in an ammo company's increased in revenue, return to shareholders and executive compensation. I can handload better ammo, with better component combinations, at a much lower cost and meet my personal objective of shooting as much as possible without claiming an ammo company as a dependent on my tax returns..
Components also see price hikes, especially smokeless powder, but retail sales are frequent. So I shop around for sales. What follows is handload data for hunters, medium to large game, aka, coyote, hogs, deer… chipmunks, the latter if they are particularly annoying.
Handload Data
Warning: Bullet selections are specific, and loads are not valid with substitutions of different bullets of the same weight. Variations in bullet length will alter net case capacity,  pressure and velocity. Primer selection is specific and primer types are not interchangeable. These are maximum loads in my firearms and may be excessive in others. All loads should be reduced by 5% as a starting point for development where cartridges have greater than 40 grains in capacity and 10% for cartridges with less than 40 grain capacity following safe handloading practices as represented in established mainstream reloading manuals. Presentation of these loads does not constitute a solicitation for their use, nor a recommendation.

| | |
| --- | --- |
| Cartridge | 223 Remington |
| Firearm | Ruger Mini-14 Ranch |
| Barrel Length | 18.5″ |
| Max Case Length | 1.760″ +0.0″/-0.030″ |
| Min- Max COL | 2.125″ Min – 2.260″ Max |
| Primer | CCI 400 Small Rifle |
| Bullet Diameter | 0.2245″ +0.0″/-0.0030″ |
| Reloading Dies | Redding F/L |
Bullet Type 
Bullet
Weight
Grains

Net H2O
Grains
Capacity
COL"
Powder Type
Powder
Charge
Grains

Muzzle
Velocity
fps

Muzzle
Energy
ft/lbs

Remington PSP


55

26.1

2.185

AA 2520

27.0

3255

1294

Remington PSP


55

26.1

2.185

AR-Comp

25.5

3208

1257

Remington PSP


55

26.1

2.185

CFE 223

28.5

3217

1264

Sierra Game King

55

26.6

2.250


 AA 2520

27.0

3229

1274

Sierra Game King

55

26.6


2.250

 AR-Comp

25.5


3194

1246

Sierra Game King


55

26.6

2.250

 CFE 223


28.5

3201

1252

Nosler Partition

60

25.4

2.210

AA 2520

26.0

3129

1305

Nosler Partition

60

25.4

2.210

AR-Comp

24.5

3117

1295

Nosler Partition

60

25.4

2.210

CFE 223

27.0

3128

1304

Winchester PP

64

25.6

2.260

 AA 2520


25,5

2912

1205

Winchester PP


64

25.6

2.260

 AR-Comp

24.5

2882


1181

Winchester PP


64

25.6

2.260

 CFE 223

27.0


2945

1233

Sierra GameKing

65

25.6

2.260

AA 2495

25.0

2940

1248

Sierra GameKing

65

25.6

2.260

AR-Comp

24.0

3007

1305

Sierra GameKing

65

25.6

2.260

CFE 223

27.0

2991

1292
But what about the Mini-14's scopeability? It is too a real word, if I write it.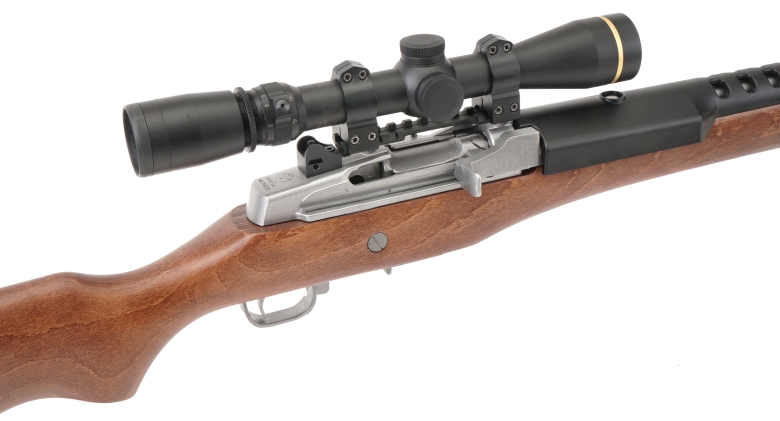 Yes, that is my old Leupold Vari-X II 2-7x33mm. It works in so many applications… and now I am just flogging it until it drops for the sake of curiosity. Considering it has survived a huge number of 375 H&H rounds and pushed handload development for the 500 Jeffery, I think it is safe on the Mini.
This is the part in social media where anonymous posters try to one up one another with claims of Mini-14 accuracy malfeasance. Those claims only suggest that the commérage has not shot a Mini-14 since 2006, when all new tooling was put in place and the Mini's design was finessed in some ways… like a thicker barrel taper.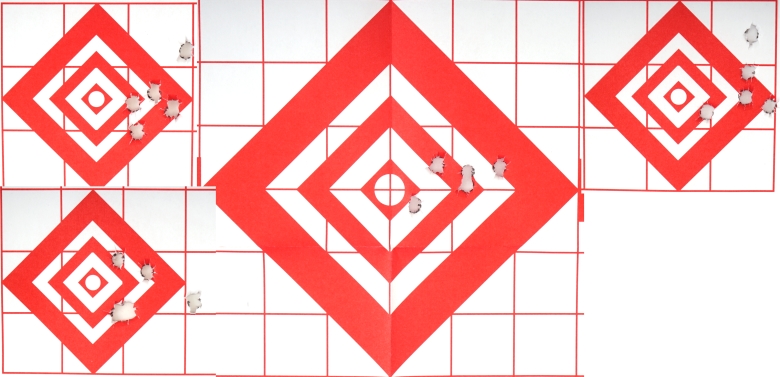 No, I won't be telling tales of 1/4 MOA 5 shot groups, but accuracy was very good, especially for woodland hunters with shooting distances mostly 100 yards +/-. Pictured above: TL 1.5″ Remington PSP 55 Grain, BL 1.2″ Sierra Game King 55 Grain, C 1.2″ Nosler Partition 60 Grain, TR 1.3″ Winchester Power Point 64 Grain, Not pictured 1.2″ Sierra Game King 65 Grain… I shot over that target. Oops. Hey! 100 yards. I couldn't see the little holes… or read my cursive note writing.
So what are we saying?
The 223 Remington is adequate for deer if shot in the vicinity of where they are supposed to be shot; vital organs. What about close to vital organs? That only works with hand grenades and for people who like lengthy strolls in the woods and are good at reading blood trails… regardless the cartridge.
The Mini 14 is accurate enough, more so than most shooters can muster from a field shooting position.  The rifle is also very fast handling and super reliably in cycling and feed. A good rifle.
Addendum
The carpentry repairs were made, the area repainted and a piece of poly board was added as a buffer between the granite slab and the porch. The slab went back the same way it came out. A little polymeric sand on Monday and I am done.
The porch side and back steps also got the same treatment. Material cost was $90 for poly board and structural adhesive. Labor was free. So I can pocket the $1,910 saved on a contractor's quote and use it to make more ammunition.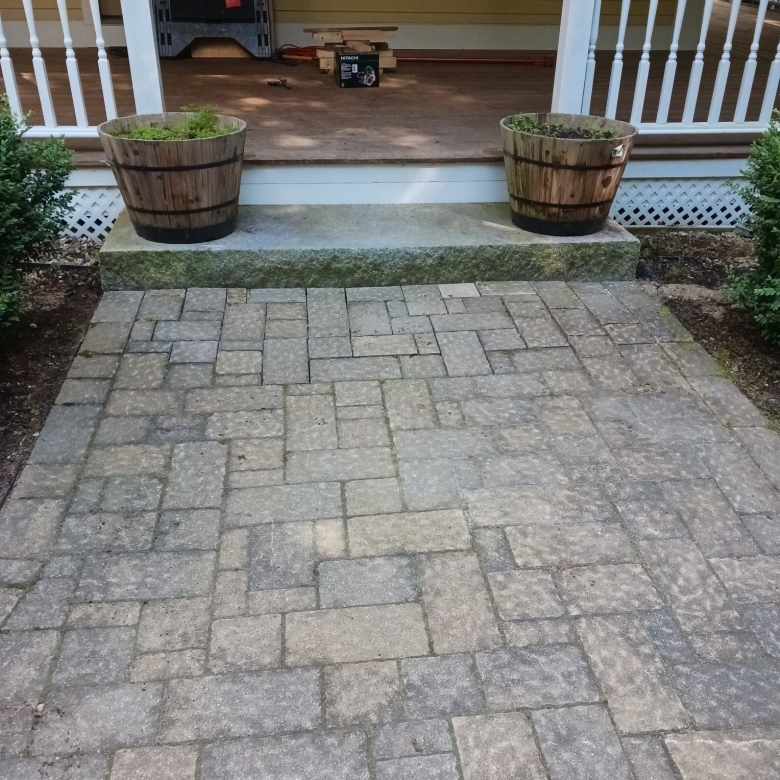 * Ruger and His Guns – R.L. Wilson