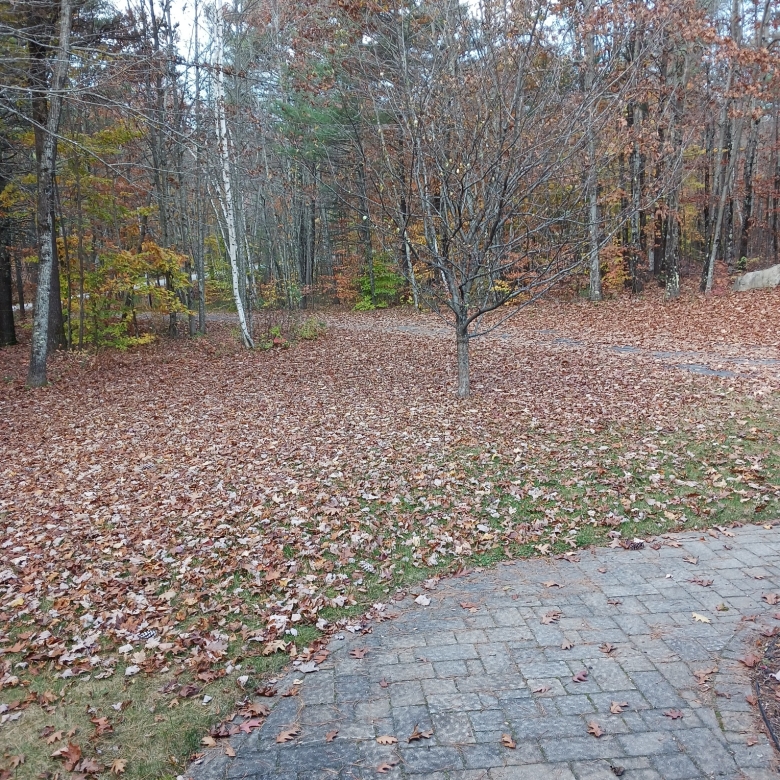 11/05/2023 – Ah yes, my kingdom awaits me. The price to pay for living  in the woods. I see a backpack leaf blower, and mounting the snow blower on the tractor, in my very near future. I would live nowhere else. So I am going to sit here in my Long Johns and winter gear, pretending I am going to go outside but, instead, write about something fun.
Fun with big boomers… A firearm metaphor

The Marlin Model 1895 is a big part of why the 45-70 Gov't has retained its popularity for one hundred fifty years, and how it developed into such a powerful big game cartridge. The Marlin Dark Series Model 1895 is made for the hunter.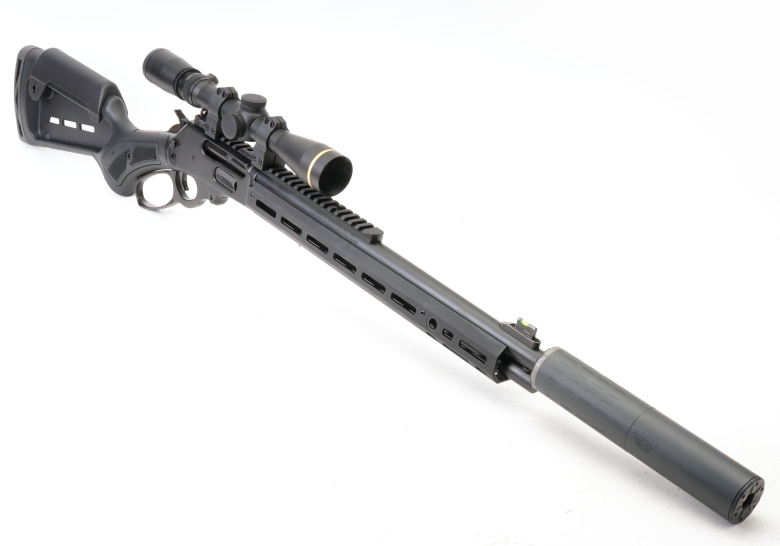 You can be a blue steel and walnut kind of guy, and still appreciate a rifle that is configured differently to accommodate a specific application. Such is the case with Marlin's Dark Series Model 1895, Marlin's latest piece of mechanical art. Shown above, configured with cheek riser in place, scope and SilencerCo Hybrid 46 silencer.
Taking stock…

The Marlin Dark Series Model 1895, as a part of Ruger's revitalization of the Marlin brand, is a departure from the original. The hardware remains true to the original, but finessed into a slick action, close fitting parts and a quality finishes.
However, gone is the original Marlin's El Cheapo black splatter paint finished hardwood stocks, replaced with a Nylon reinforced poly buttstock. The stock features M-LOK slots for accessories and sockets for Quick Detach sling swivels. The Dark Series Model 1895's new recoil pad absorbs much of the 45-70's recoil, while maintaining its form.

In place of the painted forearm is an optimally shaped, anodized aluminum handguard with M-LOK attachment slots. Unlike some of the other current Marlin Model 1895 types, the Dark Series receives a satin Graphite Black Cerakote finish. While the soft rubbed through look of an old black oxide finish may evoke a sense of nostalgia, a durable Cerakote finish looks good protects over the longer haul.
Cheeky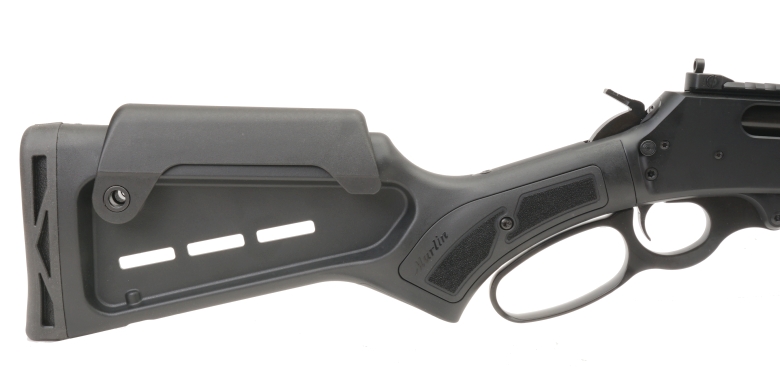 Because the Model 1895 has longish range capabilities, Marlin has included a very stable snap on high comb that places the shooters line of sight higher for optical sight use. Both scope and red dot sights were mounted for this review, so the cheek riser was utilized. It works. The rifle was also shot without the cheek riser, utilizing the rifle's rear ghost and front fiber optic sight; a very useful pairing.
I am glad Marline Firearms went with a midsize, but not loopy, finger lever. It is a good fit for even gloved hands, while not being a Hollywood tribute to Lucas McCain.
Sight accommodating…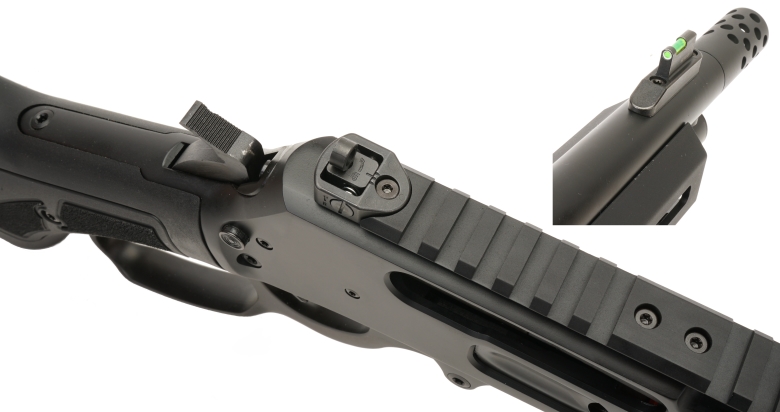 The native sights are ghost aft, windage and elevation adjustable, and bright green fiber optic front. My very sophisticated range… a cutaway in the Maine woods, is under a canopy of dense tree growth, and is deeply shaded. Still, just ambient light was enough to brightly light up the sight element, and make it standout against the dark background.
The Picatinny rail is the Swiss Army knife of mount bases. Switching from using ghost sights, to red dot, to scope took seconds and the sights selected did not lose zero in the transitions. The supplied very effective muzzle brake is secured with 11/16″-24 threads, which also made using a silencer a snap.
A 45-70, but without the… angry recoil
The 45-70 can be handloaded to subsonic speeds for very quiet suppressed operation. The same silencer can also significantly reduce muzzle blast, recoil and report, even with full tilt loads. In the absence of a silencer, the brake does much of the same in diminishing recoil for either.
Below, the bolt and lever received a nitride treatment for enhanced wear protection. The subject gun cycled remarkably smooth. After a hundred years of lever action use, I expected the familiar bumps and rough spots when working the lever, but that was not the case. Even small parts were smooth; no bloody thumb from pushing five of those cigar size rounds through the loading gate.

Let me not be the one to run afoul of a company's marketing department; those guys get paid whopper bucks to make up catchy names, but I kind of think the Dark Series Model 1895 is black, not graphite, and matte, not satin, in finish.
To me, graphite is gray, and satin in more of a semi gloss. Regardless what the finish is called, it is complimented by the texture, color and finish of the stock. I would call the rifle, overall… manly. I grew more hair on my arms and a stubble beard just from using it at range sessions.
The receiver and lever are CNC machined from forgings, the barrel is hammer forged, the rifling is precision Ballard type that assures accuracy with monolithic, jacketed or cast bullets.
Spec Box
Marlin 1895 Trapper


Origin
Mayodan, NC

Manufacturer
Marlin
Model #
70901
Type
Lever Action
Caliber
45-70 Government

Magazine Capacity
5+1
Barrel
16.10″ – 11/16″x24 Threads

Rifling
1:20″

Nominal Weight
7.0 Lbs

Overall Length
35.50″
Buttstock
Nylon Reinforced Polymer

Forearm

Anodized Aluminum

Hardware
Satin Black

Length of Pull
13.50″
Drop at comb
1.25″
Drop at heel
2.00″
Rear Sight
Ghost W/E Adjustable

Front Sight

Green Fiber Optic/Tritium Ring

Optical Sight Mount

Picatinny Rail

Trigger Pull
4 lbs. 9 oz.
Safety
Cross Bolt

MSRP
$1379.00
So it's rugged and…. handsome. Can it hit anything?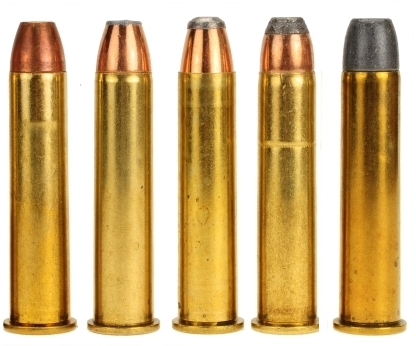 Cartridge
Bullet
Type
Bullet
Weight
Grains
Rated MV
FPS 24″ Barrel
Actual MV
FPS 22.00″ Barrel

Actual MV
FPS 16.10″ Barrel
Calc
ME
Ft Lbs

3 Shot
100 Yard
Groups "

Winchester Supreme
FNSP
300
1880
1712

1572

1647

0.8

HSM A-Frame +P

FNSP
350
2050
2183

2096

3415

0.6

Buffalo Bore Magnum +P

FNJ
350
2150
2205

2048

3260

0.8

Remington Core-Lokt
SP
405
1330
1051

1073

1036

0.7

Garrett Hammerhead +P

LFN
540
1550
1547

1448

2328

0.6
Exceptional big bore lever gun accuracy, and more than enough thump for any big game. The 336 design has come a long way. There was a time when a scope on a lever gun was silly, because the rifles of that time were 3″-5″ group wonders, but optically assisted sighting makes a lot of sense at this bolt action level of performance.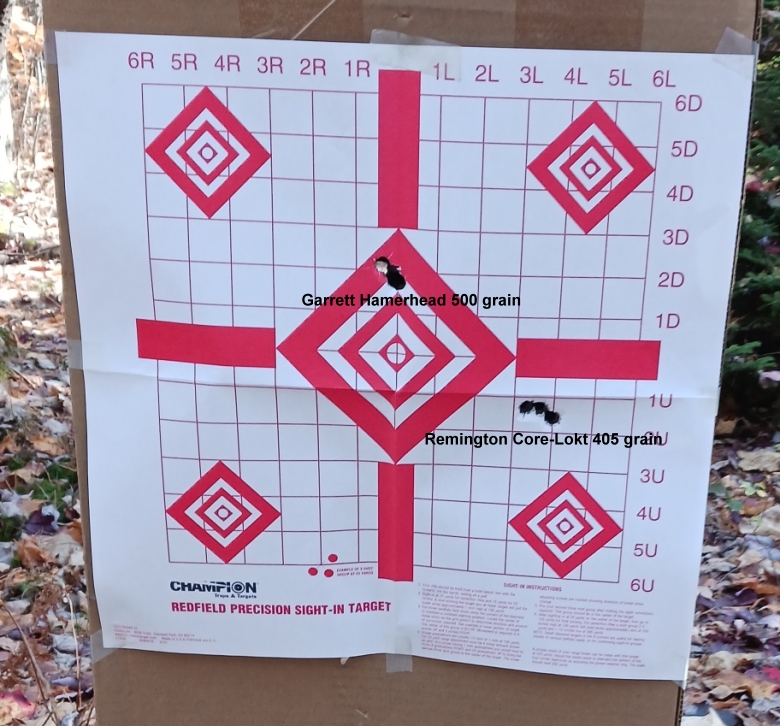 The fact the 1:20″ twist could stabilize bullet weights from 300 to 500 grains, jacketed or hard cast, is notable.
Working under/over pressure
Both standard pressure, 28,000 psi and +P factory ammunition were shot. There is no pressure standard for +P 45-70 ammo, so it is whatever the ammo maker determines. Garrett is the only +P company, I am aware of, that states their ammo is loaded to 35,000 psi. Others, such as Buffalo Bore and HSM, do not state pressure, and their ammo, weight for weight, is approximately 150 fps higher in MV than Garrett.
Regardless source of +P, they operate at or near 45-70 Gov't SAAMI proof load levels, 37,500 psi – 40,000 psi. All have independently determined that the Marlin 1895 works with these loads. The top companies are well established, and they put their company's reputation on the line with every box sold. In addition to factory +P ammo, virtually all mainstream handload manuals have a section for modern, higher pressure loads. All list the Marlin Model 1895 as applicable to those sections.
I run high pressure factory and handload ammunition in my guns when applications warrant, at least the 37,000 psi variety, but that is a personal choice and not the responsibility of the gun manufacturer, as they have advised otherwise. For recreational target work and deer size game, standard pressure loads are utilized, because they are more than enough, and easier on the shooter.
That said, Marlin Firearms calls out factory ammunition made to industry standards and specifically does not recommend the use of +P ammunition. Standard pressure ammunition is more than enough for the largest North American thin skinned game, and +P will drop anything else.
Wrapping up…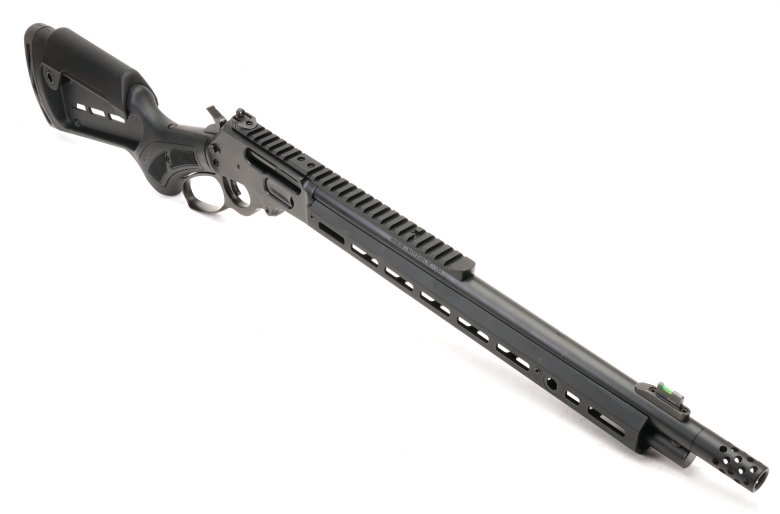 The Dark Series Model 1895 is a hunter's rifle, with a good deal of versatility. Light standard pressure loads make the 1895 a well behaved big bore; moderate recoil, moderate report, highly accurate. With modern loads, even big and dangerous North American game are easily covered, and the radial muzzle brake and resilient recoil pad moderates recoil to the level of manageable.
The Dark Series Model 1895 is built to take a beating, and to function reliably for a very long time. Made in America down to the smallest part and assembled only in U.S. facilities.
They are not always easy to find? Ruger's new Marlin products are carefully managed. Operating under tight quality standards, they have quickly established a solid reputation for the Marlin brand. I would rather deal with waiting for a quality Marlin firearm, than getting something less from another company, that puts short term revenue first.